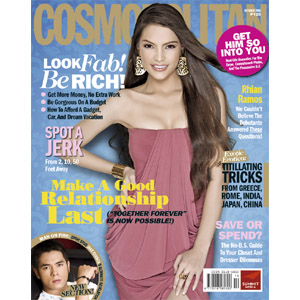 IMAGE 0
---
Now 18, doll-like Rhian Ramos is willing to take biggerresponsibilities and is facing controversies head on. "Being on the cover ofCosmopolitan magazine is a great way to show and tell people, 'Hey, I'm a youngadult now. Treat me like one,'" says Rhian.
Rhian isn't your typical showbiz darling with the maamo face.Neither does she have the rags-to-riches story common among many of ourcelebrities. What Rhian does have are oozing charm and sex appeal—and she knowsit. This confidence and Rhian's assumed all-too-lucky breaks did not sit wellwith some of her critics.
"A lot of people would think na mas madali parasa 'kin [yung showbiz], because of my aunt [Ida Henares, GMA ArtistCenter's AVP and head honcho], but its actually harder," Rhian shares with Cosmo.But despite all the negativity thrown at her, Rhian Ramos remains persistent.Her determination to rise above the bad rap proves even more that she does havewhat it takes to be where she is.
ADVERTISEMENT - CONTINUE READING BELOW
This year, all her hard work and battles against controversypaid off as she stars in La Lola, GMA-7's latest primetime telenovelaoffering, with JC De Vera. "I think it's the biggest role I've been givenso far," gushes Rhian, "It was like a sige na, I am finally given thechance. Despite all the intrigues, GMA believed in me."
Rhian has no problems answering more intimate questionsabout herself. A self-confessed virgin, Rhian gives her take on premarital sex,onscreen kisses and her biggest turn-ons in the October issue of Cosmopolitanmagazine, now available in newsstands, bookstores and supermarkets nationwide.