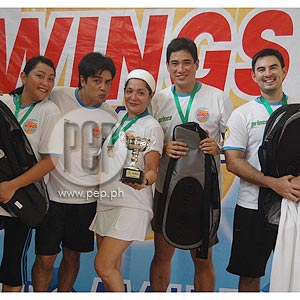 IMAGE 0
---
Celebrities of local show business joined the one-time sportsevent called "One Last Short for Daboy" in tribute to the late actor RudyFernandez, who died of periampullarycancer in June. The sportsfest was held last Saturday, October 18, at the Marikina Sports Complex.
It was Rudy Fernandez who initiated this sports break for movie andtelevision personalities when he was still the president of the Actor'sGuild. The brainchild of Rudy wascalled Star Olympics.
Although he passed away, his intention to build strongunity among the people in show business remains. This was what his close friends—Senator Jinngoy Estrada, SenatorRamon "Bong" Revilla, and Tirso Cruz III—wanted to continue. And so they organizedthis "One Last Shot for Daboy" and gathered the local celebrities.
"Well, basically it's an industry idea," said Tirso, whoacted as the commissioner of the event. "The people behind are the two senators, si Senator Jinggoy at siSenator Bong, Philip, LT [Lorna Toelntino], kami. Of course, with the help of Airtime Marketing. So, we came up with this 'One Last Shot forDaboy.'"
Tirso said that this is different from the annual StarOlympics, which has not yet happened this year.
He explained, "We could have done Star Olympics in memory ofDaboy kaya lang hindi na-program. So,somebody came up with the idea na talagang exclusive na the event will be forDaboy, talagang exclusively in memory of Daboy."
The games official related to PEP (Philippine EntertainmentPortal) that they did not have any problem in gathering all the celebritiesbecause they were all very willing to support the event.
ADVERTISEMENT - CONTINUE READING BELOW
"Well, siguro sa tulong na rin ng iniwang memory ni Rudy,"he said. "When we asked them if theycould play para nga sa ano ni Daboy, we didn't have problems with them. Kasi, at one time or another most of thesepeople have had the chance to work with Daboy. If not working with him, nakasalubong o nakasama na nila sagatherings. They have always known himto be an okay guy, walang naging problema sa imbitasyon."
Of course, present at the event was Rudy's wife of 25 years,Lorna Tolentino, and their eldest son Ralphe. Senator Bong was also there to give assistance, while Senator Jinggoywas represented by his wife Precy.
Other big stars spotted by PEP were Star for All Seasons VilmaSantos, Aga Muhlach, Christopher de Leon, Amy Perez, Ricky Davao, and moviedirector Chito Roño, who came just in time during the offering mass for Daboy.
Returning actor Gabby Concepcion stayed during the first half of the day as he hosted the program for the tapedtelecast, which will be aired on Friday, October 24. It will replace the weekly showing of old Rudy Fernandez's films,which are shown every Friday after Kahit Isang Saglit.
This very meaningful event does not only aim to unite showbizpeople but also to help cancer patients.
In an interview with Lorna, she said, "'Yong proceeds nitomapuputa sa Rudy Fernandez Cancer Foundation. 'Yon naman ay para sa [mga taosa] movie and television industry who suffer and battle cancer."
ADVERTISEMENT - CONTINUE READING BELOW
WHOLE DAY SPORTS ACTIVITY. The event started as early as 8:00 in the morning and ended latethe evening. Four teams were assembled, each represented by their respective managers. The teams were Wings White managed by Richard Gomez; Unipak Blue, byPhillip; Growee Light Blue, by Sen.Jinggoy; and Sun Cellular Yellow, by Sen.Bong.
The first competition was badminton, which saw the verycompetitive celebrity badminton players in top form—couple Glydel Mercado andTonton Gutierrez, Maricel Morales, Mai-Mai Davao, Maribeth Bichara, GlendaGarcia, Ivy Violan, Jackie Aquino, Ricardo Cepeda, Hans Montenegro, Anthony Suntay,AJ Dee, Gabby Concepcion, and sportscaster Anthony Suntay.
The next event was volleyball. Long-time showbiz personalities and the newcomers played in the covered court of Marikina Sports Park.
Beth Tamayo, Yayo Aguila, Glenda, Maricel, Mai-Mai,Meribeth, Glydel, and Roxanne Barcelo played with former Pinoy Big Brother housematesNene Tamayo, Raquel Reyes, Dionne Monsanto, and PBB teen Nicole Uysiuseng,among others.
After the second volleyball game, it was cut for a while for the offering of Holy Mass. The gamecontinued right after to decide which group would win the volleyballevent.
The third game was the time for male showbiz personalitiesto show their basketball moves. As inthe volleyball tourney, veterans played with younger celebrities like PBB teens RobiDomingo, Josef Elizalde, and Ejay Falcon. Veteran actor Christopher de Leon and long-time celebrities like RobertOrtega, Mark Lapid, Joseph Bitangcol, Jordan Herrera, John Hall, Alvin Aragon showed their skills on the hard court.
The three muses who joined the event were Pauleen Luna,Michelle Madrigal, and Maja Salvador.
ADVERTISEMENT - CONTINUE READING BELOW
UNITY CEREMONY. Before the basketball games, a short unity ceremony was held, including ashort program to entertain the public spectators.
SOP's You've Got Male member Gian Magdangal startedthe short show with a hymn, followed by the national anthem sung by CiaraSotto. Next, was a singing performance by Pinoy Dream Academy Season Twofinalists—Laarni Lozada, Bugoy Drilon, Miguel Mendoza, Liezel Garcia, VanRoxas, and Chris Pastor. After this, theaudience watched the continuous dance performances by Anlene dancers, ExquisiteBoys, Sexbomb Dancers, and Streetboys.
To end the program, there was a short pledge of sportsmanshipand a candle-lighting moment to symbolize unity within the showbizindustry. LornaTolentino, Senator Bong, Batangas Gov. Vilma, Marikina Mayor MaridesCarlos-Fernando and Metro Manila Development Authority Chair Bayani Fernando led the ceremony.
Rudy's widow Lorna was very happy with successfulturnout of the event. She said, "Marami naman ang nag-participate kayamaraming-maraming salamat sa kanilang lahat. Kasi nga, di ba, hindi naman talaga, lalo na sa telvision industry,madali makapag-participate dahil marami ring trabaho. Kaya nagpapasalamat din ako na kahit papaano marami rin angnagpa-participate."