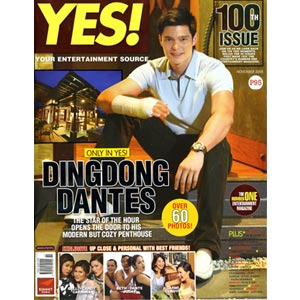 IMAGE 0
---
While fans and the press continue to wait and speculate onthe real score between Dingdong Dantes and his girlfriend of three yearsKarylle, YES! Magazine—on its 100th issue—features thecountry's hottest leading man today on its cover and presents Dingdong'soriental-inspired penthouse and childhood photos in a 19-page article.
Dingdong lets the YES! team shoot inside his 300square-meter bachelor's pad constructed atop the residential building that usedto be his family's ancestral home. Although Dingdong can afford to relocate inaffluent villages or high-rise condo units in posh districts, he still chose tostay where his roots are. "Dito ako 'pinanganak, dito rin ako lumaki, kayaayokong umalis dito," reasoned Dingdong.
The Kapuso hunk did not only open his house to YES!,he also opened his life, exclusively, to the country's leading entertainmentmagazine.
Dingdong shared stories from his childhood-how he got hisname (which, by the way, seems synonymous now with machismo and sexiness thanksto his macho TV characters and a T-shirt slogan that reads "I wanna touch yourDINGDONG Dantes"), who gave it to him, and how he started in showbiz.
YES! also interviewed Dong's mom AngelineGonzales-Dantes and his favorite aunt Tita Lui Henson and got someentertaining, shocking, and intriguing revelations about the young actor'schildhood antics and about a girlfriend whom the family really did not like."Pati aso namin 'tsaka pusa, ayaw siya..." Mommy Angeline even said about thatDingdong girlfriend.
Dingdong also talked about his screen partner Marian Rivera,on how and why their team-up works and why they are the hottest love team todayin local showbiz.
For every Dingdong Dantes fanatic, this issue of YES!is definitely a collector's item.
But what makes this issue a must-have even more, iseditor-in-chief Jo-Ann Q. Maglipon and contributor Andrew Paredes's look-backat the magazine's 100 most cherished and vivid moments in the article, "100 YES!Moments."
ADVERTISEMENT - CONTINUE READING BELOW
Maglipon and Paredes highlighted the magazine's most-talkedabout issues, the celebrities that made YES! controversial, thefriendship and trust the magazine developed and nurtured with the stars, therun-in and reconciliation with a celeb who felt offended with YES!'stell-it-as-it-is reporting, and all the things that earned YES! thereputation of being the ultimate source of showbiz stories.
Three sets of best friends are also featured in thisissue-the troika of Judy Anne Santos, Beth Tamayo and Director Dante "Ga"Garcia; the foursome Aiko Melendez, Carmina Villarroel, Gelli de Belen, andCandy Pangilinan; and the duo Carmi Martin and Gladys Reyes.
Making this issue a real treat for every YES! readerand collector is the execution of expensive special colors on the cover to makeit look glossier, brighter and special-and without charging the readers more!
Get your copy now of YES! Magazine's 100thissue in bookstores, convenience stores, and magazine stands at only P95!