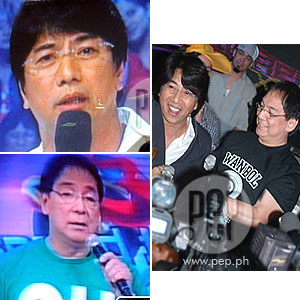 IMAGE 0
---

Just like ordinary people, showbiz personalities can get madat one another because of differences in opinion and viewpoint. What setstheir verbal quarrels apart, however, is that these get covered by print, radio, television and online media. And celebrity spats sometimes turn into drawn-out wars running publicly for weeks, months, and even yearsbefore being resolved.
PEP (Philippine Entertainment Portal)now looks back on the controversial face-offs between the biggest stars of showbiz.
We have classified these word wars into three categories:Cool off (temporarily halted), Ceasefire (the parties have already reconciled),and Still raging (no reconciliation yet in sight).
Here are the much-talked about word wars that took place in2008:
Gretchen Barretto - Nadia Montenegro
Nadia claimed: "Puro front langnakikita n'yo kay Gretchen. Diamonds, Jaguar, beautiful face, sexy, milyonarya,pero ang itim ng puso. Grade 4 pa lang kami, puro pagpapasensiya na angginagawa ko riyan. Milyonaryo rin ako, pero ang pagkakaiba namin, milyon angfriends ko, siya, milyon ang kaaway."

Gretchen asked: "Why me, Nadia, why me?"
Erstwhile best friends Gretchen Barretto and Nadia Montenegro exchanged heatedwords about each other, ironically, during the love month of February. It willbe recalled that Claudine Barretto, Gretchen's younger sister, claimed that acelebrity is the "mastermind" behind rumors putting La Greta in a bad light.Not long after, Nadia spoke up and said that all she did in the past was todefend Gretchen. The two had a confrontation in a hotel but no reconciliationtook place.

Last October, Gretchen attended a launching party where she uttered the words:"In my heart, I have chosen to forgive her. Kung anuman ang nangyari, I willlearn from the experience."
La Greta now admits that she is grateful forNadia's help in the past and that she is willing to make peace with her whenthey have a private meeting.
ADVERTISEMENT - CONTINUE READING BELOW
Status: Cool off
Rufa Mae Quinto - Jessa Zaragoza
Jessa insisted: "Hindi ako papayag na kalakihan ng anak koang mga kasinungalingang pinagsasabi niya."
Rufa Mae pleaded: "Please nga, gumawa ka [Jessa] na lang ngsarili mong biography."
When Rufa Mae Quinto appeared on the February 2008 issue of YES! magazine, she thought she was just be reminiscing about the men in her life.Little did she know that it would trigger a word war between her and marriedcouple Jessa Zaragoza and Dingdong Avanzado. In her tell-all interview, RufaMae said that Dingdong's attention shifted to Jessa (whom Rufa Mae consideredto be her 'closest friend' at that time). Eventually, the singer-composer leftRufa Mae to be with Jessa.

However, a hopping mad Jessa claimed that Dingdong never got into a serious relationshipwith Rufa Mae. She said that the sexy comedienne and the former Quezon Citycouncilor were just going out on dates.

The two battled it out in the print, and on TV and online media for several weeksuntil, in April, Rufa Mae addressed Jessa, saying, "Para lang matapos na ito, osige, pasensiya na. Tutal, sinasabi niyang may pamilya na siya, I'm happy forthem. Maging positive na lang tayo."

Status: Cool off
Annabelle Rama - Lolit Solis
Lolit inquired: "Ba't kailangang maging obligasyon ni Lani[Mercado] ang batiin ang kahit sino?"

Annabelle retorted: "Ngayon Lolit Solis, kung matapang ka, hinahamon kita. Sabihinmo saan, ano'ng oras, gusto mo mag-upakan tayo ngayon din, okay sa akin!"
The fight was supposed to be between Ruffa Gutierrez andLani Mercado but two other women ended up feuding, with the threat of afistfight in the offing. While attending a wake last March, Ruffa Gutierrez wasabout to kiss Lani Mercado but she was surprised when the latter turned aroundwithout a word. The incident escalated into a word war when Annabelle defendedher daughter Ruffa while Lolit took Lani's side.

Thankfully, the two women made up without the need for punches to fly. It was around June that Annabelle and Lolit crossed paths duringthe wake of Rudy Fernandez and settled their differences.
ADVERTISEMENT - CONTINUE READING BELOW
Status: Ceasefire
Willie Revillame - Joey de Leon
Joey sang (to the tune of "Imagine"): "Channel 2's theonly one / Makikita araw-araw ay mukha lang ni Pokwang...Makikita araw-araw /ay mukha lang ng aswang..."

Willie asked: "Hindi ka ba nagkakaroon ng puso sa kapwa mo Pilipino, pati babaeginaganyan mo?"

Pokwang explained: "Hindi po ako galit sa kanya [Joey] dahil alam ko namanna may nagtatanggol sa akin. Enough na po yun. Thank you. Kasi nababanggit moako, di ba? Bilang isang Joey de Leon, maraming-maraming salamat. More power sashow nila. Positive na lang tayo."
In 2007, Willie Revillame and Joey de Leon and had a bitter feud about theso-called "Wilyonaryo" scandal in Willie's noontime show Wowowee.This year, the two clashed again, but this time, Willie was offended by Joey's"aswang" joke about his co-host Pokwang. When Joey performed for a show in LosAngeles, the lyrics of the song that he performed mentioned that Pokwang was"mukhang aswang." In the August 18 episode of Wowowee,Willie defended his co-host against the offensive joke. Joey of Eat Bulaga didnot retaliate anymore.
During the Supreme To The Extreme Awarding on October17, Joey and Willie hugged, shook hands, kissed, and said "I loveyou" to each other.


Status: Ceasefire


Jennylyn Mercado - Patrick Garcia
Jennylyn emphasized: "Akin lang po si AJ [her son] at dalaniya ang surname na Mercado, hindi surname niya [Patrick's]."
Patrick pointed out: "If ever we're going to fight, and she'sgoing to leak it out to people, especially if the story is not true, kumbaga,she's just pushing me away."
Patrick Garcia and Jennylyn Mercado were both initially excited to start afamily. In fact, as soon as news of Jennylyn's pregnancy hit the newsstands,the couple attended a counseling session but upon the advice of JudgeSelma Palacio-Alaras, they decided to forego their wedding.


ADVERTISEMENT - CONTINUE READING BELOW
In the April 2008 issue of YES!Magazine, Patrick Garcia spoke lengthily about his rocky relationship withJennylyn Mercado, the mother of his child Alex Jazz or AJ. Caught in thecrossfire was Patrick's mother, Bing Garcia, who was surprised by Jen'sdecision to turn down her offer for an education and insurance investmentssavings plan. Even Cheska, Patrick's sister, got involved when she defended herfamily as people with breeding.

Status: Cool off
Gabby Concepcion - Rose Flaminiano
Rose exclaimed: "Sasampalin ko siya ng dokumento!Nandiyan ang mga tseke at breakdown sa expenses!"

Gabbydeclared: "Everything is under control."
After 13 years of being away fromthe limelight, Gabby Concepcion returned to Philippine showbiz and became acontroversy magnet once more. A concert deal at the Music Museum last Augustcan be considered the root cause of Gabby's protracted war with his managerRose Flaminiano. The actor questioned his five-year contract andwanted to terminate her services as a manager, citing "breach ofcontractual commitments."

Rose Flaminiano called Gabby Concepcion an 'ingrate' and also presented recordsproving that she was not secretly pocketing money out of Gabby's talent fee.This September, she filed a P22-millionSpecific Performance and Damages with Application For Writ of PreliminaryInjunction and Prayer for Temporary Restraining Order against Gabby and histhen-lawayer Atty. Raymond Fortun. Then on October, she filed another case for"Estafa and Deceits" because of Gabby's non-appearance in severalout-of-town shows.

This word war has become a rich source of slang, most notably the term sulsoltant,which is a combination of the words sulsol (to agitate) and consultant.
Status: Still raging
Here's to hoping that the ongoing word wars come to anamicable end, especially those that involve innocent bystanders. WillJennylyn's heart soften and allow her child AJ to meet his biological father?Will Gabby go back to the fold of his manager Mommy Rose?
ADVERTISEMENT - CONTINUE READING BELOW
These are just some of the questions awaiting answers--anduntil then, showbiz denizens will just have to wait and see.