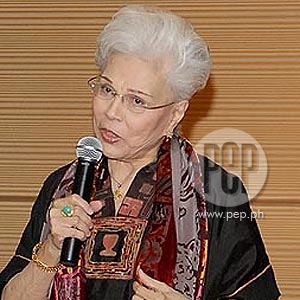 IMAGE 0
---
Armida Siguion-Reyna, who was born on November 4, 1930, celebrated her "18th" birthday last November 6, at the Tangerine Mediterranean Restaurant in Greenhills, San Juan.
The birthday lady, who was once dubbed the "Dragon Lady of Philippine Cinema," looked every inch the señora with her regal bearing and understated elegance in attire and jewelry. Even her cane was stylish.
Armida Siguion-Reyna is best remembered by her peer generation for her TV program in the '70s, Aawitan Kita that won several awards and crowned her "Reyna ng Kundiman." Aside from her other albums, her songs have been put together in a 2-volume, 24-track album titled Aawitan Kita (2008).
She is also the former chairperson of the Movie and Television Review and Classification Board (MTRCB). As a movie producer she heads Reyna Films, which made several films in the '90s. She has won FAMAS and Urian awards as Best Suporting Actress, topping her achievements with the 2006 FAMAS Lifetime Achievement Award.
ADVERTISEMENT - CONTINUE READING BELOW
In past years, Tita Midz (her pet name in showbiz), did her share in fighting for political and artistic rights. When asked about the advocacies she intends to pursue, she replied, "Wala. Wala na...Hindi na ako naghahanap ng bagong advocacy. Yun na rin ang mga ipagpapatuloy ko hanggang mamatay ako. At talagang ako, ginawa ng Panginoong Diyos para sa Aawitan Kita hanggang sa mamatay ako, kaya hindi na ako mag-aambisyon pa ng higit pa sa roon."
She may have become less visible in the entertainment scene, but the movie producer-singer-actress still has the ability to summon the Who's Who in politics and showbiz.
THE GUESTS. In one corner of the room, Diamond Star Maricel Soriano cracked jokes with Mother Lily Monteverde of Regal Films, and the big bosses of T.A.P.E.—Tony Tuviera and Malou Choa-Fagar.
The table beside Maricel's group was where PEP (Phillipine Entertainment Portal) spotted Susan Roces, Gloria Romero, Robert Arevalo and wife Barbara Perez, direk Boots Plata and wife Dolor Guevarra, and talent manager Shirley Kuan.
ADVERTISEMENT - CONTINUE READING BELOW
Armida's son, director Carlitos Siguion-Reyna, shared a table with Mary Grace Poe-Llamanzares and husband Neil Llamanzares. It was also the birthday of Direk Carlitos that night but he's used to people remembering November 4 as his mom's birthday.
Actress-writer Bibeth Orteza, Carlitos's wife, sat beside Lorna Tolentino, Ricky Davao, Lucy Torres and Richard Gomez.
Near the entrance, familiar faces, like Richard Reynoso and Bimbo Cerrudo, greeted the arriving guests. The two balladeers worked with Tita Midz's defunct television show.
Tita Midz joined the "V.I.P. group"—former President Joseph Estrada,Makati Mayor Jejomar Binay and wife Elenita, her brother SenatorJuan Ponce Enrile, and her husbandAtty. Leonardo Siguion-Reyna.
Latecomers were Senator Jinggoy Estrada, ace directors JoelLamangan and Mel Chionglo, multi-award winner actress Gina Alajar, and screenwriterRacquel Villacencio.
JAMMING WITH TITA MIDZ. Thedinner party turned into a "live" version of Aawitan Kita, the television program which made Armida Siguion-Reyna famous over 30years ago.
ADVERTISEMENT - CONTINUE READING BELOW
Pilita Corrales, Asia's Queen of Songs, who regularly sings at Tangerine, formallyopened the jamming session with hits like "You've Got A Friend," "Sayang,""Tukso, Layuan Mo Ako," among others.
Even Sen Enrile (who can imagine the veteran lawmaker singing?) was obliged tojoin Ms. Pilita in rendering a duet of "Usahay."
Ricky Davao, who said he was "not prepared" to perform thatnight, belted out two songs. One was a Tagalog version of the 1949classic "My Foolish Heart."
Richard Gomez also took to the mic and got rave reviews forhis version of Nonoy Zuñiga's "Never Ever Say Goodbye." Formerpresident-action star Erap praised Richard, "Galing ng boses mo, ha."
Other jammers that evening were Bimbo Cerrudo, RichardReynoso, Joel Lamangan, theater artist Marisse Borlasa, tenor JoelVillaflor, Gina Alajar, Pete Lacaba, and Racquel Villavicencio. Theywere accompanied by pianist Freddie Borja.
Armida Siguion-Reyna joined the singing, of course, withher signature Aawitan Kita performance. Her voice was still very clear and herinterpretation was heartfelt, but she told PEP, "Nagbago na ang aking boses. I started as a coloratura soprano,meaning very light ang ano...at ang vocal facilities, very florid. But now, Icannot sing yung mga 'Sa Kabukiran,' hindi ko na kaya yun."
ADVERTISEMENT - CONTINUE READING BELOW
THE FEAST. Therest of the night was spent chatting—with topics ranging from Hihintayin Kita Sa Langit days ofRichard to funny names of ordinary people, including, showbiz news—and, of course, food!
Chef Billy King's menuconsisted of Salad Panache with Apple Green Mango, Goat Cheese and RoastedPrawns, Lobster Bisque, a choice between Sauteed Black Angus Tenderloin withGoose liver, and Roasted and Baked Seabass for the main course, three dessertselections—Mango Flambe with Vanilla Ice Cream, Chocolate Souffle with HotChocolate Sauce, and sugar-free Crème Brulee. And red wine overflowed.
The intimate birthday dinner celebrated 78colorful years of a vibrant lady who's a class on her own in the entertainment industry. "Nag-iisa lang talaga ang Armida."