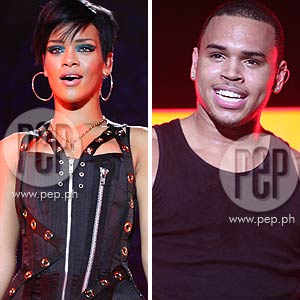 IMAGE 0
---

International singers Rihanna and Chris Brown gave an earlyChristmas treat to Filipino fans through a back-to-back concert last Sunday,November 16, at The Fort Open Field in Taguig City.
More than 70,000 followers filled the concert venue toshow their support for the two young R&B singers who arrived in the country lastSaturday from a cancelled concert in Indonesia. There were still hundreds of avid fans who failed to get in thevenue, but still managed to enjoy the show by listening to the songs of theinternational music artists.
The show started exactly at the scheduled time with ChrisBrown appearing on stage with a cover on his face. In the background wereinitials in bold-lighted letters.
The 19-year-old pop singer-songwriter showed off his dancemoves with his hit songs like "Forever," "Kiss, Kiss" "Gimme That,""Picture Perfect." Then, after his first set, Chris engaged ina showdown among his crew members who grouped themselves based ongender.
ADVERTISEMENT - CONTINUE READING BELOW
Of course, Chris did not only prove his talent in breakdancing, he also serenaded the audience with his R&B songs like "Say Good Bye,"and "With You." He also performed theduet song "No Air" with the recorded voice of Jordin Sparks.
The Grammy-nominated artists also paid homage to the King ofPop Michael Jackson by singing a few of his hits while imitating his dancemoves. The tribute included songs suchas "Rock With You," "Billy Jean," and "Thriller."
After Chris Brown's performance, fireworks entertained the thousands of spectators during the 30-minute break.
As the second set began, stairs slowly emerged on thestage with Rihanna standing on top. Shewore an all-black outfit—composed of a corset over a one-piece bikini and knee-high boots—which made her a total rock chic as she sang "Disturbia."
The fun continued as the 20-year-old performed her dance songs, "Pon de Replay," "Don't Stop the Music," "Break It Off," and "Shut Up andDrive."
ADVERTISEMENT - CONTINUE READING BELOW
Then, in the middle of the set, the lights faded out,and Rihanna was seated on the stairs with her backup singers. She thanked the approximately 70,000 people who cameto see her concert with Chris Brown.
Rihanna got the audience to sing with her when she startedher mellow songs such as "Unfaithful," "Hate That I Love You So," which sheoriginally sang with R&B singer Neyo, and "Rehab" (co-written withJustin Timberlake).
After more than 10 songs, Rihanna bid good night to theaudience to signal the end of the show. But she appeared again on stage after a few minutes for theencore. She sang "Takea Bow," currently one of the most popular Rihanna songs in thecountry.
Before the finale, Rihanna gave a message to her Filipinoaudience. She said: "Unfortunately, somehow this is the end ofour show. I know, right. You have the whole show to scream tonight,you gotta scream on this song. Allright, I had so much fun tonight with you guys. You are an awesome audience. Thank you, Manila!"
ADVERTISEMENT - CONTINUE READING BELOW
Then, she introduced her last song by saying, "This nextsong is special to me." As the familiarinstrumental of the song played, the spectators gave their last screams forRihanna. The crowd sang with the R&Bsinger for the song "Umbrella," which did not only made her famous in the U.S.but also in other countries. Variousmusic artists such as Mandy Moore, Marie Digby, and even local celebrity KCConcepcion have done their own rendition of this song.
The fans will definitely remember this concert because ChrisBrown joined Rihanna on her last song, which was the remix of "Umbrella,"titled "Cinderella." And to make itmore memorable, the two hugged each other in the end, making their fans screamlouder. This scene just showed that thetwo are really "playing good music" together.
During the concert, PEP spotted several local celebrities: couples John Estrada and Priscilla Meirelles, Paolo Contis and Isabel Oli, JohnLloyd Cruz and Liz Uy, and Janno Gibbs and Bing Loyzaga withtheir two daughters.
ADVERTISEMENT - CONTINUE READING BELOW
Other stars, likeSam Milby, Vhong Navarro, Patrick Garcia, Bubbles Paraiso, Raymond Gutierrez,Mel Soriano, Sam Concepcion, and Karylle, also had fun watching Rihanna andChris Brown in this one-night concert staged by MTV Philippines.
TO STEAL RIHANNA'S FUNKY LOOK, CHECK OUT STYLE BIBLE !