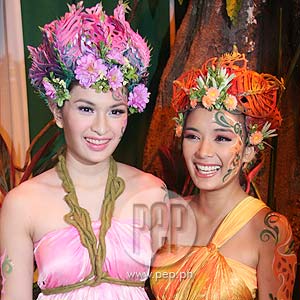 IMAGE 0
---
Credit Pauleen Luna forbeing professional despite the recent death of her grandmother. Still nursing hergrief, the young actress showed up at the press conference of GMA-7's upcomingfantaserye Luna Mystika, held last night,November 11, in Studio 3 of the GMA Network Center, Quezon City.
Pauleen's grandmother,Mercedita Jimenez, was gunned down last November 5 by an assailant who was immediately caught and identifiedas Edison Antonio. Mrs. Jimenez was making her usual early morning rounds at the Blumentritt public market in Manila when she was shot fourtimes by the suspect. Initial findings pointed to robbery as the motive. But police investigators started looking into other angles afterEdison claimed that he was just hired to killMrs. Jimenez.
Pauleen, a mainstay on Eat Bulaga!, was supposed to have a party on her birthday last November 10. Instead, she spent her birthday quietly at the wake of her lola, who had been on top of preparations for Pauleen's birthday party. Her sudden death became doubly painful for the young actress toaccept.
Mrs. Jimenez's remains were interred yesterday. Reporters at the press conference last night did not expecting Pauleen to attend, given her bereavement.
They asked Pauleen if she was starting to accept her loss. "A little. Wala, iyak pa dinako nang iyak," she replied, trying to hold back her tears.
MAKINGPEACE WITH MICHELLE. The death of her grandmother overshadowed a positive episode in Pauleen's personal life. Just recently, Pauleen madepeace with erstwhile rival Michelle Madrigal, with whom she had a bittermisunderstanding over the latter's ex-boyfriend and current La Lola male lead star, JC de Vera.
According to the accountsgiven by those in the know, Michelle wrongfully accused Pauleen of calling JC incessantlyon the phone during a Boracay vacation a few years ago. Michelle and JC eventuallysplit.
ADVERTISEMENT - CONTINUE READING BELOW
In a past interviewgranted by Pauleen, she firmly ruled out the possibility of initiating thefirst move to settle the tension.
"Sa akin, okay langkung makipag-ayos siya. Open naman ako. Pero hindi ako ang gagawa ng unangmove. Alam naman niya na hindi ako ang may kasalanan dito. Wala akong nakikitasa kanya na incentive to make the first move, hindi na muna ako gagalaw.Nagpapakatotoo lang naman ako, ayoko ring gumigimik," Pauleen told PEP(Philippine Entertainment Portal) in a conversation last October 23 at an Internet shop in Quezon City.
The issue between thetwo was rekindled when Pauleen and Michelle were tapped byGMA-7 to co-star in the primetime fantasy series Luna Mystika. It would be difficult forboth actresses to avoid each other since their roles and most of their scenes required that they work closely together.
Given Pauleen's toughstance barely a month ago, it was surprising to know that sheeventually relented by calling Michelle to patch things up. Thephone conversation occurred a few days before their first shooting day for Luna Mystika.
Both parties refused to spell out the details of their conversation. Pauleen said, "'Yongusapan namin, sa amin na lang. But it was a good talk and okay na."
While the idea ofworking together might have influenced their decision to reconcile,Pauleen stressed that it had nothing to do with theproject. It was a personal decision they both deemed necessary for their ownpeace of mind.
"No, it's not becauseof the project," Pauleen told PEP. "Of course, ayaw mo naman ng meronkang kaaway and, as we always say, sana 'wag kaming pilitin because eventuallyit will happen and you know tamang timing dahil meron kaming project."
Michelle pitched in: "Maganda na 'yong hindi kamipinilit dahil feeling ko kung pinilit baka hindi kami ganito, parang 'hi',parang ganun pa rin, parang ang plastic pa rin. Kasi 'pag pilit ka tapos hindimo pa talaga feel parang hindi maganda 'yong kakalabasan."
ADVERTISEMENT - CONTINUE READING BELOW
GETTINGTHERE. Michelle and Pauleen stressed though that their presentrelationship is still far from being chummy. Their phone talk wasjust the first step.
"Hindi in a snap of afinger siyempre 'yong bigla," said Pauleen. "Aminado namankami na, you know, we could have said something na we didn't mean because nga maynarinig kaming ganyan, may nasabi kami and we both said sorry for it. So, theimportant thing is, the willingness is there, tapos 'yong effort na maging okaynandoon."
The death of Pauleen'sgrandmother happened on their first shooting dayfor the series, making it awkward for both parties to chat warmly.
"Isang beses pa lang kami nag-taping, tapos 'yon pa 'yongday na namatay 'yong lola ko," said Pauleen.
"Hindi pa siya siyempre puwede makipag-chikahandahil parang 'pag namatayan ka, di ba, hindi ka naman puwede chika agad,"seconded Michelle.
But areconfident that, this time, their friendship will prosper once Pauleenis over her mourning and both of them feel comfortable ineach other's company.
"Dahan-dahan lang, hindinaman puwedeng pilitin agad na okay, close na kami, alam mo 'yon. Sa taping, feelingko dahil ang taping naman e pa-morningan, siguro naman hindi lang kami magtititiganhabang naka-harness," Michelle remarked. Pauleen smiled and added inclosing, "Palagi kaming naka-harness dito [LunaMystika]."