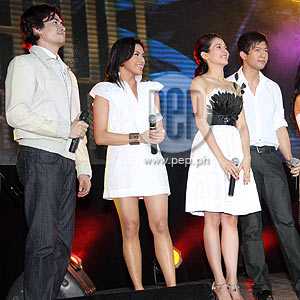 IMAGE 0
---
Lea Salonga was named this year's recipient of the Dangal ng Musikang Pilipino award given bythe Philippine Association of the Record Industry (PARI) last night, November 26, at the 21st AwitAwards ceremony held at the Eastwood Central Plaza in Libis, Quezon City.
Unfortunately, Lea wasnot able to grace the occasion as she is currently in Hong Kong for the musicalplay, Cinderella. In a video messageplayed through a huge monitor, Lea thanked PARI for the recognition and "forall the opportunities" given her throughout the years.
The Dangal ng MusikangPilipino award was instituted by PARI to honor local artists who have broughthonor to the country by making a mark both here and abroad—a criteria whichperfectly suited Lea's remarkable achievements particularly in the field ofmusical theater.
Lea Salonga made a name in the international scene in 1989 whenshe starred in the Broadway hit MissSaigon. She has won the prestigious international awards Olivier, Tony,Drama Desk, Outer Critics and Theatre World. Her singing voice was also dubbed in the animation movies, Aladdin(1992), Mulan (1998) and Mulan II (2004).
ADVERTISEMENT - CONTINUE READING BELOW
SURPRISEWINNERS. This year's edition of the celebrated local musicevent also saw emerging young talents take home some of the majorawards.
Acoustic artistJulianne received the recognition she deserves by bagging the BestPerformance by a New Female Recording Artist and Best Performance by a FemaleRecording Artist for her debut album Gratefuland the single, "Tulak ng Bibig."
The Pinoy soul bandSinosikat? likewise announced their arrival after winning three awards: the Best World/Alternative/Bossa Music for the haunting single, "Turning MySafety Off," Best Jazz Recording for "Akin Ka," and People's Choice FavoriteGroup for "So Blue."
But it was YengConstantino who garnered a handful of awards including the Album of the Year honorfor her debut record under Star Records, Salamat.Yeng, who is currently in the Middle East for a show, collected four awards.
Sarah Geronimo clinched the Song of the Year trophy for the Medwin Marfil-pennedsingle titled, "Ikaw."
ADVERTISEMENT - CONTINUE READING BELOW
The evening was hostedby MYX VJ Nikki Gil and balladeer Christian Bautista. Performers during the program wereSandwich, Aicelle Santos, M.Y.M.P., Julianne, Itchyworms, Janno Gibbs, Cueshe,Ronnie Liang, Parokya ni Edgar, Richard Poon, Nyoy Volante, Sitti, ChristianBautista, Toni Gonzaga, Raki Vega, Hale and Karylle.
Here are the list ofall the winners and the corresponding categories:
BestInspirational/Religious - "Salamat" Yeng Constantino (Star Recording Inc. /Dream Big Productions)
Best Christmas - "APerfect Christmas" Jed Madela (Universal Records, Inc.)
Best Regional Recording- "Matud Nila" Mark Bautista (Star Recording, Inc. / ASAP Music)
Best Dance - "SumayawKa" Gloc 9 (Sony-BMG Music Philippines)
Best MusicalArrangement - "Probinsyana" Bamboo (EMI Philippines)
Best Vocal Arrangement -"Souvenirs" Moy Ortiz (Viva Records Corporation)
Best EngineeredRecording - "Probinsyana" Angee Rozul - Tracks Studio (EMI Philippines)
Best Album Package - Moonlane Gardens Orange & Lemons(Universal Records)
Best Ballad - "It'sOver Now" Kyla (EMI Philippines)
ADVERTISEMENT - CONTINUE READING BELOW
Best Rock - "Tatsulok"Bamboo (EMI Philippines)
Best Novelty - "ItaktakMo" Joey de Leon (Sony-BMG Music Philippines)
BestWorld/Alternative/Bossa Music - "Turning My Safety Off" Sinosikat? (WarnerMusic Philippines)
Best Rap - "Lando" Gloc9 feat. Francis M (Sony-BMG Music Philippines)
Best Jazz Recording - "AkinKa" Sinosikat? (Warner Music Philippines)
Best R&B - "Let MeLove You Tonight" Ryan Cayabyab Singers (Sony-BMG Philippines)
Best Song Written forMovie/TV/Stage Play - "Paano Kita Iibigin" Piolo Pascual and Regine Velasquez(Star Recording, Inc. / Viva Records Corporation)
Music Video of the Year- "Probinsyana" Bamboo (EMI Philippines)
Best Performance by aNew Group Recording Artist - "Let Me Love You Tonight" Ryan Cayabyab Singers(Sony-BMG Philippines)
Best Performance by aNew Male Recording Artist - "I'll Take Care of You" Richard Poon (MCA Music,Inc.)
Best Performance by aNew Female Recording Artist - "Grateful" Julianne (MCA Music, Inc.)
ADVERTISEMENT - CONTINUE READING BELOW
People's ChoiceFavorite Music Video of the Year - "Time In" Yeng Constantino (Star Recording.Inc.)
People's ChoiceFavorite Song of the Year - "Salamat" Yeng Constantino (Star Recording, Inc. /Dream Big Production)
People's ChoiceFavorite New Group Artist - 3rd Avenue "Why It Can't Be" (UniversalRecords, Inc. / Barnyard Music Phils.)
People's ChoiceFavorite Group Artist - Sinosikat? "So Blue" (Warner Music Phils.)
People's ChoiceFavorite New Male Artist - Daniel Razon "All My Life" (EMI Philippines /Breakthrough & Milestone Production Int'l)
People's ChoiceFavorite Male Artist - Martin Nievera "Hard Habit to Break" (EMI Philippines)
People's ChoiceFavorite New Female Artist - Olivia "Oh Lori" (Ivory Music & Video)
People's ChoiceFavorite Female Artist - Aicelle "Ikaw Pa Rin" (GMA Records)
Dangal ng MusikangPilipino Awardee - Lea Salonga
Best Performance by aGroup Recording Artist - "Tatsulok" Bamboo (EMI Philippines)
Best Performance by aDuet - "Hard Habit to Break" Jed Madela and Gary Valenciano (Universal Records,Inc.)
ADVERTISEMENT - CONTINUE READING BELOW
Best Performance by aMale Recording Artist - "Sana Maulit Muli" Gary Valenciano (Star Recording,Inc. / ASAP Music)
Best Performance by aFemale Recording Artist - "Tulak ng Bibig" Julianne (MCA Music, Inc.)
Best Selling Album ofthe Year - "Salamat" Yeng Constantino (Star Recording, Inc. / Dream BigProductions)
Album of the Year - "Salamat"Yeng Constantino (Star Recording, Inc. / Dream Big Productions)
Song of the Year - "Ikaw"Sarah Geronimo (Viva Records Corp.)