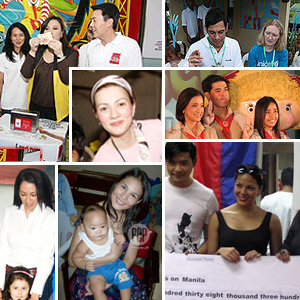 IMAGE 0
---
The Christmas season is about giving cheer to all. Theact of sharing your blessings celebrates the true meaning of Christmas, even whenit isn't December.
Surrounded by gossip, controversy, and toxic schedules, our artists seem to have no time for anything except show business. Yet behind the glitz and glamour, some stars are well aware that not all is well in our imperfect society.
This year, PEP brings you seven of local showbiz's artist-philanthropists who took time off the limelightto help the less fortunate experience joy and the necessities oflife. These artists give their time, money, and lend their names andsupport for worthy causes. Here in our list, there's no "Number 1 philanthropist" or "The best volunteer."They have all done a great deal of charity work.
Other showbiz personalities choose to goincognito in their efforts to make this world a better place. All these acts, whether or not known publicly, are newsworthy. PEP salutes all celebrities with a heart for the poor, especially the children.
Aga Muhlach. Each Christmas is always maAga for poor children, thanks to Aga Muhlach.
The Jollibee food chain and Aga's MaAgaang Pasko have done a lot in their 14-year tradition of making kids specially happy even before Christmas. The project originally stemmed from Aga's idea toask for donations of old toys in all Jollibee outlets. From there, thetoys were given to less fortunate kids in time for Christmas. Through theyears, the project evolved and the donations have expanded to books,clothing, and school supplies.
Ruffa Gutierrez. Ruffa Gutierrez has been active in so manydifferent philanthropic events that it has become a tradition.
After RRRampa for aCause last September 2007, Ruffa turned over P200,000 to the Make-A-WishFoundation. The foundation provides children—most of them cancer patients—withthe opportunity to turn their wishes into reality. After the Make-A-Wishdonation, Ruffa, with brother Richard this time, went to UNICEF headquarters inMakati City to hand over a check worth P500,000.
ADVERTISEMENT - CONTINUE READING BELOW
Sharon Cuneta. Education,for Sharon Cuneta, is a right that all children must have and she has promotedthe cause through McDonald's Ronald McDonald House Charities and its BrightMinds Read program.
The Megastar aims to raise funds in form of canisters [oralkansya] in order restore proper education in the country by means of sendingmore kids to school and improving the overall environment of teachers so theydon't have to leave the country for greener pastures.
Sharon has already begunfilling her canister with money amounting to about P74,000. With the program,there is hope to get more kids back to school and education once again.
KC Concepcion. KCConcepion has started her own way in helping out by organizing the ArtistsFair Pilipinas Bazaar held in Eastwood, Libis last November 2007. The bazaarfeatured pre-owned items from celebrities that were sold to the general public.
Last March 24, KC turned in the proceeds of the bazaarto Hands On Manila and Virlanie Foundation. There, she held an advancebirthday celebration with the kids of Virlanie Foundation.
Gary Valenciano. Mr. Pure Energy dedicated his time and effortin encouraging child rights through education in Sitio Avocado, a former warzone in Negros Oriental. The 10-year UNICEF National Ambassador gave speechesto elementary and high school children in Sitio Avocado and also staged amini-concert for them.
Gary V's energy in the past ten years in advocatingchildren's rights has not wavered. The next ten years for him would be "hopefullyto encourage efforts to know more about UNICEF and unite our efforts for therights of all children."
Carmina Villaroel. LastAugust 30, TV host Carmina Villaroel celebrated her 33rdbirthday inside the children's ward at the Philippine Orthopedic Center (POC). Celebratingher birthday with the children of POC has been a tradition for Carmina since acouple of years ago when she was brought along by friends who were workingthere. Seeing the situation of ailing kids, Carmina decided there and then tocelebrate her birthdays by giving toys and food, bring joy to thechildren.
ADVERTISEMENT - CONTINUE READING BELOW
Iza Calzado. Izahas made the past four years meaningful for cancer-stricken children at the HematologyDepartment of Philippine Children's Medical Center. Each year, she celebrates herbirthday there and spends some quality time with the PMPC kids. She gives gifts, smiles,and words of encouragement to the kids so that, even for just a day, they may enjoy themselves.
Iza's birthday celebration in PMPC did a lot in raisingawareness of the children's plight. Fans and friends of the star have done their part in helping out.
For Iza, prayer can work wonders, so does hope and the will tonever give up.