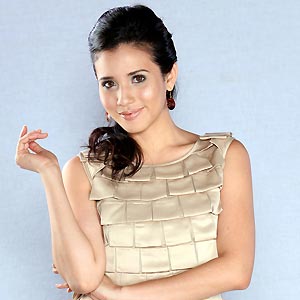 IMAGE 0
---
With only a few daysleft before she takes centerstage at Manny Pacquiao's anticipated boxingbout against Oscar de la Joya at the MGM Grand in Las Vegas, Nevada on December7, singer-actress Karylle is busy wrapping up commitments here in the country.
Last night, November26, Karylle attended the 21st Awit Awards held at the EastwoodCentral Plaza in Libis, Quezon City, to participate in the tribute givento this year's Dangal ng Musikang Pilipino Award recipient, Lea Salonga.
Minutes before theperformance, Karylle expressed her thoughts on the Pacquiao-Dela Joya match, where she will sing the Philippine national anthem for aglobal audience.
"It's a very big honor for me to do this," saidKarylle. "Number one, siyempre, I'm so proud na nakilala ko si Manny Pacquiao. Alam mo na nakakausap mo siya, na tinatanong niya ako nagpi-prepare ba ako, 'yongmga ganung bagay, ipinagmamalaki ko 'yan sa mga kaibigan ko. I'm very honoredthat he picked me."
The event is evenmore special for Karylle by the fact that the sport means a lot to her family. Karylle's grandfather, Carlos Padilla Jr., was a ring refereewhose career took off after officiating the $20-million worldheavyweight championship match between legendary boxers Muhammad Ali and JoeFrazier. The mammoth boxing event called Thrilla in Manila was hosted by the Philippines at theAraneta Coliseum on October 1, 1975.
"This is something thatconnects me with my grandfather. 'Yong great grandfather ko naman, isa siyang Olympicboxer. So, kahit papaano, I may not be on the ring like them or referee, but I'mgonna be there to sing," Karylle said.
FEELINGMUCH BETTER. It is no secret that Karylle stillnurses a broken heart following the collapse of her relationship with actorDingdong Dantes. Karylle cited the upcoming boxing match as a big help indiverting her attention away from whatever emotions she's experiencing.
ADVERTISEMENT - CONTINUE READING BELOW
Dingdong has been veryvocal in expressing his desire to maintain friendship with Karylle. Thedaughter of singer Zsa Zsa Padilla, however, was more realistic insaying, "Well, as of the moment, I don't think that's really possible, sadly."
Building a solid friendship, of course, would taketime and there's a proper time for it to happen, she remarked: "Somedaywe will be friends and it will all work out."
Incidentally, the twoformer lovers were together a few hours before Karylle graced the Awit Awardsceremony. Dingdong and Karylle personally attended a charity activity organizedby the Kapuso Foundation for cancer patients.
"It was very, verymoving. We had a lot of guests that turned up. Actually kasi, Wednesday ngayon,so a lot of my friends, they couldn't make it so I took a chance with peoplethat I worked with. So, sabi ko, ang hirap mag-invite pero I'll try and ended up... We were about 70 volunteers in Time Zone and we had a lot of fun," she narrated enthusiastically.
It was clear thatKarylle preferred to discuss the special event and its meaning, rather than take notice of Dingdong's presence during the occasion. She's definitely coping and feelingoptimistic as she now moves to ABS-CBN.
"Sometimes thingshappen, but it's really more of the way you look at things," Karylle reasoned. "And you know, the blessings have been flowing in tremendously. There aretwo new endorsements on the way and they'll be out soon, and a new record contract."