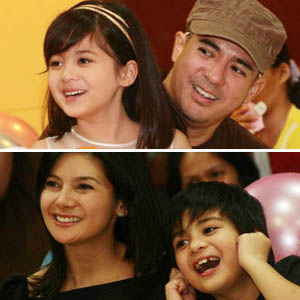 IMAGE 0
---
When twins Atasha and Andres Muhlach turned seven, dadAga and mom Charlene spared no effort to give them the birthday party of theirdreams.
Last November 5, at the Jollibee store along MadrigalAvenue, just a few minutes' drive from their home in Alabang, a party inspiredby Jollitown (the hit children's TV show produced by Jollibee this year)awaited the twins.
Themed balloons and other exciting party amenitieswelcomed the two kids as they stepped into the wonderful world of the Jollitownparty.
"We usually commemorate the twins' birthday with aJollibee Kids Party," shared Aga. "But this year is extra special because theyare turning seven so we wanted to make it a bigger, grander occasion."
And what a grand occasion it was.
A warm chorus of birthday greetings from family andfriends wearing Jollitown party hats welcomed the twins. It was followed by aseries of kiddie games that had all the little party attendees giggling andsquealing with delight, as the party host got them to sprint, crawl and jump forthe coveted prizes.
A Jollibee party will never be complete of course withoutpopular Filipino fastfood's mascot Jollibee together with the brand's other mascotsHetty, Popo, Yum and Twirlie. The fun factor was multiplied five times over asthe Jollifriends entertained kids with their cheerful dance numbers that hadmany kids, even some parents, dancing along.
And as Atasha and Andres blew out their birthday candles, happiness was evident on theirfaces.
"It's such a joy to see my kids obviously having a veryenjoyable and memorable time with their friends," noted Charlene. "It warms myheart to see them smiling and laughing like this and I can't be any happierwith the way their seventh party has turned out."
As soon as all the guests have left, the twins excitedlywent through their gifts from guests and friends.
ADVERTISEMENT - CONTINUE READING BELOW
However, the best gift remains to be the feelings of joyand love that Aga and Charlene gave their kids on their special day.