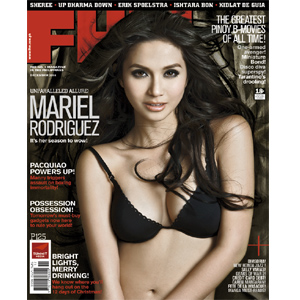 IMAGE 0
---
You can be sure that with TV host Mariel Rodriguez,what you see is what you get. Whether she's hosting Pinoy Big Brother, Wowowee,or Entertainment Live, she remains the same bubbly and exuberantMariel that she is even outside showbiz. "To put on a front is just theworst thing you can do," she says as she makes her debut in this month's FHM.
Mariel keeps it real in her first FHM photo shootas she lounges around the house in sexy lingerie from Hot Pink, her sister'slingerie store. "I love lingerie, especially Hot Pink's lingerie—its very me,it's not bastos, it's just fun," she says, "I could do FHM andwear lingerie all over again for as long as I wear Hot Pink!" Aside fromendorsing the brand, she is also thinking of franchising it soon. "Wala pakasi akong business, puromonkey businesses lang, ha ha!"
Mariel is so candid in her first FHM interview,she admits to being a die-hard fan of fellow actresses Claudine Barretto andKris Aquino, despite belonging in the same industry and moving in thesame circles.
"I've watched all of Claudine's teleseryes and movies. Butwhenever I see her, I don't get to talk. Nahihiya talaga ako," sheshares, "I've always wanted to have a picture taken with her, I could never dothat." And just like any non-showbiz fan, she gets kilig over theattention by her idol. When Kris greeted her, "Hi, you'reMariel, right? You're Boy's talent, di ba?" Mariel thought to herself,"Wow! She knows me!"
Mariel's sexy vibes stem from knowing that she's true toherself, whether or not people like what they see.
"I can't please everyone,"she points out, "So, thank you for liking me. Those who don't, sorry but this isme. I'm kikay, noisy, I'm real."
ADVERTISEMENT - CONTINUE READING BELOW
She's had her share of detractors, butthis is all she has to say: "Sometimes I do get affected but then, at the endof the day, I don't think I can change who I am."
See more of Mariel's sizzling FHM debut bygrabbing your copy of the December issue of FHM, available innewsstands, bookstores, and supermarkets nationwide.