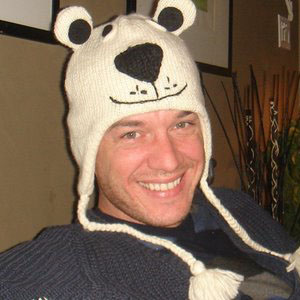 IMAGE 0
---
It was March 4, 2008 when aBrian Gorrell first entered the blogosphere. Instead of going through the usual"Hi, I am Brian" introduction, he defied convention by dropping famous names inthe Manila'selite society—specifically the Gucci Gang—and exposing their alleged debauchery,like cocaine abuse, tackiness, among others.
The trigger: His ex-boyfriendDelfin Justiniano Montano II, who is said to be part of the nowinfamous gang and whom Brian also called "notorious fraudster." Heposted that DJ hoodwinked him of his life savings worth US$70,000 andcheatedon him.
Brian told PEP (PhilippineEntertainment Portal) via email, dated December 18, how things began: "I was sitting in the Ninoy AquinoInternational Airportin Manila. Ihad written my first expose at my friends' bed and breakfast in Paco. AFTER Ipassed through security, and felt safe, I pressed the send button and began thejourney that brought me to this place. And the blog started from there. As didmy new life as a blogger/activist." (Published as is)

Ten days after he put out hisfirst entry, his blog delfindjmontano.blogspot.com became a phenomenon, generating more than 200,000 page views. In a few months, he was able toform his own fan base, called Team Brian. Even the readers formed a bandwagonand began posting the "dirty laundry" of certain people.
But our intent here is not torevive the past issues.
In the spirit of Christmas,we thought of getting in touch with the 38-year-old landscape designer to showus the other side of the coin.
Most of his blog entries mayhave been blunt in stating his very low opinion of his former Pinoy friends.The aftermath of his stay here in the Philippines cannot be exactly classifiedas pleasant. But Brian underscored in his email to PEP that he "loved being inthe Philippines." In spite of his misadventures, he still described the peopleand his experiences here as "the best."


ADVERTISEMENT - CONTINUE READING BELOW
The king of blogging, whiletaking breaks from his work in Toronto, Canada, listed his Top 10 most wonderfulmemories about the Philippines.
10. The fact that the vastmajority of Filipinos speak good English as a second language is amazing to saythe least. I swear, most of my Filipino friends speak BETTER English than myWestern counterparts (especially some of my American friends, duh!) I believeit's a testament to their intelligence as a people and their burning desire tobe part of the bigger picture as a race.
I would not have moved to thePhilippines unless this was the case. I've always written in English so I'mlucky Filipinos are so smart. Within the Asia region, Filipinos have a distinctadvantage.
9. I did not truly appreciatefish until I moved to beautiful Boracay. Now I LOVE fish, in every form, shape,color, texture and taste. I also learned how to season my food in thePhilippines and I developed a great passion for all the dipping and the specialvinegars.
Eating Filipino food is a special experience if you learn all thetricks required/needed to re-enhance the food once it's beenfried/boiled/grilled/baked to death. I have to say, I acquired my passion forFilipino food over time. It did not come all at once. Balut? NO WAY! I LOVE myyaya Rose's chicken adobo. It's heaven in the clouds.
8. Although I rarely rode ona jeepney (four times), when I did, it was a thrill. I understand when peoplefirst look at the jeepney and assume they are like a 'rattling death trap' onwheels. I also believed this until I went on my first ride. It was exhilarating,if not a bit terrifying.
Although the transportation in Manila travels at snail's pace, as a tourist,it has its benefits. The fare is cheap. Do not complain. Take the time to lookaround at all that needs to be done. You may even see something beautiful.
ADVERTISEMENT - CONTINUE READING BELOW
7. Considering the Philippines is supposed to be a third-worldcountry, the shear volume of excellent restaurants in Manila and beyond boggles the mind. Everyoneknows that the Peoples Palace is my favourite restaurant in Manila. The serviceis amazing and the rice is always perfect. The spices they use are the freshestwith the authentic taste of Thailandcoming through with every mouth-watering mouthful. Cocktails outside afterdinner ...a must! The restaurants at the Greenbelt complex are great.
6. Air travel within thePhilippines is a true adventure onto itself. It's uncomfortably crowded andsticky for the most part (especially when your plane sits idly on the blazinghot tarmac in Aklan). I loved preparing for my trips. And of course there wasalways a 'fare compare' between the two main island hoppers. Asian Spirit alwayswon out for me in the end because it was always cheaper. Not as many 'flash'people on board, but it's a great airline.
Traveling between Boracay and Manila was a drag most ofthe time, but I always tried to travel in comfort, despite and or anticipatingthe third-world conditions that lay ahead of me for the next four hours.Sandals and boardies do help. I love the national uniform of the Philippines.Oversized everything for the guys and overtight everything for the girls. Andit all looks great.
5. Whenever I would travelinto the provinces, I was blown away. I anticipated beauty, but I had no ideawhat I would see. The topography and geography is breathtaking. You forgetabout the poverty, when you are gazing out into the wonderful countryside. Andeven when you come face to face with the reality close up, there is a peacefulfeeling.
You feel respected and liked. People are nice to you, even a strangeface. I never had a single problem the entire time I lived in the Philippines, nomatter where I traveled. It really is anamazing loving country with the friendliest open arms.
ADVERTISEMENT - CONTINUE READING BELOW
4. Being a pop culturevulture, I am always looking for new trends wherever I've lived in the world,and the Philippines does not disappoint. Filipino fashion for the most part isavant-garde, if not a bit 'far out'. However, what looks great on an Asian bodybut does always work on a western silhouette.
The Philippines is a very colourful country with amazing fashion talentseverywhere you look. Fashion and makeup seem to rule Manila. Fashion adds the texture and vibrancyin an otherwise, dullish environment. I get it. The massive preoccupation withit is puzzling, considering how many have so little.
3. I love dancing andsinging. I especially loved dancing and singing in the Philippines. I'm notsure why, but I feel so free and uninhibited there. Dancing is a great passionI share with my Pinoy friends. And most of my Pinoy friends have amazingvoices. My memories of Juice Bar and Hey Jude will forever be etched in my heartand mind. I danced for a million hours. We all did. Filipinos are excellentdancers. It could be the rum, or the Red Horse.
2. I discovered Facebook whenI lived in the Philippines. Facebook changed my life in many ways. My Boracaymates FORCED me to open my Facebook profile. I did and I'm grateful for theirpressure now. I cherish my Filipino friends. I love every single one of them.
To me, Facebook is where I go to remind myself how great Filipinos are. Theyare soft, loving and generous and very emotional and quite a comfort to me.They are creative and giving and honest.
1. I met my wonderful partneron Boracay over one year ago on the beach. I've been blessed since that day,and I know it. My Boracay mates saved my life in many ways by introducing himto me. New love made my life much better.
ADVERTISEMENT - CONTINUE READING BELOW
My friends on the island wereterrific and I had the best year of my life-recovery from the worst time in mylife. Having a Filipino boyfriend helps me stay and feel linked/connected tothe country where I hope to return one day.
The Philippines. Iowe it so much. I hope to repay it one day.
At present, Brian is busy beefing up the content of his new website. And he has a new goal thistime: "I want to do it right. It's called PURE advocacy. The blog is still opento read and comment on. I'll be writing some new stuff soon, to updateeveryone. Having a break before the relaunch was always on the cards. And I'menjoying it SOOOOO much."
Will he still write scoopsabout Manila's high society? Maybe. Maybe not.
But more than his angst, theguy has a lot more to offer: his warmth and depth. And he's all set to conquerthe blogosphere with POSITIVISM and try to change the world in the forum that made him famous.