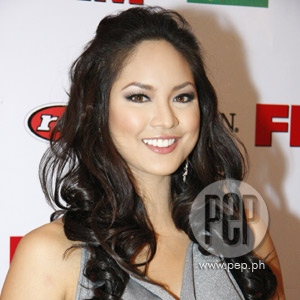 IMAGE 0
---
Former beauty queen and Pinoy Big Brother housemate RizzaSantos is filinga lawsuit against a clothing company she currently endorses. Thecompany is asking her to pay a six-digit amount for her no-show at malltours,which were supposedly part of her contract. (Click here to view previous article.)
"The fact that they're demanding 900,000...reduced to350,000—for me to fund the fashion show is not right," Rizza told TV Patrol World in a taped interview shown earlier tonight, December 11.
Rizza's mother Dina Santos agreed. "I don't think it'sfair," she said. "Kasi wala naman kaming dapat bayaran."
Rizza also added that she had to go home to Canada tofulfill her military duties. She claimed that she wasn't advised by theViva Artists Agency—the talent management group handling her—about themall tour dates.
"I never said 'no' to any mall tours," Rizza said. "Actuallywe even came in to see my management to say, 'Where are the mall tours?' Ididn't receive any dates."
The clothing brand wanted to make it clear that addingCristine Reyes to their roster of models was not a move to replace Rizza.However, they didn't want to comment on the case until Rizza sends in herdemand letter.
VIVA STATEMENT.Today, December 11, Viva sent a statement to PEP (Philippine Entertainment Portal) concerning Rizza Santos's earlier remarkson Teleradyo and TV Patrol that the agency did not inform her of the said mallshows.
Viva aims to set the record straight with a chronology of events, as follows:
ADVERTISEMENT - CONTINUE READING BELOW
1) September 3, 2008—Ms. Santos met with the GM of Viva ArtistsAgency, Inc. (VAA), Ms. Veronique Corpus to inform the latter that she had toleave for Canada because she was "recalled for military service as a Canadiancitizen" and that she had to attend to it personally. Consequently, Ms. Santosadded that she might not be able to fulfill her commitments and left it openended at that, without any definite date as to her eventual return to thePhilippines.
RIZZA NEVER LEFT THE COUNTRY. In a previousreport by PEP, Rizza had an issue with Viva concerning herlast-minute plans to leave the country for her military service in Canada. Rumorsback then said that Rizza never even left the countryand supposedly underwent plastic surgery.
Rizza admitted that she didn't leave the country but said,"I don't see what does that have to do with the lawsuit [with the clothingcompany]."
"It's a personal issue," addedher mom. "Whatever she does with her is nobody's business. It's her body—whichis not true [sic]."
2) September 18,2008—A meeting was held at theViva office. In attendance wererepresentatives from Tepoj Co. (owner of Mint Boutique), Ms. Riza Santos andrepresentatives of VAA. The meeting wascalled by Viva upon the request of Mint Clothing to schedule the mall tours ofMs. Santos under her endorsement contract with Mint. The meeting ended with Ms.Santos not being able to give any commitments as she informed everyone presentduring the meeting that she might be called for military services by theCanadian Government. She then addedthat she will be leaving the country within the last week of September.
ADVERTISEMENT - CONTINUE READING BELOW
3) Week of September20 to 27, 2008—Taping schedulesof "Love Books" which Ms. Santos attended. It was during this period that she requested her VAA handler to ask theproduction of the show to finish her part of the taping early on September 27,2008 to enable her to catch her early flight to Canada the following day,September 28.
4) From September28, 2008-October 15, 2008—Ms.Santos was being updated about her projects and corresponding talent feestherefore and she acknowledged, but without clarifying that she was just herein the Philippines. On October 12,2008, it was Ms. Santos's father, Ruel Santos who answered VAA'scommunication. Mr. Santos likewise didnot inform Ms. Santos was just here in the Philippines the whole time.
5) October 16, 2008—VAA sent a letter to Ms. Santos. It was only then that VAA discovered thatshe never left the country, neither did she go to Canada on the day sheinformed VAA that she was leaving.