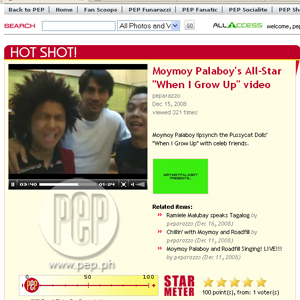 IMAGE 0
---
More than a month after its launch, PEParazzi (www.pep.ph/peparazzi)has become one of the most frequented places in PEP (Philippine EntertainmentPortal) website.
Both PEPsters and non-members get their kicks looking at the photos andwatching the videos of celebrities, posted by our PEParazzis.
THE FUN, THE INFORMATIVE AND THE CONTROVERSIAL. PEParazzi defies theusual perception that paparazzi materials only show the bad and worse incelebrities. Here, we highlight the fun side of our stars.
And here are our HOT PICKS this week:
1. Daiana Meneses and JuliaClarete "Freak out!"
Brazilian model-turned-TV personality Daiana Menezes emailed two videosshowing her "fun interpretation" of Itchyworms' "Freak outBaby," with Julia Clarete, Wally Bayola, Pauleen Luna, and Jose Manalo.
3. Moymoy Palaboy's All-Star"When I Grow Up" video
Hot Shot (the main window of PEParazzi) features the now-famous brother actof Moymoy and Rodfil Obeso, or popularly known as Moymoy Palaboy. In this musicvideo, the lipsynch artists jammed with Richard Gomez, Ogie Alcasid, RegineVelasquez, Rufa Mae Quinto, the Eat Bulaga! Dabarkads, internationalstar and Journey frontman Arnel Pineda and Michael V.
But of course, PEParazzi also has its dose of informative and controversialposts:
4. Ramiele Malubay speaks Tagalog
The clip was taken last December 6, six days before the American Idol finalistarrived in Manila for her December 20 and 21 concert with Ogie Alcasid and the PinoyIdol winner and finalists.
5. KrisAquino, naging bastos nga ba?
PEPster edhobbit uploaded a portion of The Buzz where Kris Aquinosupposedly cut Boy Abunda's recollection of his experience working with MarkyCielo, who just died that morning of December 7, just to have a closer look atRuffa Gutierrez's diamond-studded bracelet.
ADVERTISEMENT - CONTINUE READING BELOW
6. Mariel, Valerie, Angelica: Snobs!?
PEPster Houston TX (through paparazzo-PEParazzi's gracious uploader) told howsome fans from Houston, Texas were allegedly snubbed by Wowowee co-hostsMariel Rodriguez, Valerie Concepcion, and Angelica Panganiban. Such fan scoopearned a responsefrom Mariel herself through an interview by a PEP contributor.
MOST VIEWED. To date, the most viewed item in PEParazzi isn't avideo. It's the photo showing the offcam sweetness of onscreen partnersDingdong Dantes and Marian Rivera (click here to see thephoto and story) during a break from the shooting of their movie One TrueLove. It was uploaded to PEParazzi just when before the buzz about thebreakup of Dingdong and Karylle erupted.
Nora Aunor fans rule in PEParazzi's Fan Lounge. The colorful thumbnail of"SUPERSTARstruck: The Nora Aunor Fanatics Blog" (click here)is currently the most visited fansite.
The third most viewed item is the Celebrity Body Transformationgallery (click here ) in theFunarazzi section. Funarazzi currently features the galleries of digitallyaltered images and the before-and-after photos of stars.
On top of these, the site also has a spot for celebrity wanna-bes via"Be The Star." Aspiring model and actress Sherny Rose Abad (click here tosee her profile) made it a point to feature herself in the said section beforeflying to Korea to study. In her email to PEParazzo@gmail.com, she said shereally wants to try acting and modeling but doesn't know who are the rightpeople to approach. She sees "Be The Star" as a venue for her to beseen and get noticed by talent scouts and modeling agencies.
ADVERTISEMENT - CONTINUE READING BELOW
Plus, Hello! section gives every PEPsters a chance to greet their idols, andtheir loved-ones here and abroad!
It's a mini-me of PEP. It's a site forand by the PEPsters. And it's called PEParazzi. Log on now!