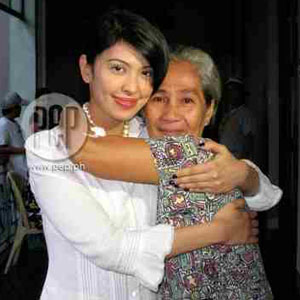 IMAGE 0
---
Without a microphone, her screaming fans, and the glaring lights, Pops Fernandez tried a totally different beat from her usual.
On December 19, 2008, the Concert Queen played Santa to patients at the Cancer Institute of the Philippine General Hospital (PGH).
"I've always wanted to do this," she said, with only her gorgeous smile as her accessory, "In the past, meron naman akong pinupuntahan [but] medyo not as big as this."
Thus, toting gift packages full of canned goods, noodles, milks and the like for patients at the said institute, Pops spread holiday cheer and goodies to the cancer wing of the PGH which have wards from the very young to the aged.
"Somehow in your own little way you help people," the performer noted. "It's always nice to share a little bit of something."
In between gift-giving, PEP (Philippine Entertainment Portal) had a chat with Pipay, the nickname of Pops, about her most recent concert, Christmas plans, and, of course, love life.
WORKING WITH THE OTHER DIVAS. Only recently, Pops had shared the concert stage with top performers like Regine Velasquez, Zsa Zsa Padilla and Kuh Ledesma in the jampacked Divas 4 Divas.
"That was a delightful concert for us," she said. "It's rare that you actually team up with some of the top artists."
She admitted that the successful concert has given her a great ending for 2008. "Thank God! That's the beauty of our jobs. Along the way, there are times when maybe, it's not how you expected it to be, but somehow, you always make bawi...and thank God we can."
When asked to describe the year 2008, Pipay answered, "It has been okay. Ako naman, I always see parang every year cannot be a perfect year, di ba? Every year, something great happens and at the same time every year, meron din tayong pinagdadaanan na mga challenge."
ADVERTISEMENT - CONTINUE READING BELOW
CELEBRATING CHRISTMAS. Speaking of which, a rare challenge for Pops this Christmas is celebrating it without her beloved boys. Her two sons, Robin and Ram, are currently with their dad, Martin Nievera in Las Vegas, USA.
"It's the first time in a long time that I'm spending it without them. Siyempre, I'm a little senti [sentimental] about it because I'm always with my kids. But I figured they also have to spend time with their dad," she said, adding that she initially planned joining her kids but, "unfortunately I cannot make it this year [due to some prior commitments], and I don't wanna deprive them naman of their special moment."
Away from her kids, she will celebrate Christmas with her mom Dulce Lucban, sibling, nephews and nieces, here in the Philippines.
With the ongoing recession in the U.S., does she feel any financial crunch?
"Actually I don't," Pops says matter-of-factly. "But everyday, I'm reminded of the crisis. You watch TV, you talk to people, especially the businessman, that's all they talk about. You're there and you're listening and you think, 'My God, thank God I'm not that aware of it but at the same time I'm glad that they're making me aware of it.'
"Maybe because yung industriya natin, it's different because we always try to give entertainment and we always try to please people and make them laugh. Somehow we're caught in the middle of it. 'Di din natin na-re-realize na andaming nagco-complain and like madaming nasunugan lalo na itong huling part ng taon, di ba? So, you just have to be really grateful."
BABY PLANS IN THE FUTURE? Financial crisis or not, that doesn't stop Filipinos celebrating Christmas the best they could. And Pipay knows it too well. She admitted to being very fond of her pamangkins and she loves giving them gifts. She loves kids!
ADVERTISEMENT - CONTINUE READING BELOW
Making it easier for us to ask, doesn't she plan to have another kid of her own?
"No," she laughed, and then qualified, "Things can happen, things can change... but you're asking me and right now it's probably not part of my plan. But if it happens..."
"I'm so happy," Pops revealed, admitting that she misses having babies around. "Pero alam mo yon, I have pamangkins," she stressed.
WEDDING BELLS COME 2009? All the talk about babies is, of course, because of her steady relationship with actor, Jomari Yllana. Pops is in love!
"Yeah," she admitted, grinning. "I think love is very important."
And like sweet rhythm to a dance, she said she balances out love and her career. "I think it works hand in hand. I don't think I'd be as effective in my career if I am not in love.
"It doesn't have to be just about a particular person," she reasoned. "It's also about my kids, my family...You always have to have a reason for doing whatever it is that you love to do [para] inspired ka.
"Iba yung inspiration ng kunyari, boyfriend mo, iba rin yung inspiration na binibigay ng mga anak mo, iba rin yung inspiration na binibigay ng mga magulang mo, kapatid mo... and when you put that together, my god, it gives you a lot of reason to do well."
The oft question: will 2009 ring any wedding bells for Pops?
She laughed, before replying, "I'm always asked. I don't know...Call it trauma or something...or maybe we're both just enjoying each other. Believe it or not, a relationship, whether you're just going out with someone, especially when you're actually married na, you go through so many changes. Just when you think you know each other so well, andami mo pa palang dapat matutunan about each other.
ADVERTISEMENT - CONTINUE READING BELOW
"I've been there already and Jomari's been there. We've both been there. We really just wanna take our time and enjoy whatever it is that we can enjoy together."
Pops said that the only thing certain at this point is her career path. She will reunite with ex-husband Martin in a Valentine concert, which will be produced by Jomari himself, and right after, she will have her tour with the 4 Divas.
But for the rest, she is clueless. "Like I said," she began. "In our business, ang daming mga surprises. Usually, welcome surprises...We have our own little goals, and they're always for the better, lalong lalo na siguro kung single parent, di ba?
"I have goals, financially, for my kids. I also have certain goals for my family and maybe, hindi ko minsan nahi-hit yung deadline sa exact date but, little by little, we manage to get there and I think that's the most important thing... you can never lose hope."
And as 2008 ends and 2009 approaches, Pops, who is no stranger to endings and beginnings, heartaches and challenges, stressed the importance of being positive and hopeful, especially in times of crises and challenges. "We will all go through it. That feeling of being low every so often, lalo na ang babae..."
And he also underscored the power of "prayers, and of course, my family, and their love." She added, "You know when you see that there's so much love surrounding you, there's no way but to pick yourself up and enjoy life. That's the most important thing."
She said and showed as much to the patients of the cancer wing of PGH. Her simple visit no doubt gave the residents a bit of inspiration.