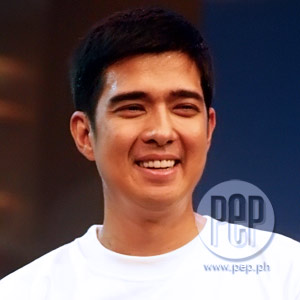 IMAGE 0
---
Christmas this year wasexceptionally special for rapper-host Francis Magalona and his family. Francis,who was diagnosed with leukemia last August, was permitted by his doctor tomomentarily leave his hospital bed last December 24 to spend Christmas Eve athome together with wife Pia and their eight children.
In a phone interviewwith Startalk's Butch Francisco andguest host Ricky Lo yesterday, December 27, Francis generously shared thedetails leading to his emotional homecoming.
"'Di ba, I told youbefore, I did my third chemo cycle and then I did it last November 11 after ourrecording nung project namin ni Ely [Buendia]? On November 12, pumasok na ako saospital and after 43 days, I went home last December 24. I spent Noche Buena athome and then Christmas day lunch with my brothers and sisters."
SECONDCHANCE AT LIFE. Francis described Noche Buenathis year as the "happiest Christmas ever."
Unknown to the public,the 44-year-old singer-composer recently survived a delicate medical condition daysbefore he was dispatched from the hospital. "Akala ko kasi magki-Christmas akosa ospital, e, because I had a very, very, very close brush with death lastDecember 4. I went into septic shock and it was a very scary moment," confessedFrancis.
He carefully shared the details: "Well. my blood pressure went down 35/20 and therewas apparently bacteria in my blood. I was in the ICU for ten days, so it wasa very trying moment and that day when I was there, all of my brothers andsisters were there. All of my sisters were there because, you know, any moment Icould have passed away.
ADVERTISEMENT - CONTINUE READING BELOW
"That's how dangeroussepsis is, so I would like to share it with people who are watching right nowthat it's no laughing matter. It's the number one killer in the ICU accordingto Google. So, I was able to survive that and then, after that, my blood becamestable again, and then I did one final bone marrow extraction last December 22,and then I was pronounced free to go home."
According to the widelypopular Internet information database, Wikipedia, septic shock is a seriousmedical condition caused by decreased tissue perfusion and oxygen delivery as aresult of infection and sepsis. The site further added that septic shock cancause multiple organ dysfunction syndrome and death.
Francis accurately hitit home when he mentioned the severity of the malady as Wikipedia took notethat mortality rate from septic shock is approximately 50 percent.
BONEMARROW TRANSPLANT. Francis is scheduled for a bone marrowtransplant. "My doctor said I'm in remission right now after my third chemocycle. So, my next move would be to do the bone marrow transplant and I'm veryhappy to announce that I was able to find a match. One of my sisters from the States,we have the same tissue typing so she would be my donor," related Francis.
The upcoming New Yearcelebration will be no different from Christmas as Francis was still allowed byhis doctors to welcome 2009 at home.
"We'll spend New Yearat home and then on January 1, I'll be having lunch, like yong kuya ko galing saStates umuwi dito. He went home to have also his tissue typing. He wants to bea donor so he went home last December 20 so hopefully 'yon magkasama ulit kami [forthe New Year]."
ADVERTISEMENT - CONTINUE READING BELOW