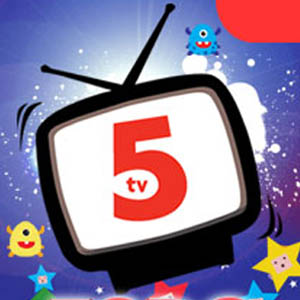 IMAGE 0
---
On December 3, television network GMA-7 filed a suit againstthe newly launched network TV5. Theformer complained the "unconstitutionality" of having Malaysian investors beinginvolved in the "programming content and airtime sales" of TV5. (Click here to read related article.)
Formerly known as ABC-5, the network now offers 24/7proramming and operates a brand new transmitter. Its management explained that ABC-5 had entered into a "majorblocktime agreement" with MPB Primedia Inc., which is a Philippine corporationbacked by Media Prima Berhad of Malaysia.
To further explain this, TV5 CEO Christopher Sy told themedia during the network's press launch in August, "ABC-5 is still owned byTonyboy Cojuanco. Prime Media has simply entered into a blocktime agreement butwe do not have equity in this station."
The entertainment media was able to get an updateabout this said case at TV5's Live Caravan last Saturday, January 3, at the CCPComplex in Pasay City.
In an interview with TV5's SVP for brand management JasperEvangelista and TV5's media relations head Pat Marcelo-Magbanua, both said thatthe said complaint has already reached their lawyers, although there was noofficial statement released yet by the network.
Despite this, Mr. Evangelista was confident that theirnetwork did nothing illegal when TV5 was launched. He said, "If you go to TV5, it's aFilipino company—brand management, programming, and marketing as well. Everybodyis Filipino."
To clear the rumors about the participation of the Malaysiancompany in TV5's operation, Ms. Magbanua explained, "We're actually not [aconglomerate of Prima Berhad]. 'Yon dinang misnomer ng mga PRs [press releases], kasi sometimes they put lang words,e, of what they understand.
ADVERTISEMENT - CONTINUE READING BELOW
"Technically, we have Malaysian investors, parang anycompany naman in the country can have investors. That's what they have in our company, they invested. But in terms of management, that's still us[Filipino]—we're self-registered, we're Filipino-run, 'yong ganun. Pero, we must admit that we have the money [from Malaysian investors],but definitely the decisions are made by us."
INSPIRED BY THE REACTION. The network took GMA-7'sreaction as a challenge to give something new to theaudience.
"We recognized this year is gonna be challenging, of course,magre-react na ang mga players," said Mr. Evangelista. They have been reacting naman. Ako, expect that, I look forward to thatchallenge. As a station, ourcompetitors, they're there to keep us on our toes and be really innovative withour content."
Evangelista added that instead of thinking about the twomajor networks as the competitors, they treat them as media that could teachthem something new about the industry.
"Of course, [Channel] 2 and 7, our competitors,are there, we're learning from them. Ofcourse, 2 and 7, sila na ang nag-establish ng TVlandscape. You know, kudos to thembecause they're now moving dynasty, diba? Kami naman, we're learning, ofcourse, from their success and also from their failure. That's where TV5 strategy emanatesfrom—learning from competitors, learning how to do things better as much aspossible, you know, giving televiewers something new on their tables. So, we welcome the competition actually."
ALTERNATIVE OFFERINGS. In less than six months since it was launched, TV5 has alreadyreached the third spot in the ratings game.
ADVERTISEMENT - CONTINUE READING BELOW
"Everybody was inspired that we ended at that high,"commented Mr. Evangelista. "When welaunched, we were very conservative also. We don't want to oversee naman the market. The objective of the launching of TV5 is be a solid number three."
He continued, "If you think, there's only just two,practically ha, then, everybody falls behind them naman talaga. So, at least, have another option forviewers kasi 2 and 7 are really like [in a closefight]. They look like sameprogramming, di ba? So, we're going inthere, shaking the landscape, 'Shake Mo TV Mo,' just to provide variety langfor the viewers and make sure that there there's something else out there forthem."
INNOVATIONS IN PROGRAMMING. To follow their aim to provide an alternative to Pinoy viewers,Mr. Evangelista said that they follow a certain mantra.
"The whole mantra of TV5 is really to innovate," hesaid. "We want to throw in new stuff inthere, give them variety. Wala dinnaman kaming sinasabi na we're gonna make this the whole year kasi itdepends. We also take the barometer ofwhat the viewers want. After a while,if this show finishes, we're changing to something new.
"At the same time, may mga key pillar brands nga, so hindinaman parang madyo-jolt ang viewers na pabago-bago ng time ang shows. We're balancing that. It's a very thin line, we want to injectmore innovations. Our role in theindustry is throw in more shows, more programs, new formats and the like."
ADVERTISEMENT - CONTINUE READING BELOW
Does this mean they staying away from making teledramas,which are very common in the two major networks?
Mr. Evangelista answered indirectly, "If you notice ourprogramming, one of the key things that we're doing is pick our battles. Again, we recognize that 2 and 7 are the big ones, we don't want to engage them at their strength. That's a basic marketing strategy naman,e. So, you pick your battles first, tryto get some successes in some key areas first."
Another aspect raised during the interview was havingtalents, who were directly identified with TV5. Right now, most of the celebrities seen in their networks camefrom ABS-CBN. Don't they have plans to train their own talents?
Mr. Evangelista replied, "We have a plan that's alsohappening, even the Lipgloss stars, even the young ones. Of course, we're gonna start with thatengine of talents and dapat meron din kaming mga landmark artista rin at thesame time."
Among the artists that are strongly identified with TV5 are,according to Mr. Evangelista, "Lucy Torres is like the Reyna of TV5, since ABC5pa. Ryan Agoncillo is being identifiedwith TV5, his Talentadong Pinoy is doing really well."
Since there are no definite plans yet about having their owncelebrities, TV5 is open to showbiz personalities who want to work in theirnetwork.
"We're an open shop, regardless if you're from [channel] 2or [channel] 7, we don't differentiate. We don't discriminate if you wanna work with us," stated Mr.Evangelista. "Unfortunately, there's aregulation that's happening on 7's side. [Channel] 2 has really been very welcoming in sharing theirtalents with us. Para sa ikagaganda rinnaman ng industriya din 'yon. It's awin-win thing. We give their stars exposure and anytime we need we get back to them."
ADVERTISEMENT - CONTINUE READING BELOW
As for 2009, Mr. Evangelisa said that TV5 will have "[a]jampacked program for the year. We'regonna raise the bar in our programming as well."


Click HERE to learn more about TV5's LIVE Caravan.