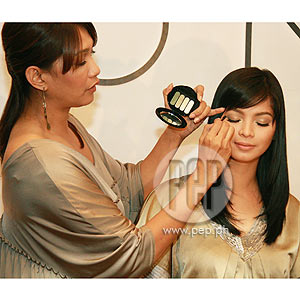 IMAGE 0
---
Cosmetic brand Avon took media guests on a short tour of its "laboratory of beauty discoveries" to present the newestproducts.
In the "Breakthrough Event" held yesterday, January 21, atThe Peninsula Hotel in Makati City, Avon also introduced two new celebrity endorserswho will carry their new fragrances called Just Play for Her and for Him—Nikki Gil and Luis Manzano.
First, the media guests were given a quick look at Avon'sfacility in New York, where the newest addition to Avon's ANEW skin careproducts is made. Anew ClinicalRetexturizing Peel aims to peel away lines and imperfections without the needfor a doctor's appointment.
Next, the event's host, Angel Aquino, led the members of themedia to the first laboratory called "playground for girls," where Avon showcased its complete line ofmakeup products.
Also present was celebrity endorser Angel Locsin to show Avon's featured look for summer, whichis about nature, according to makeup artist Lala Flores. (click here to see video of makeup session with Angel and Lala )
In this session, Lala showed the audience what a woman coulddo with Avon's wide selection of make-up cosmetics. By experimenting with green palette of eye shadow, the makeup expertdemonstrated how to experiment with three colors to do a day look and anevening look for summer.
Lala matched the eye shadow with Avon's newest creation, UltraMoisture Rich 24k Gold lipstick (available in May 2009), for themetallic look that will be "in" this summer. According to Lala, "This summer, the look will be all about theindulgence and shimmer of gold. It'sall about radiant beauty."
At the last breakthrough stop, Avon prepared a laboratory setup to introduce the two new fragrances of Avon. With Luis and Nikki acting as scientists, Avon explained theanatomy of Just Play For Him and For Her perfumes.
ADVERTISEMENT - CONTINUE READING BELOW
According to Barbs Aguirre, Avon's Southeast Asia Cluster Category Head forFragrance, the two new endorsers were chosen to represent the fun-loving spirit ofthe younger generation.
With these new products, Avoncontinues its thrust "to make Filipinas look beautiful." The "company for women" also promises "tocontinuously come up with makeup products that are fashionable and stylish, andprovide them with their value for money."