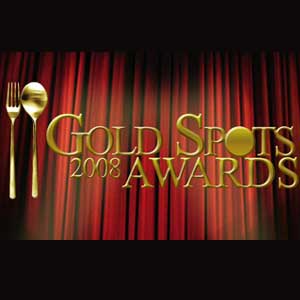 IMAGE 0
---
If you're a fan of QTV's Chef AileenAnastacio, resident pastry chef of TrueConfections, and if you love the idea of a people's choice award—thenyou're going to love Gold Spots.
Gold Spots recognizes the discerningtaste and sensibilities of Manileños when it comes to their dining experience,and that's why the very essence of Gold Spots is to empower you—the community—with a chance to determine which establishments meet your own gold standard.
With the help of Chef Aileen and other distinguished judges—YummyEditor-in-chief, Becky Kho; Summit Media's resident restaurantreviewer, Danio Caw; Belgian Chocolatier, BenoitNicolay; and blogger, writer and prolific SPOT reviewer, RowenaLei—we trimmed down the list of nominees and selected only the best, luxurious, and most authentic dining spots in town.
"We're talking about Gold Spots here, so we're expecting a little bit morein terms of the service and ambiance. We want to feel something interesting andnew. The [spots picked] should give us a fresh experience," says Becky Kho.
After an exciting short listing session at the SPOT offices and taste testsat selected nominated spots, we can finally say that the Gold Spots shortlistis ready for viewing.
The finalists are:

Best Japanese:
Nanbantei
Seryna
Sugi
Tsukiji
Tsumura Sushi Bar and Restaurant
Best Italian:
Balducci's
Café Carusso
Cibo
L'Opera Ristorante Italiano
Paparazzi Italian Restaurant
Best Steak House:
Elbert's Steak Room
Gulliver's of San Francisco
Prince Albert Rotisserie
The Highlands Steakhouse
Prime 22, The Steakhouse at Serendipity Lounge
Best Cocktails:
Il Ponticello
Martinis
Museum Café

Best Deli or Wine Bar:
Cav Wine Bar and Restaurant
Dinelli Gourmet
Mickey's Delicatessen
Terry's Selection Bistro
Best Club:
Club Ascend
Embassy
Embassy Cuisine
Piedro Bistro Bar
Best Chinese:
Choi Garden Seafood and Shark's Fin Restaurant
Jasmine Garden (formerly Emperor Court)
Gloria Maris
Summer Palace
Tin Hau
ADVERTISEMENT - CONTINUE READING BELOW
Best Dessert Place:
Café Breton
Café Mary Grace
Classic Confections
Fleur de Lys
Miss Desserts
Best Brunch:
Apartment 1B
Chelsea Market and Café
Mamou
Museum Café

Best Interiors:
Aubergine
Cibo
Le Souffle
Mamou
Sala
You can VOTE NOW for yourfavorite Gold Spots in two ways:
1.) Type in GOLDSPOTS and send to 4627 forGlobe, Smart and Sun . One text vote is equivalent to 1 vote. Oneunique mobile number can vote up to 10 x a day per category.
2.) Vote online at www.spot.ph/goldspots. One online vote is equivalentto one vote. One e-mail address can vote up to five times a day per category.
Centrillon owner, author and food lecturer, Amy Besa, saidthat food "nourishes both body and spirit," and is the glue that "bindscommunities and infuses a sense of fellowship among people."
Recognize thespots that have given you, your friends, and your loved ones a space toexperience such nourishment—give them your vote for Gold Spots.
Gold Spots voting begins at12:01 a.m. on January 17 and lasts until 11:59 p.m. March 2, 2009. There willbe five (5) Nescafe gift packs raffled off every week. In addition, twenty-four(24) gift certificates for dinner dining will be awarded and two (2) grandprize winners will receive an overnight stay at The Boutique Bed &Breakfast, Tagaytay (including a massage for two, and dinner at the HawaiianBBQ restaurant worth P1,000).