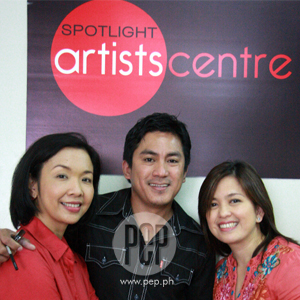 IMAGE 0
---
It takes more than capital to put up a theater school.
Theater couple Robert Seña and Isay Alvarez, along with their business partner Tricia Amper-Jimenez, didn't give a straightforward statement but their business venture, which is less than a year, has turned into a "full time endeavor and seemingly a lifetime commitment."
Back in July 2008, the project was merely a pitch.
Isay related, "There was a music school in that place and the former owner, instead of giving it up, thought of us and asked us if we were interested..."
The idea appealed to the former West End stars and their creative minds started ticking.
Isay continued, "We thought of converting [the music school], may mga partitions—acting classes, dance studio. And then, it was publicized...
Publicity reached Tricia Amper-Jimenez, a voice graduate of U.P. Conservatory of Music, and really caught her interest.
The gospel singer said, "I wanted to have a music school since ang tagal ko nang hindi talaga kumakanta [because of] my family."
Tricia shared that her being wife to GMA-7 part-owner Butch Jimenez and mother to four boys sidetracked her awhile from her artistic passion. "I was parang looking for a way to get back to singing. I have to teach or to perform again kasi nga, when you are in the house wala na. So this is the venue where I can vocalize, I [can] teach, review, so ayan, an opening...Tamang-tama, sabi nung nagbebenta ng school, sina Robert and Isay yung mga interesado, e, we've been working together since I was 14 years old..."
ADVERTISEMENT - CONTINUE READING BELOW
Robert, Isay and Tricia met up, collaborated, and decided to call the school Spotlight Artists Centre, which is located at Basement 122 Doña Consolacion Bldg., Jupiter St., Makati City.
It was Robert who came up with the name. "Everyone is in spotlight," he said. "It's also like somebody's watching you."
The school formally opened on July 26 last year. Its "simple" mission statement—"to develop talents: singing, dancing, acting, total performance."
But the engineer of the original cast of Miss Saigon probably underestimated Spotlight's goal because what he and his partners have been doing for about six months now is no simple task at all.
ONE-ON-ONE APPROACH. Tricia, who does the voice lessons, spends "one hour per student," and her modules vary, depending on the type and quality of the voice.
The voice teacher explained, "Ten sessions yung minimum namin per set, 'tapos yung iba, masipag mag-aral. Yung iba naman, lalo na yung mga bata, minsan isang upuan pa lang alam na nila yung kanta. Yung iba, maski na ang galing-galing na pero kulang pa rin, they vocalize for 20 minutes and have the karaoke sessions. Yung may voice, na talagang seryoso sa voice, just stayed at the piano room."
Isay pitched in, "Bale pag kumanta sila sa karaoke, kino-coach lang namin sila on how to hit that note...you have to relax when you go up, smile..."
What if, after the 10 sessions, there's no remarkable difference from when they started?
Tricia was quick to reply, "Actually we don't force students. [And as their teacher], you would know naman, e, those who come to learn and those who come for leisure—maraming ganun."
ADVERTISEMENT - CONTINUE READING BELOW
The lady who sang the high notes in GMA'7's "Where You Belong" jingle believes that every one can be a singer. Her philosophy is: "If you can speak, you can sing." But Tricia stressed, it's "discipline" that makes a good singer.
She told a story: "Meron [student], naka-graduate na siya, she [just] wants to sing for her husband. Di siya marunong pero dalawa yung pinag-aralan niya, piano and voice.
"'Tapos the next lesson, 30 minutes before the time, andun na siya, so mako-convict ka pa dahil ang sipag niya. Yung ibang mga estudyanteng very talented, 15 minutes late, mayayabang na, e. Pero ito, talagang nagpupursigi, so mapapahiya ka sa sipag niya. Hindi sya nag-a-absent, maaga dumating, so anong gagawin mo sa ganun, di ba?
"Whatever you say, merong improvement. Sa last session namin, yung mga napag-aralan niyong songs puwede mong i-record. She recorded 12 songs, ibibigay niya daw sa asawa niya."
EXPERIENTIAL TEACHING. If there's one word to describe the musical theater sessions of Isay, it's vigorous.
The stage actress who played Gigi in the original cast of Miss Saigon said: "Yung first week, I was singing with the students. Yung parang excited ako'ng i-demo yung tama. Napagod talaga ako dun."
But she sees her teaching job as challenging and fulfilling. "The kind of feelings you get, really sulit...We make it really sulit. And according to the parents of those who used to scrimp, they're happy naman. We have before [na] hindi nagsasalita, yung tinatawag na painfully shy. After a while, she got okay, and the mother is very happy. If this kid doesn't smile...pag nagpe-perform siya, para siyang iiyak, naaawa ako sa kanya pero mas lalo ko siyang di titigilan."
ADVERTISEMENT - CONTINUE READING BELOW
The workshops for musical theater integrate three skills: singing, dancing and acting. Isay brings in the West End trend, which turns actors and actresses into total performers.
She added, "Those three, minsan voice lang, minsan acting and voice...It's not just learning the music, talagang may dance classes. Kasi most Filipinos do not know how to dance...They sing, they act, but they don't know how to dance."
Musical theater is a five-month program. Each session lasts up to four hours and each class accomodates 10 students, maximum.
TOTAL TRAINING. Robert, who handles the Integrated Acting-Scriptwriting-Directing workshops with other teachers, said his classes are "geared more towards practical or real-life performance."
An actor doesn't just act, he works with a director, his co-actors, and sometimes, the writer. One of the purposes of the integrated course is to fully understand the value of each person on the set.
Spotlight does not only look at the talent, but also the attitude.
The theater actor mentioned little things that would spell a person's professionalism: coming on time, listening to your directors and the seniors, and imbibing ethics on and off the stage.
He said, "Little things like, okay, kids understand that [you should say] 'Good afternoon, Mr. [teacher],' gano'n...Sanay na sila...minsan nga umu-OA, [kasi] lumalabas ako 'tapos pagbalik ko, 'Good afternoon' na naman sila.
Miriam Quiambao, Nestor Torre, Nonie Buencamino, among others, handle some sessions in this four-month program.
When asked if they screen the students, Isay answered, "Wala naman...Pre-requisite lang sa musical theater 2, you have to be a budding actor."
ADVERTISEMENT - CONTINUE READING BELOW
But in the case of beginners, their skills are assessed by the teacher as the session goes on.
Six months after Spotlight Artists Centre formally opened, the enthusiasm of the three prime movers of the school has not waned a bit.
They have already come across different types of students—from rowdy to miracle to very good—and encounter some hitches, but every time they mention Spotlight, there's a tinge of pride, a palette of passion, and a whole canvass of perseverance.