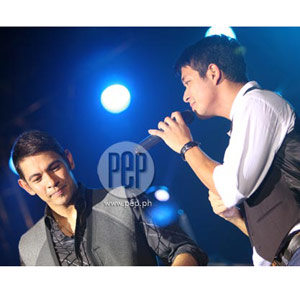 IMAGE 0
---
The Metro Pacific Productions, Inc. (composed of former Talent Center artist and actor Bojo Molina, Lloyd Baker, Chris Reyes and Jerome Susim) have long been making a name for themselves on the beautiful island of Guam as far as concert-producing is concerned.

In November 2007, they produced Bossa Rocks with Sitti Navarro and Kitchie Nadal at the Sheraton Laguna-Guam. It was followed by the Hearththrobs—featuringPiolo Pascual, John Lloyd Cruz, Sam Milby, plus, Pokwang—at the Phoenix Center in March 2008. The next month, they also mounted Rex Navarrete's comedy show at the Sheraton again. In October 2008, they produced ASAP '08, an all-star cast show, at the UOG (University of Guam) Field House.

Last May 10, 2009 at the UOG Field House, Gary Valenciano—together with sons Paolo and Gabriel, Jericho Rosales and Rachelle Ann Go, with the Powerplay Band—rocked the whole house when they brought Gary V: Live @ 25 to Guam.

Manila Genesis Entertainment, Inc. led by President Angeli Pangilinan-Valenciano, Gina Valenciano and Gary Valenciano Productions, Inc. were so overwhelmed by the reception of the fans who trooped to the venue to watch him and his guests.

It was an almost perfect performance—a moonlit night and a jampacked house, but a slight technical problem ensued after Gary 's number with son Paolo.
But that didn't dampen the spirits of the people who expected a very nice performance. After about a half hour of waiting for the sound to work, GV gave more than what he was expected to share with his fans. And he really gave them a pure energy performance!

Truly, it was a memorable trip to reckon with. It is not GV's first time in Guam to perform but this is one show and one trip he and his companions will truly cherish.
Kudos go to his four diligent producers who, from the arrival of the group, to the radio tour and mall tours up to the time they had to fly back to Manila has never left their side, always at their artists beck and call. It was a smooth-sailing stay and performance in Guam.
ADVERTISEMENT - CONTINUE READING BELOW