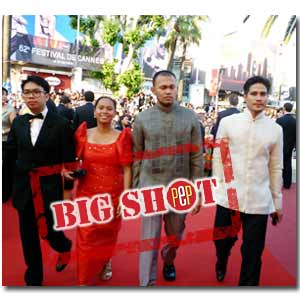 IMAGE 0
---
Filmmaker Senedy Que submitted to PEP (Philippine Entertainment Portal) his eyewitness report on the world premiere of Manila held during the 62nd Cannes International Film Festival in France.

Manila is a 90 minute-film that focuses on three characters with different paths: a drug addict desperately trying to reconnect with his family; the bodyguard of a mayor's son, who discovers his boss's true face after a shootout, and a film director (played by Lav Diaz) shooting a romance. The official website of Cannes states that Manila "expresses the violence and resentment endemic to Filipino society today."

Here is Direk Senedy's account of the big event (published in full):
CANNES, FRANCE—The scheduled screening on May 19 was not until 8:15 pm, but as early as 6:30 pm, the Philippine delegation representing Manila was already gathered near the Grand Theatre Lumiere to prepare for the "marches rouges" (better known as the red carpet entrance).


Directors Adolfo Alix, Jr. and Raya Martin, together with producer Arleen Cuevas and producer-actor Piolo Pascual were positioned in a side corner to wait for their turn as crowds gathered by the entrance to see celebrities like Michelle Yeoh, David Kross (The Reader) and director Ang Lee as they make their way for the gala screening of Pedro Almodovar's Los Abrazos Rotos (Broken Embraces), which was screening on the same night.
A few minutes later, the ushers instructed the four to walk to the center of the red carpet. Behind Adolf, Raya, Arleen, and Piolo were the film's production designer Digo Ricio, assistant director Armi Cacanindin, and Independencia actor Sid Lucero, together with Film Development Council of the Philippines' Ms. Digna Santiago and Manet Dayrit. Before we knew it, the much-anticipated moment of glory and pride were upon them. Cameras flashed as our fellow countrymen walked up the stairs. At the entrance door, they were warmly welcomed by the executive directors of the 2009 Cannes International Film Festival.
ADVERTISEMENT - CONTINUE READING BELOW
Cocktails were served in a special room overlooking the setting sun over the French Riviera, while we watched the live feed announcing the arrival of Spanish director Pedro Almodovar with his film's star, Penelope Cruz. Our eyes were glued on the screen.
Inside the theatre at Salle Bunuel, the audience applauded the entrance of the creative team behind Manila. After a brief introduction, the special screening promptly started at 8:15 pm. The film was met with loud applause as the closing credits flashed on the screen.
With Raya Martin's Independencia in the Un Certain Regard section and Dante Mendoza's Kinatay in official competition, the Philippines was well-represented in this year's Cannes International Film Festival—a fact that we should all be proud of and be inspired by.

Click HERE to view more photos at the 2009 Cannes IFF.