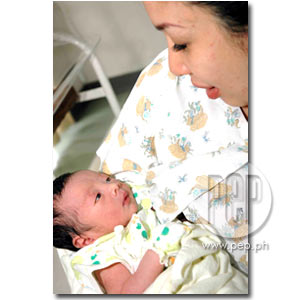 IMAGE 0
---
Last June 4, at 2:55 a.m., PEP blogger Giselle Sanchez-Buencamino gave birth to a 6.75 lb. healthy baby boy.
The host-comedienne was scheduled to give birth on June 22, but during her check-up last June 3, her ob-gyne Dr. Raul Quillamor found that her cervix was already five centimeters dilated. Since Giselle was not feeling any labor pains, the doctor allowed her to go to the salon and have her hair shampooed and ironed.
At 9:00 p.m., Giselle arrived at the UERM Hospital and had interviews with the media till 12:00 midnight when she was nine centimeters dilated. (The cervix fully dilates at 10 cms. for the baby to pass through.)
She walked to the delivery room with full poise and smiles. Embarrassed that the media waited too long, she asked for pitocin (oxytoxin) to hasten her labor.
(According to pregnancy.about.com, "Pitocin is a liquid medication that is a synthetic form of the naturally occurring hormone, oxytocin. It is an attempt to minimize complications and to help your doctor or midwife mimic normal labor as much as possible.")
Throughout the labor, Giselle was quiet and very relaxed. The only time she screamed in pain was when she started to push for the baby to come out. After two strong pushes, she delivered a very healthy Xavier Zappa Buencamino with an Apgar score of 9!
(Wikipedia defines the Apgar score as a simple and repeatable method to quickly and summarily assess the health of newborn children immediately after childbirth. It was devised in 1952 by Dr. Virginia Apgar.)
More details in her blog G-Spot!