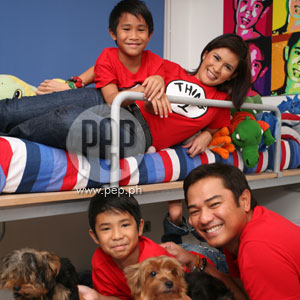 IMAGE 0
---
Normal is the first word that comes to mind when you meet the Riveras. Gelli de Belen is a mother straight out of television commercials: she makes sure the kids are ready for school, drink their vitamins, and, when they're home, do their homework. Ariel Rivera plays the role of the disciplinarian dad: he bonds with his kids, but makes sure that they don't go beyond the bounds he has set for them.

Controversial would be the last adjective to describe Gelli and Ariel. Though they're a showbiz couple, they are not tabloid favorites. Articles about them are generally positive, with some writers even calling them the ideal couple.

Gelli and Ariel have chosen to live, and to raise a family, outside the constant hubbub of showbiz. For them, showbiz is just a place to work in.
"Artista kami, parang job lang," says Gelli. "Pag-uwi mo, di ba, tao ka rin naman, e. Nasa kagustuhan mo naman 'yan, e. It's how you live your life. It's your choice. Kung gusto kong mapansin, Diyos ko, ang dali-dali lang magpapansin, 'no! But it's not what we want. Priority ko ang family ko. Obvious naman, di ba?"
ADVERTISEMENT - CONTINUE READING BELOW

THE COUPLE. The Riveras have been together since 1992. Theirs was the usual love story, the kind you see on teenybopper programs. In her usual friendly and over-the-top manner, Gelli summarizes the genesis of the relationship: "Boyfriend-girlfriend! 'Yong pa-cute na boyfriend-girlfriend? Sumiryus. 'Tapos, nagkahiwalay. 'Tapos, nagkabalikan. 'Yan-sixteen years, all in all. Ten years nang mag-asawa."

Gelli had only one boyfriend before Ariel. As she once told her husband: "Ariel, halos kalahati ng buhay ko na tayong magkasama." That's not a complaint. She and Ariel are a really good match. They have much in common. Most important of all, they have the same priorities: their kids and each other, over and above everything else.

Gelli says she has nothing against people whose lives revolve around their jobs.

"Some people, 'yon ang kaligayahan nila. Hindi 'yong family life. E, di, doon. Doon kayo. Maligaya kayo doon, e. Ako, dito. So, ganoon lang 'yon. Kanya-kanya lang, kanya-kanyang ligaya. Yong iba, gusto maging pari. E, di, magpari sila, di ba?"
ADVERTISEMENT - CONTINUE READING BELOW

But Gelli, 35, is not career-obsessed.

"Noong younger ako, mas competitive pa ako. Pero pagdating ko ng mga twenty years old, hindi na masyado. Twenty, twenty-two, ganyan. Basta, parang I just realized there's more to life than...."

Her voice trails off, but you know she's talking about working.

Like Gelli, Ariel puts family above work. The singer-actor—who first made waves with the hit song "Sana Kahit Minsan"—recalls that, in his early 20s, when he first arrived in the Philippines from Canada, he was often asked what his goal in life was.

His answer: "My goal in life is the same as my dad's. My goal in life has always been—and this has never changed—to be a good father and a good husband. That's my only goal in life. If anything else comes after that, it's all bonuses. Work, health—that's good. Pero my goal in life is to be a good father and a good husband."
ADVERTISEMENT - CONTINUE READING BELOW

Gelli feels lucky that she and Ariel have the same goals. This fact has freed her from major marital problems, and has allowed her to focus on the simple things in life, on everyday concerns. As she puts it: "Mga concern ko ngayon, bakit hindi matalas 'yong kutsilyo? Ang hirap maghiwa! Bakit hindi mamatay-matay 'yong mga ipis?" Pointing to her Yorkshire terriers, she says: "Ero, hindi pa nagupitan! Kailangan ng shots ng isa!"

This not to say that Gelli's marital life is dreary. She is not bound and trapped in her house, stuck with an autocratic, strict husband. Theirs is a modern marriage.

"I can do what I want," she says. "I have my freedom."

Ariel, having grown up in Canada, is not cursed with the biggest negative trait that some homegrown Filipino husbands have.

"Hindi siya seloso," Gelli reveals. "Di ba 'yong mga Pinoy, seloso? Mas gusto nila 'yong stay-at-home ang asawa. Mas gusto nila, 'O, ako lalaki, I have the right to go out and do whatever I want. When I get home everything has to be fabulous! You take care of the kids, ha? Ikaw mag-ano niyan.'"
ADVERTISEMENT - CONTINUE READING BELOW

With Ariel, being a husband means sharing in parental duties.

"Si Ariel, katuwang ko talaga siya. Ultimo 'yong pagpalit ng diaper noon. Yong pag-asikaso ng mga bata, 'yong pag may sakit Katuwang ko talaga siya to the smallest detail."

While Ariel may not be the jealous type, Gelli admits she's the one who sometimes has to deal with that "green-eyed monster" known as jealousy. In case you have forgotten, Ariel was regarded in the 1990s as the Kilabot ng mga Kolehiyala. More than ten years later, he can still live up to that moniker. There are still ladies who swoon over him. Gelli says some of them openly flirt with her husband. "Kaya lang," she says, "alam ko naman kung kelan ako magre-react at iimik."

Ariel himself, Gelli says, knows his limits: "He does not put himself in a position na hindi na siya makakatakas. Meaning to say, bago pa man magkaroon ng something, iwas na siya, which I really appreciate."
One way by which Ariel sets his limits is by staying away from parties. He thinks these can be a potential source of marital problems.
ADVERTISEMENT - CONTINUE READING BELOW

"I don't go to showbiz functions," he says. "Like I said, hindi ako mabarkadang tao, e. Siguro, 80 percent or 70 percent of the time, the reason couples get separated or have fights is because of their extracurricular activities. Yong mga people they hang out with, and how they're influenced by their friends, mga ganoon. And since we don't go out, we're content being with our family "

Gelli says she is happy with Ariel. She also values the opinions of her husband, whom she describes as "fair." He is her buddy and her most trusted adviser.

"Let's say, meron akong problem sa work, o may kinaiinisan akong ganito. Isasangguni ko talaga sa kanya. Sasabihin niya, 'No, it's like this.'"
She will try to convince Ariel to see things her way, but she ends up being as objective as her husband.

"Sasabihin ko, 'Oo nga, sige.' Tatameme na ako. Mahihimasmasan na ako. So at least I get a fair point of view I don't overreact to things. Dati kasi, reaksiyonada ako, e, lalo na noong kabataan ko."
ADVERTISEMENT - CONTINUE READING BELOW

Despite their common goals, Gelli and Ariel are starkly different from each other. He's more of a listener. She's hyperactive, and can talk a mile a minute.

"Every day, para akong naka-Extra Joss," says Gelli. "Kasi nga, meron akong built-in hyperdrive."

She also likes to talk at the top of her voice. During the interview, we notice that she's shouting something to her helper—even if the latter is standing just a few feet from her. When our associate editor tells her about this, she asks us: "Hindi kaya bingi ako?" While we're taking it in, she goes on: "Kaya si Ariel, nasa kotse lang kami, sasabihin niya, 'Ano ka ba? Ang ingay-ingay mo.' Nasa kotse lang kami, ha."

This conversation reminds her of an incident involving her voice level. "May ikinukuwento ako sa kanya. Yong kuwento, with action. Emphatic talaga! With all the emotions involved! With matching arm-and-hand movements!"
ADVERTISEMENT - CONTINUE READING BELOW

It turned out that one of their sons was watching Gelli gesticulate, and it made the boy ask: "Mom, are you fighting? Why are you fighting, Dad?"
Ariel had to tell the boy: "Anak, we're not fighting." Ariel then turned to Gelli: "Kita mo, kita mo. Akala niya, inaaway mo ako."

Gelli could only say, in her own defense: "Nagkukuwento lang naman ako, ha."
THE BOYS. Their sons are among the reasons why Gelli and Ariel's union remains strong. The walls of their New Manila home are adorned with photos of the two good-looking, smart, and well-traveled boys—Joaqui, 9, the shy kid on the threshold of pagbibinatilyo, and Julio, 7, the ever-smiling, hyper-observant one who, during the photo shoot, keeps peering into our notebook while we're taking copious notes.

Sons are just what Ariel wanted. "I didn't want girls," he confesses. "I remember when my wife first got pregnant, dasal ako nang dasal. sana lalaki. 'Tapos, 'yong pangalawa, lalaki pa rin. Ayoko talaga magkaroon ng babae. Sakit sa ulo noon." Smiling, he adds: "Takot sa sariling anino!"
Ariel turned out to be lucky—he got his wish. Yet the boys could be even luckier. Not only are they blessed with beautiful houses, plus good—and expensive—private education at the Ateneo de Manila. They also have parents who treat them equally and who never play favorites.
ADVERTISEMENT - CONTINUE READING BELOW

Gelli, who co-hosts the GMA-7 talk show Sis, used to find it hard to believe that parents do not have favorite kids.

"Dati, pag nag-i-interview kami or may nakakausap akong mga mommies, tinatanong ko, 'Sino'ng favorite mo?' Lagi nilang sinasabing wala. Pero feeling ko, meron. Pero hindi pala talaga. Wala. Sa akin, wala. Basta, this is what I love about my son, this son. And this is what I love about my other son. They're totally different characters, personalities."

Joaqui's and Julio's traits are a mix of both Gelli's and Ariel's. Says their father: "We can no longer say na, 'He's just like...' Wala 'yan. Pare-pareho. Nakukuha na lang 'yong ano namin, e, both our ways."

These boys clearly belong to the male of the species. They are into horseplay, and they can get really rough. Especially the younger Julio, says Gelli: "Hindi niya calculated 'yong kanyang strength, so palagi niya kaming nasasaktan. Parang ako 'yan, medyo may pagka-clumsy. So si Joaqui, palaging naaasar sa kanya. 'You hit me! You hit me again!' So, magre-etaliate siya. So, away na ito!"
ADVERTISEMENT - CONTINUE READING BELOW

Their roughness made Gelli decide stop them from continuing with their taekwondo lessons. The boys used to practice at home—in full battle gear—under the guidance of Ariel. Says Gelli: "Pawis a pawis sila. 'Tapos, 'yong mga helmet, pawis na pawis. Hay, naku, 'yang dalawang 'yan!"

What bothers Gelli, however, is just what Ariel wants for his boys. "Gusto ko lang mga lalaki ko, all rough," he says. When they get hurt, gusto ko walang iyak. 'Yong nasaktan ka, ganyan 'yan, normal 'yan, mga lalaki 'yan."

The rough play is also a way of bonding. On Friday nights, without fail, Joaqui and Julio schedule a pillow fight in the master bedroom.

"Gusto nila, a pillow fight every day," says Ariel, 41. "E, siyempre, ayoko naman noon. Pagod na pagod na ako. I'm old already. So I've set a date. 'Sige, Friday nights, 'yan ang pillow-fight day.' So, talagang naghihintay sila. Sometimes, as soon as I come into the room, may tumatama nang pillow sa akin. 'Hey, what are you doing?' 'Hey, Dad, it's six. It's Friday!' 'Ay, oo nga, 'no?' I have to be reminded sometimes!"
ADVERTISEMENT - CONTINUE READING BELOW

Ariel's brand of parenting, while it may appear liberal to some, is also traditional. He enjoys being with his kids, but he also makes sure that he is still respected as a father. "Siyempre, siya 'yong bossing," says Gelli about the padre de pamilya's standing in the household. "Kasi, mandilat lang siya at isang ano lang, takot na sila, e."

On the other hand, they don't take their mother seriously "Pa'no naman kasi, si Mommy— talak, talak, talak, talak, talak, talak, araw-araw!" says Gelli.

If things get really out of hand, Ariel is not above using corporal punishment.

"I honestly believe in that," he says. "And hindi ako naniniwala sa mga sinasabi nila na 'Kausapin mo na lang, 'wag mong paluin ang mga bata.''You're not gonna strike them to really hurt them."
Ariel also believes that parents, even if they're buddy-buddy with their children, should still be feared.

"They have to fear you also. We are best friends, but they have to know that I am also their dad. That has to be clear. First and foremost, you're a dad. You're a parent, so you have to discipline them that way."
ADVERTISEMENT - CONTINUE READING BELOW

THE SCORECARD. There's another matter that bothers Gelli: the boys, who hold both Canadian and Filipino citizenship, are not fluent in Filipino.

"Gusto ko, ramdam nila ang pagka-Pinoy nila, 'no. Sabi ko nga sa kanila, 'Oy, bago kayo mag-inarteng Canadian kayo, you are Filipino first before you are Canadian, kasi this is your mother country ' 'Yon ang ini-instill ko sa kanila. 'Nakakahiya, hindi kayo marunong mag-Tagalog!"
"Doon kami nagkamali," says Ariel, a Canadian citizen of Filipino descent. "Doon ako nagkamali, kasi when I'm at home, I naturally speak in English. Hindi naman sadya 'yon. I'm more comfortable that way. Nagsisi ako noong pumasok na sila sa Ateneo, kasi ang grades nila are really high—95, 94, 96. 'Tapos, makikita mo 'yong Filipino nila—82, 81."

Their bunso had to take after-school tutorials to make up for his inadequacy. Watching his son struggle with the language problem is hard for Ariel. "Makikita mo, umiiyak siya talaga,"he says. "Frustrated siya talaga. Hindi naman kami puwedeng magalit, kasi kasalanan namin."
Appearing frustrated himself, Ariel adds: "We don't put pressure on them. Hindi nila kasalanan. Kasalanan talaga namin."
ADVERTISEMENT - CONTINUE READING BELOW

While they may blame themselves for their kids' language problem, Gelli and Ariel can take pride in having sons who treat each other as real brothers and who love coming home.

"Kailangan, ma-maintain ko 'to hanggang sa pagtanda nila," Gelli says. "Kasi, ayokong mas gugustuhin nilang pumunta sa bahay ng barkada nila."
Because she wants her boys to feel that the family home is where they really should be, Gelli doesn't mind having her sons' friends hanging out at their New Manila home.

"Di bale nang magpakain ako ng isang toneladang bata, kesa sa ibang bahay pumupunta ang mga anak ko. Mas gusto ko 'yon. Para they will not seek other places. They will stay home."