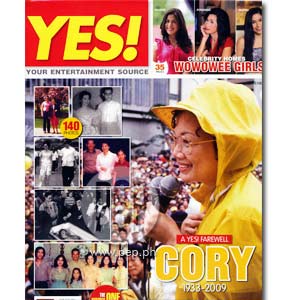 IMAGE 0
---
This September, YES! pays tribute to the late President Corazon Aquino, who succumbed to colon cancer last August 1—a few weeks before the August 21 death anniversary of her husband, national hero Benigno "Ninoy" Aquino.
The three-part article on the country's first woman president celebrates her life, remembers her presidency, and retells her final procession as she was laid to rest next to her husband at the Manila Memorial Park in Parañaque.
Parts 2 and 3, entitled "The Lady in Yellow" and "A Housewife's Tale, respectively, deal with Cory's presidency and family life, and were written by Cory's long-time friend and ally, award-winning writer Neni Sta. Romana-Cruz. Neni authored the book Tales from EDSA, a collection of stories from insiders on the events that led to the 1986 people's revolt. The book's foreword was written by none other than Cory herself.
Neni recounts how the late lady president restored democracy and the government by being hands-on. She writes:
ADVERTISEMENT - CONTINUE READING BELOW
"Former Senator Wigberto Tañada recalled that he was summoned to government service by a telephone call from President Cory, who asked him to be commissioner of Customs. He begged off, saying that his law practice never dealt with tariff laws, but politely agreed to think about it. When she called again two hours later, he was still unwilling to accept the job offer, saying there were others more qualified, still articulating many reasons. She interrupted him: 'Ang hirap sa inyong mga aktibista, protesta nang protesta kayo sa lansangan, pero pag binibigyan kayo ng pagkakataong makapagsilbi at makatulong sa bayan, inyo naman tinatanggihan.'"
The next time Cory called, the former senator knew better than to say "no" to the lady.
Whether it's arriving five minutes early for her meetings or writing Post-it reminders to her staff, the articles said, Cory ruled with utmost humility, guided as much by law as by faith. The same can be said about her family life.
ADVERTISEMENT - CONTINUE READING BELOW
Growing up in the upper tier of society, Cory was raised in a sheltered environment and schooled in the U.S. for high school and college. It was when she married Ninoy that she became exposed to how the average Filipino lived. In one of her personal accounts told to Neni, she narrated how she, an introvert, was thrust into being a politician's wife and obliged to socialize.
"On one occasion," Neni writes, "when she accompanied Ninoy to a farm, she asked for the restroom, and he gave her a tin can. But what drove her to tears was when he had her carried over a mudhole."
Ninoy was, of course, teaching Cory about rural life during their early years as a couple, but Cory thought the incident was too much of a lesson.
Cory told Neni, "What made me mad was his unchivalrousness. I expected him to pick me up and carry me across, not ask one of his men to do it."
ADVERTISEMENT - CONTINUE READING BELOW
Part 1, entitled "We All Came to Bury Cory," was written by Malou Mangahas, one of the best journalists working today and executive director of the Philippine Center for Investigative Journalism. This section talks about the funeral procession for Cory that paralleled her husband Ninoy's own.
Malou is more than qualified to write about Cory. She was the beat reporter assigned to cover the Cory years in Malacañang. On a day-to-day basis, Malou saw how Cory dealt with crises situations, how she treated those under her, and how devoted she was to her family at all times. Malou, in fact, remains an admirer.
YES! also compiles 140 photos from various books, album-magazines, wire agencies, and archives depicting the life of Cory—including photos of Cory and Ninoy's wedding, the Aquino family's exile in Boston, and the historical funeral march for the late president.
WOWOWEE GIRLS. The magazine's September 2009 issue also features the homes of Wowowee co-hosts Pokwang, Mariel Rodriguez, and Valerie Concepcion.
ADVERTISEMENT - CONTINUE READING BELOW
With 35 pages devoted to the three women, YES! readers will get a good look at the homes these women built through hard, everyday work, and hear from the women themselves who and why they toil so.
YES! September 2009 issue is now available in all leading bookstores and magazine stands nationwide.