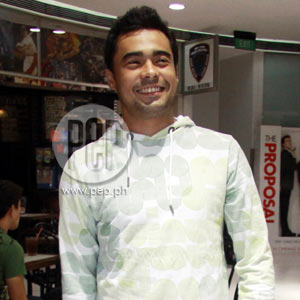 IMAGE 0
---
Although Sid Lucero comes from a family of actors, he admitted that he's still amazed to meet and work with some of the known local showbiz personalities.
On his latest TV project, Dahil May Isang Ikaw, Sid said that he got starstruck when he met its cast members: Gabby Concepcion, Lorna Tolentino, Kristine Hermosa, and Jericho Rosales.
"Since I'm the newest guy in the cast, the one who doesn't know everyone, I try to bond with them, try to get kinda close," said Sid during the pocket interview for him and Karylle, who is also included in Dahil May Isang Ikaw.
The son of Mark Gil added that he also gets very conscious whenever he does a scene with the big stars.
He stated, "It's different because I think I have to step up every time I have a scene with them. They already made their mark, they're icons to the industry. You know, people look at them for how good they are with their craft.
ADVERTISEMENT - CONTINUE READING BELOW
"It's just an honor for me to be working with them. Every time I'm with them, I'm always pressured to do better, more conscious than usual. At the same time, it was also kinda busy because they've worked with my dad already so that link makes it a lot easier for me to open up with them and for them to open up with me. I don't know, the best thing about working with them is that I learn a lot everyday."
As the grandson of the '70s Rosemarie Gil and Eddie Mesa, the 26-year-old actor confessed that it was hard for him to maintain the image of his parents and grandparents in local show business.
"It's hard. It's really hard to match it, e," commented Sid. "But my dad always says that those are his shoes, di ba? I mean, they always say that I have big shoes to fill, but I always say those are his shoes, I have my own. I try not to think about it, but I can't help it, e, it's there. It affects me a lot."
ADVERTISEMENT - CONTINUE READING BELOW
THE INDIE ACTOR. Even though it's only a few years since he joined show business, Sid has already made his mark. As a newbie actor, his ability to act was first seen in independently-produced movies such as Donsol (2006), Tambolista (2007), Siquijor (2007), and Batanes (2007). His 2008 indie film, Selda, gained him two Best Actor awards and two nominations.
During the time he was doing these movies, Sid had already been playing short roles in different TV series. It was only this year that the young Eigenmann became more exposed on television and less in indie films.
He said that this doesn't mean he's leaving the independent filmmaking industry. Sid explained, "I talked to my manager kasi and I told them that my goal is to slowly put together the independent and mainstream side of filmmaking, e. Kasi ngayon, di ba, hati? It doesn't make sense, e.
"Ngayon lang lumaki ang indie and everyone's like, 'Indie ba 'yan? Indie ba 'yan?' We've been making indie since the '70s. Kaya lang lumaki ngayon ang independent filmmaking because of the festivals. But the truth is, filmmaking is filmmaking, it doesn't matter who is making your film. So, that's my goal, that's why I' concentrating on mainstream also, to balance out."
ADVERTISEMENT - CONTINUE READING BELOW
He noted in the end, "I will never stop and I will always try to make a balance."
Catch how Sid will portray the role Alred Ramirez, the third wheel on Kristine Hermosa and Jericho Rosales's reunion team-up in Dahil May Isang Ikaw, everyday on ABS-CBN's Primetime Bida.