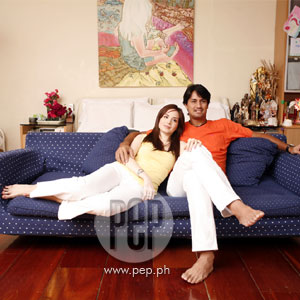 IMAGE 0
---
On April, 28, 1998, actor Richard Frank Gomez tied the knot with sugar-plantation heiress Lucy Marie Torres at the St. Peter and Paul Parish Church in Ormoc City, Leyte. The much-anticipated wedding was attended by politicians and generated incredible star power. Needless to say, it was the most number of stars the provincial Visayan town had ever seen.
"They were expecting that I would be arriving in a car going to church," Richard excitedly recalls. "Sabi ko, 'Hindi! Pickup tayo! Doon tayo sa likod ng pickup!'"
So Richard and some of his groomsmen—among them, Aga Muhlach, John Estrada, Willie Revillame—piled into the back of a pickup truck, which took them from the hotel where they were staying to the church where the wedding was to be held. You can imagine it as a scene from a brat-pack movie: young movie actors and matinee idols in resplendent designer barongs, having a blast on the back of what could have been a beat-up pickup truck.

Meanwhile, the shy bride was getting a glimpse of life in the spotlight. Media coverage of her big day was intense, and legions of screaming fans were eagerly trying to witness the star-studded spectacle.

"I remember going to church, I was in my wedding gown, inside the car," Lucy relates animatedly. "Talagang inaalog-alog ako! Grabe talaga! As in, umaalog 'yong kotse. As in, gumaganito, ha..."

Laughing, she bounces up and down in her chair, swaying left to right, holding an imaginary veil in place.

"Sabi ko, ayoko yata dumating sa wedding na gutay-gutay na 'yong buhok ko! Aaaah! Habang siya, nasa pickup, kumakaway-kaway"—and Lucy waves her hand in the air, nodding to an imaginary crowd. "Sabi ko, 'Aabot pa ba ako sa simbahan nito?'"

Controlling her laughter, she continues, "I remember pa there was somebody that gave the bright idea of making us ride a kalesa! Can you imagine? Pagdating ko sa simbahan, ano na kaya ang itsura ko?"
ADVERTISEMENT - CONTINUE READING BELOW

Of course, walking down the aisle, Miss Lucy was a vision in white, and waiting at the altar, Richard looked every inch an Adonis. And after the priest pronounced them husband and wife, Goma and Miss Lucy—as they are often called by friends—began their lives together as each other's better half.
Ten years after that grand wedding, the lovely couple let YES! into their home in Greenhills, San Juan—the second time time they do so—and share a decade's worth of stories about falling in love and raising a daughter and making a marriage work.


RICHARD LOVES LUCY. "I never told God what I didn't like in a husband," says Lucy, a Marian devotee. "I only told him what I wanted, and I was very specific... I didn't say, 'I want Richard Gomez.' I said, 'I want a man who looks like Richard Gomez.' Tall, dark, and handsome."
Jesting, Goma interjects: "Ayaw Niya ibigay 'yong kamukha ko lang. Ako na lang!"
Being used to her husband's teasing, Lucy simply smiles and continues: "I just wanted a guy who was as good and as manly as him. 'Yong ganoong tipo ng lalaki, maitim. I don't really like maputi... I just wanted to marry somebody like my dad. I wanted somebody who would be hands-on with our children."

Like many guys, Goma had more practical considerations for settling down, Lucy says.

"I noticed with him—like, kunyari, he wants a baseball bat—before he actually buys it, he really makes sure that it's really what he wants. He won't just buy it and say, 'Ayoko pala ito.' There's a lot that goes into that decision. I just asked him last week... Sabi ko, 'How long did you have to think about taking that major step [marriage] in your life?' I wanted to know."
ADVERTISEMENT - CONTINUE READING BELOW

"It didn't take too long," Goma answers. "Basta my major consideration was, number one, if I was ready to settle in and be with a wife. 'Cause it's very important that you're ready emotionally, di ba? I was naman. Second, am I financially stable? Do I have a house where I can live with my wife? Tamang-tama, I was building this house and it was almost done. Perfect timing lahat. And then, she came along."

It was the year 1993 when she came along. She was studying at the Cebu college of the University of the Philippines. At that time, a shampoo brand, Lux, was about to be launched, and the ad agency handling the campaign was looking for a new face to represent the new product. The fair-skinned, soft-spoken Lucy caught their attention.

Although reluctant at first, Lucy eventually agreed to do the television commercial. On her way to Manila for the shoot, she was surprised to find out that she was going to be paired with her all-time crush, whose pictures she had been collecting—Richard Gomez.

As for Goma, it didn't take much for him to notice Lucy.

The two of them did eight Lux commercials over five years. "Parang every year of those five years, nagkikita kami once a year," Lucy recalls.
But though there was a certain level of attraction between the two, neither of them made a move because they were both in relationships with other people. Goma was with the late model Patricia Borromeo. Lucy was with a non-showbiz boyfriend. The friendship between the Lux models was limited to occasional phone calls by Goma.

The last commercial they did was sometime in May 1997. "It was the end of the series already," Lucy says. "We knew na wala nang kasunod 'yong commercial, kasi last na, e... Ayun, he started calling me very often."
By then, both of them were already unattached.
ADVERTISEMENT - CONTINUE READING BELOW

"When he split up with his girlfriend, he didn't tell me," says Lucy. "We were talking na at that time, e, but he didn't tell me. I found out na lang about it kay Ricky Lo [entertainment columnist]. Ako naman, I split up also with my boyfriend, but I didn't tell him rin about it kasi I didn't want him to think na I was presumido."

(Later, explaining that presumido means "presumptuous," she adds: "I did not want him to think that I broke up with my boyfriend then because I wanted to start something with him.")

Richard recalls one particular phone call: "Up in Germany, I was calling her. Wala pang cellphone noon. Hindi pa uso. Low-tech pa. I was calling from a phone booth! Parang pelikula talaga."

Pretending to be holding a phone, Goma demonstrates the different calisthenics moves involved in surviving hours of a long-distance call from a phone booth in Germany to Lucy's place in Ormoc, Leyte.

"Nasa phone booth ka, nakaganoon ka"—and he leans on an imaginary wall, laughing as does so. "Kapag pagod ka na, nakaupo ka na sa floor. E, maikli 'yong cord, so nakataas 'yong isang kamay mo."

Lucy: "Ako naman, naghihintay ng tawag!"

Richard: "Umabot sa point na nag-out-of-order 'yong phone! Kasi, kapag napuno 'yong coin box niya, it cannot operate anymore until tanggalin nila 'tapos kunin nila 'yong coins."

For Lucy, there was something surreal and unexpected about what was happening.

Lucy: "Siyempre, kilig na kilig ako. Although I really didn't think that it would end up in marriage that soon. Kasi, I was living for the moment, e. I knew that even if I didn't end up with him, my relationship with my ex was really over. It wasn't, like, if this doesn't work out, I'll go back to my ex."
ADVERTISEMENT - CONTINUE READING BELOW

Although she was having a Cinderella-esque story, Lucy was in touch with the reality that her prince was one of the most eligible bachelors in show business.

Lucy: "When I was really falling na for him, I remember praying and saying na, 'Lord, if this isn't it, iwala mo na siya. Kasi, I was really falling na for him, e. I was scared also, because he was an actor. And my mom would say na, 'Don't think na ikaw lang ang magandang babae na naging girlfriend niya. Sanay 'yan sa maganda.'"

Back in Manila, Goma decided to pay a visit to Lucy in Ormoc. This was in September of 1997. It would be the first time the two would see each other after they ended the commercial series.

Richard: "I came home from Germany, then I called her. 'What if I go there?' Sabi ko, 'Hindi, talaga. I'll go there.'"

Lucy, who was in a state of disbelief, naturally had no objection.
That same day, Goma called up Philippine Airlines to book a flight to Tacloban, the nearest airport from Ormoc.

Richard: "I called her back, 'I'll go there tomorrow ha.' Ganoon lang."
With things going as quickly as they did, Lucy's parents, Miguel and Julie Torres, were understandably hesitant to approve of the relationship.
Lucy: "Si Mommy pa ang mas kunsintindor. 'Ma, Richard will visit.' 'Ay! Ihahanda ko 'yong guest room, ihahanda ko 'yong guest room!' In fact, hindi namin sinabi kay Daddy na darating si Richard. 'Buti na lang, Daddy was in Cebu, nakipaglibing sa yaya niya na namatay. So, pagdating daw niya—kuwento 'to ng driver, ha—may nagba-basketball daw sa labas ng bahay. Sabi niya, 'Parang umitim si Matt.' Akala niya si Matt. Si Richard na pala 'yon."

Matt is Lucy's younger brother. She also has two other siblings—Karen, the eldest, and Jules, the youngest.
ADVERTISEMENT - CONTINUE READING BELOW

To this day, Lucy is still in awe over how Richard managed to win over her family so quickly.

Lucy: "We had dinner together, and then na-charm niya talaga si Daddy. Before I knew it, 'nilalabas na ni Daddy 'yong mga baril niya. E, si Daddy, hindi niya 'pinapagamit 'yong mga baril niya. The following day, nag-shooting range na sila."

Goma simply explains: "Click kami."

In December 1997, or merely seven months after they became phone pals, Richard decided to pop the big question. Bringing along his Palibhasa Lalake co-star Anjo Yllana (who would later stand as best man at the wedding), Goma flew to Ormoc again and paid another visit to the Torres home.
On December 10, the eve of her 23rd birthday, Lucy had a dinner party at home in Ormoc. The celebration extended late into the night, and her parents retired early, leaving Lucy, her sister Karen, her best friend Myra, plus Anjo and Richard, to await the coming of midnight, December 11, which would signal the start of Lucy's birthdate.
A little past midnight, Richard popped the question: Will you marry me? Or words to that effect.
Richard: "When I proposed to her, I made sure na the following day ako uuwi... Para kung hindi approve 'yong dad niya, at least wala na ako sa bahay nila, nag-propose na ako."

Lucy: "Sabi ko, ''Wag ka muna umuwi, Honey.' 'Hindi, hindi.' Madaling araw talaga siya umuwi. Iniwan niya ako para ako mag-break ng news sa family!"


TURNING A HOUSE INTO A HOME. If there was one thing Richard learned early on in his career, it was the importance of saving money. Richard recalls how his manager Douglas Quijano—Tito Dougs to most showbiz folk—kept reminding him: "You really have to start saving money. Kasi, in this industry, 'yong pagiging artista—hindi mo alam kung hanggang kailan 'yong career mo."
ADVERTISEMENT - CONTINUE READING BELOW
It wasn't hard for Richard to heed his manager's advice. His parents, former sportsman Eduardo Gomez and former actress Stella Suarez, had separated when he was still young, and Goma, who was raised by his grandmother, Lydia Kelly, had grown up trying to make ends meet.

"Tago lahat 'yan," Goma says of his earnings. "Kaya nga tawag nila sa akin, kuripot! Hindi ako kuripot. I'm just trying to save money, kasi ang hirap pag wala kang bahay na sarili, di ba?"

With a house that he could call his own as his end goal, Goma started saving his talent fee from Palibhasa Lalake. For his daily expenses, he used his earnings from guest appearances, provincial shows, and movies.

By 1995, he already had enough money saved to build his dream house. He says his priority was to find a piece of property with a good location. "I was looking for a location na maganda 'yong security system ng village—parang New Manila, Urdaneta... That time, I couldn't afford 'yong Forbes Park. Sobrang mahal!"

Finally, Goma decided to purchase a 900-square-meter house-and-lot in Greenhills for a whopping 21 million pesos. He had the old house torn down to make way for his dream home.

Goma asked Johnny Manahan, his Palibhasa Lalake director (now Star Magic senior vice-president), to help him with the layout of the house. To give themselves more or less an idea of how to maximize the lot space, the two ingeniously thought of making the Palibhasa Lalake studio set as a mock-up of the property.

"So, nile-layout namin in paper 'yon, 'tapos sinusukat-sukat namin sa studio," Goma recalls, chuckling. "Nagte-tape kami noon ng masking tape sa studio. Kunyari, I like this room to be ten by fifteen meters, ima-masking tape namin! 'Ahh, ganito pala 'yon, parang medyo maliit, e...' So you'll try to put adjustments here and there."
ADVERTISEMENT - CONTINUE READING BELOW

It was only when the layout was finished that Richard hired architects to design and construct the house—RJ Borromeo, Eric Roa, and Manny Borromeo of BRB Design. RJ was the brother of Goma's girlfriend at the time, Patricia Borromeo. Manny was also Patricia's cousin.

"Bagong-bago pa siyang architect noon," says Goma of RJ Borromeo. "I took the risk of getting him."

Inspired by his katukayo, American architect Richard Meier, Goma wanted to have a minimalist house that would reflect his personality.

"Siguro, just like my house, I'm a very open person. Di ba, wala naman akong 'tinatago? Siguro, that shows sa personality din ng bahay. Everything's open. We have big doors and huge windows. Very simple. I'm a very simple person."

Construction began in February 1996. By the time the house was completed in late 1997, Goma had already broken up with Patricia.
When asked why he did not end up with his ex, Goma explains: "I never considered marriage pa naman at that time, e. When I had a girlfriend, hindi naman ako katulad ng iba na, 'Subukan natin...' Ako, hindi. If marriage gets in the way, then let's get married. Pero hindi ako 'yong, 'Ito na ang pakakasalan ko.' E, nagkataon na wala na kami no'ng girlfriend ko the day I decided na it's a good time to get married."

Indeed, after finishing his home, Goma got married to Lucy in 1998. From her Visayan hometown, Lucy, then 23 years old, moved to Manila to start a new life with her husband.

Lucy admits that her first few months in the house were lonely.
"I was used to a house full of people. When I got here, he'd be gone for almost the whole day, shooting. He was finishing pa his movie then with Rosanna Roces, Babae sa Bintana... Gusto niya ako isama, but nahihiya naman ako to go there because my worry was, ayoko naman na I was a very new bride and ayoko naman sabihin nila, 'Uy! Nagbabantay sa set.' Dito na lang ako sa bahay."
ADVERTISEMENT - CONTINUE READING BELOW

To help pass the time, she engaged in different activities, including her favorite hobby—arts and crafts.

"All I did was scrapbook," she giggles. "I would arrange our photos. So, now, I have so many albums! I had so much time then... 'Buti na lang, there was cable TV, and I really enjoyed watching all the lifestyle shows. I know naman basically how to entertain myself. I have my books, I have the TV, and then I was also in the process pa of moving my things. Not that I brought so much of my clothes. I think that was really the period when I discovered na medyo may pagka-O.C. [obsessive-compulsive] pala ako. I like things in a certain order."

With so much time on her hands, Lucy decided to take on the task of organizing Richard's old bachelor stuff. A photography enthusiast, Richard hardly threw away his old photos, including his pictures with his past serious and not-so-serious girlfriends. He simply stored them in a box in the basement.

Richard: "Sinabi kasi niya, 'I'll fix the basement.' Ang gulo-gulo no'ng mga pictures ko, nasa mga kahon. Sabi ko, ''Wag mo na galawin 'yan. Baka may makita ka pa, magselos ka pa.' 'Hindi, kaya ko 'yan...'"

Lucy: "Nagsumbong na lang si Lita [the maid] na, 'Sir, sir, naabutan ko si Ma'am sa basement...'"

Richard: "Umiiyak!"

Goma gives out a hearty laugh. Controlling her own laughter, Lucy reenacts her monologue: "Hu-hu-hu! Ang dami niyang babae!"

Still, being the O.C. person that she is, Lucy painstakingly arranged Goma's box of pictures.

Lucy: "Naayos ko lahat ng babae-isang kahon! Sometimes, if I see his pictures with his girlfriends way, way, before me, 'yong wala na talagang kinalaman sa akin, I see how sweet they were or how tight they were before. 'Tapos, nakikita ko 'yong mga dedication sa likod—naiiyak talaga ako minsan."
ADVERTISEMENT - CONTINUE READING BELOW

Richard remembers another funny Lucy story.

Richard: "Pag nasa basement naman ako, I just like opening things. Pag may nakita ako, I just run through them. Ang ganda kasi ng pictures. If you don't see that picture, you will not remember that you were once there. Regardless kung sinong kasama mo doon. There was one album—pagbukas kong ganyan, 'Ha? Bakit ganito 'to?' May mga comments ni Lucy, nakasulat: 'Sweet, sweet ka pa diyan.'"

Sheepishly smiling, Lucy defends herself: "But I did not throw it away, ha."
Along with the boxful of memories, Lucy was also introduced to how things were in the house before she came along. It wasn't long before Goma's friends started to hang out again in his house. Some wives may frown upon the intrusion of privacy, but Lucy welcomed it.

Lucy: "I was just happy to realize na Richard is a people person pala, and he really welcomes all his friends. It wasn't that lonely anymore. Siguro, at first, all his friends siguro wanted to give us couple time. Perry [Dean, Richard's friend] would be here. John [Estrada] would come and visit. And then my parents would come. Eventually, my brother came to study na rin here [in Manila]... So the house was never empty. There were people na always."

She adds, laughing: "Always unannounced! That's why I never go down na hindi nakaayos. I'm sanay in Ormoc puwede kang bumaba na nakapantulog pa lang."

Lucy remembers an incident when she was pregnant with Juliana, two years into the marriage: "That was the time na I just wanted to stare at him. Parang pinaglilihian ko siya and hindi ko siya pinapaalis, so pinapatulog niya ako. Sabi ko, 'Halika, Honey, tulog tayo sa sofa.' 'Yon pala noong tulog na ako, iniwan niya ako. Paggising ko, may mga bisita sa kabilang sofa. Hinihintay nila si Richard!"
ADVERTISEMENT - CONTINUE READING BELOW
Chuckling, she jokingly swears: "Never again! I don't sleep in the sofa. Always upstairs."

Being new in the city, Lucy also found company in the showbiz people that she got to meet.

Lucy: "Before I found female friends, I discovered muna all the bakla. First nagturo sa 'kin ng derma, bakla—si Keren [Pascual, talent manager and publicist]. He brought me to his derma. Kasama kong mag-grocery first, bakla din. That's I why I love the mga bakla!"

Slowly, Goma's bachelor pad turned into a comfy home, which friends and family frequented. Richard credits his lovely wife with the transformation.

Richard: "I choose the big items, she'll finish it. Lucy liked the house the way it was, kaya binigyan lang niya ng mga finishing touches."

Lucy: "I like the taste because it was different. The house in Ormoc, it's wood and very traditional. This one was different, so I liked it also. Masarap bihisan. You can do so many things with it pa."

Coming from bucolic Ormoc, Lucy also had to learn the ins and outs of the colorful world of show business that her husband was part of.

Lucy: "It's very permissive. Parang everything is glamorized, di ba? Something that would normally shock people in the real world—people from showbiz just laugh it off or they see it as a quirk. So that was the siguro most shocking part. But it was nice to discover also that the stars are real people. Sometimes kasi you think of stars as products."

A self-confessed movie fan, Lucy remembers one showbiz gathering she went to—Aga Muhlach and Charlene Gonzalez's wedding in Baguio. "I saw FPJ [Fernando Poe Jr.] and Vilma Santos for the first time 'ata. Nagpa-picture talaga ako! 'Honey, dali kunan mo 'ko!' I still have that picture with FPJ."
ADVERTISEMENT - CONTINUE READING BELOW

After a decade in the biz, Lucy is thankful that she was never involved in any serious scandal or controversy.

"Basically, I don't like gulo," she admits. "I don't like conflict. I'm glad lang talaga na I was never stuck in a situation that required me to do that. The most siguro would have been the-although that's water under the bridge na now—'yong sa Bistro Lorenzo kay Jinggoy."

She's referring to an incident in the year 2000, when the very much pregnant Lucy was dining with her husband and some friends at Bistro Lorenzo in San Juan. Jinggoy Estrada, whose father Erap was then president of the republic, was there also, accompanied by his own set of friends and a couple of bodyguards. Then Jinggoy started taunting Richard, calling him names.
Lucy says that Richard, who was very aware that Lucy was carrying their child, kept his cool and walked away. But the move only provoked Jinggoy—who, Lucy says, seemed intoxicated—into shouting profanities, challenging Goma to a fistfight, and flashing the dirty finger.

Later that same night at the restaurant, Goma and Jinggoy talked things out. But during the incident itself, Lucy remembers preparing for the worst: "Sabi ko noon, 'Naku! Pag pinatulan niya 'yong asawa ko—kasi nakita ko na si Richard, naka-close na 'yong fist, e, as in ready to attack na—naku, pag sinuntok 'to, kukunin ko talaga 'tong takong ko, ipupukpok ko sa ulo niya."

Lucy clarifies: "But I love Jinggoy now. He's really mabait. I never used to believe Kris [Aquino] when she said, 'Lucy, mabait talaga 'yan, e...' There were many times after that incident na nag-sorry siya, but when you're hurt, you never take sorry at face value, di ba?"

Today, all is well between both camps. In fact, Richard was chosen to be one of the godfathers of Jill, Jinggoy's youngest.
ADVERTISEMENT - CONTINUE READING BELOW

In hindsight, Lucy muses, "It really shows how fleeting and irrelevant these things can get sometimes."


RAISING A ROCK STAR. A few weeks before the interview, Juliana asked Lucy: "Mom, are you sure I'm not adopted?"

The couple's eight-year-old daughter had just learned about the concept of adoption. Her ever-so-cool mom was simply amused.

"She has this fear that she's adopted," Lucy laughs. "My daughter is a drama queen talaga... Akala niya, it can happen to her. So I had to show her my pictures while I was pregnant, her pictures as she was coming out. Pero ngayon alam na niyang hindi. Recently lang, she said, 'I know I'm not adopted, Mom, because I like arts and crafts—that's you. I like sports and danger—that's Daddy!'"

The couple obviously adore their unica hija. Lucy spends time with Juliana, doing arts and crafts, watching DVDs, and dancing. Richard, on the other hand, encourages Juliana to get involved in sports and physical activities—Muay Thai, jogging, fencing, and, more recently, baseball.
Since Richard has taken up baseball, Juliana has followed suit. She has even joined the little league.
"Cute, 'no?" says Lucy, obviously amused. "He just exposes her to sports, 'tapos bahala na siya mamili kung ano'ng gusto niya. There are those she doesn't like. I brought her to ballet, ayaw daw niya. Inaantok daw siya!"
Juliana, who is now in second grade in a Montessori school in White Plains, is starting to take part in extracurricular activities.

"Nag-rice-planting sila sa school nila—nagra-rice-planting ang mga bagets!" says Richard, amused.

Laughing, Lucy adds: "'Tapos, nahulog siya sa pilapil! Umuwi siya, putik-putik. So, 'yong mga kuko niya—I see the yaya scrubbing her, scrubbing her foot. 'Tapos, kahapon umiiyak siya, kasi daw si Manong Leo, the house guard, doesn't call her Juliana anymore. 'O, what does he call you?' 'Tinatawag niya ako na ang batang nahulog sa pilapil.' Galit na galit siya!"
ADVERTISEMENT - CONTINUE READING BELOW
Mention of the interests of Juliana and her generation—"they're so into technology right now"—reminds Lucy of the games she used to play as a kid.

"Ako, I grew up with isang Game and Watch. And then later on, 'yong parang Mario Brothers... But I remember our playtime talaga. We would build houses. We would really play with sticks and stones and marbles and tirador! And we would pretend we were drinking wine, so 'yong mga tubig, kinukulayan namin ng mga dahon ng bougainvillea. 'Tapos, nagchi-cheers-cheers kami ng mga playmates ko.

"Si Mommy naman, tolerant. 'Yong mga old tablecloths, ginagawa naming mga kurtina. Okey lang sa kanya na in the backyard, may makeshift na bahay. The kids in the big city, walang ganoon. Walang patintero, tumbang preso, shatung!"

In her faint adorable Visayan accent, which only comes out when she speaks Tagalog, Lucy pauses to ask: "Shatung din ba dito o shato?"

We tell her it's shato.

"Doon, shatung," she animatedly relates, holding an imaginary wooden stick. "Di ba, tatakbo ka ng malayo, dapat sisigaw ka ng 'Shaaaaaaaaaa... ahhhhh...ahhhh...' dapat hindi maputol! 'Ahhhh... Tung!'"

The room fills with laughter.
Goma, too, dredges up childhood memories of the games he used to play: "Taguan sa gabi talaga, kami ganoon, e. 'Yon 'yong time na, may mga kalaro ka, naghahalikan kayong magkakalaro!"

Lucy quips: "Kaya ka pala nage-enjoy!"
Again, the room fills with laughter.

Lucy notes: "Si Richard naman, with Juliana—he really allows her to explore. 'You wanna bike around the village?' 'Sige, bike, but be careful.' Kami [in Ormoc], we could bike, but only hanggang sa gate lang ng bahay namin. Si Richard daw kasi, he would really bike, di ba?"

Richard replies, "I would bike anywhere."

The actor explains that he doesn't want Juliana to miss out on the simple joys of childhood, like playing in the rain. "When it's raining, ligo talaga kami sa ulan! When I was young, pag malakas ulan, labas na talaga kami, liligo na."
ADVERTISEMENT - CONTINUE READING BELOW

Lucy admits that she wasn't as adventurous when she was a kid: "Kasi, palaging 'yong yaya ko before, may baon na Good Morning towel! Konting pawis lang, may Good Morning na. Eto namang si Juliana, parang natutuyuan ng pawis minsan. Hindi naman nagkakasipon. Strange!"

Although she keeps an open mind about letting her little one experience "danger," as Juliana would call it, Lucy cannot help but be protective.
"The yaya gets confused because ako, 'Lita, sundan mo si Juliana. Baka mahulog!' Si Richard naman, 'Hayaan mo, hayaan mong madapa. Matututo rin yan...' 'Ano ba talaga?' Nabubuang na si Lita!"

At the moment, Juliana is entering what her parents call the "rock star" phase. Like most kids her age, she is starting to idolize Hollywood stars like Miley Cyrus and teen bands like the Jonas Brothers.

"She now likes skulls," says Lucy, looking puzzled.

Goma can't help but smile. "Rakista yata 'yong anak ko," he concludes.
"And she has these expressions, like, 'My peace is down, Mom,'" laughs Lucy. "I don't know where she is getting it. Hindi naman ako ganoon magsalita dati. Siguro from school, 'no?"
Lucy simply shakes her head.

KAPE'T GATAS. After ten years of marriage, Richard and Lucy seem to have found the right formula for making their relationship work. As Goma sees it, their differences and similarities, and their strengths and weaknesses as individuals, place their union in a harmonious balance.
Richard: "Siguro, dahil contrasting ang personality, we complement each other."

Lucy: "Yeah. Siguro, the fact that we came from very different backgrounds."

Richard: "Kape't gatas talaga!"

He gives an example: "Si Lucy is very good in managing the finances... Even before, it has been a habit na I don't look at my salary. I just put it in the bank. I don't manage my money. Before, I will leave some checks inside my suit. Three months after, nandoon pa rin 'yong check ko. Dami kong ganoon dati."
ADVERTISEMENT - CONTINUE READING BELOW

When he was still single, Richard would keep his money in a high cabinet, thinking that since the maid wasn't as tall as he was, she wouldn't snoop into his secret hiding place. Before he knew it, his long-time househelper was already lending money to other maids in the neighborhood and had already built her own house.

Richard: "Kaya now that we're married, si Lucy na ang nagma-manage ng finances."

Lucy explains that learning how to run a household didn't come easy to her: "When I got married, I had to take over. Kasi siya, ayaw niya talaga. He just wants to work, and work, and then ibibigay niya lang sa akin 'yong tseke. Ako taga-deposit, ako nagba-balance... I remember, our first two weeks, nauubusan kami ng pagkain!"

Today, Lucy says she has managed to learn the ropes: "I'm just magaling with keeping records."

Goma jests: "Kaya hindi rin ako puwedeng mambabae, kasi malalaman niya! 'Bakit ang laki ng gastos nito?' Makikita mo talaga, e. Pag may separate account ka, it's easy to hide it, e."

Lucy says they deliberately chose not to have individual accounts.

"Wala kaming secret money. Gelli de Belen and I were talking to two non-showbiz friends of ours. They were lecturing us, 'Dapat kayo, may secret money, para pag naghiwalay, at least hindi kayo dehado.' But I don't see that kasi on the horizon, e. Ayokong paghandaan!"

Having the responsibility of keeping their finances afloat, Lucy takes pride in her prudence.

"He's lucky 'cause I'm not maluho, e. Maybe I can trace that back to my simple life in the province. Even if I knew that my parents could afford it, never nila kaming sinanay sa grand things. Parang we did not have excess talaga. We did not have too much of everything."
ADVERTISEMENT - CONTINUE READING BELOW

"Richard and I—our only, if you can call it luho, talaga is eating out. We really love to eat out. In fact even at night, pag hindi kami makatulog, magda-drive-thru lang kami."

In the past decade that they've been together, Lucy says, it is these "cheap" thrills that have kept their love alive.

She explains that most couples should make an effort to have time for each other.

"Even if we pursue our own interests, we never compromise rin our time as a couple, our life as a couple. It's always a priority. But we encourage each other to grow, para when we come together at the end of the day, there's much of our life to share with each other. 'Okay, this is what I did today...' Siya naman, 'This is what happened to me today...'"
She's aware that making a relationship work while in show business is rare nowadays.

"That's an inside joke among Tito Dougs's talents. Kami na lang ni Gelli ang last—Last of the Mohicans ba! Kami na lang 'yong standing..."
Aside from Lucy and Gelli, talent manager Douglas Quijano, a.k.a. Tito Dougs, has Joey Marquez, Anjo Yllana, John Estrada, and Jomari Yllana in his stable—all of whom are separated from their respective wives.

Acknowledging that her relationship with Richard started as a whirlwind romance, Lucy muses: "There were a lot of people who were skeptical. But you know, when you're so in love, it really doesn't matter, e. You can think what you want. And you don't think far ahead din naman na, 'I'm gonna prove you wrong!' Wala. You just go along. And before you know it, ten years na kami."

Ah, the sweet life indeed!