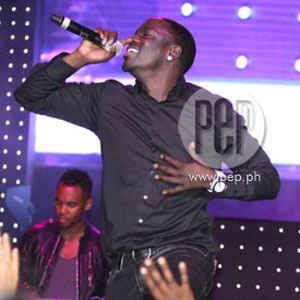 IMAGE 0
---
Hundreds of Pinoy music fans rushed to the Araneta Coliseum last October 23 to personally hear international R&B artist Akon sing his biggest hits for the Manila leg of his worldwide Freedom Tour 2009.
But the one-time winner of the American Music Award did not just visit the Philippines to sing. He also performed for the benefit of the victims of the two recent typhoons that ravaged Luzon.
The Senegalese-American singer is one of the Hollywood celebrities who expressed sympathy for victims of typhoon Ondoy and Pepeng. In an interview, he said proceeds of his Freedom Tour 2009 concert in the country will benefit flood victims through the Philippine Red Cross.
"It is in these trying times that we find our greatest strength, faith and capacity for self-sacrifice," he said.
Kapamilya artist Billy Crawford, who opened Akon's concert, was thankful that typhoon Ramil did not hit the country. "Hindi tayo binagyo," he said, "for me that's a blessing."
ADVERTISEMENT - CONTINUE READING BELOW
Billy performed his songs "Trackin'," "Bright Lights," and "Steamy Nights." He also offered a tribute to the late "King of Pop" Michael Jackson through the songs "Human Nature," "Rock With You," and "Man in the Mirror."
When Akon entered the stage, Pinoy fans rush in front of the stage. The international artist spontaneously reached for their hands.
Akon's first songs set the mood for the whole night. The party fever started with his songs "Shake Down," "Wanna Be Starting Something," "Don't Matter," "Fallin' in Love" and "Dangerous."
In the middle of his concert, he teased the audience by saying the crowd at his last concert in Tokyo was "louder." The Filipino crowd, roused, shouted his name repeatedly until they made the loudest noise they could to satisfy the international artist.
The climax of the concert had Akon taking off his shirt and dousing the audience with countless bottles of mineral water. The crowd went wild while he was singing his biggest hits "Right Now (Na Na Na)," "Smack That," and "Beautiful." He also did covers of Lady Gaga's "Just Dance" and Gwen Steffani's "The Sweet Escape."
ADVERTISEMENT - CONTINUE READING BELOW
He also jumped repeatedly into the arms of the waiting fans who were all too willing to catch him. Seeing as he had fun, he ended the concert with the words, "I can finally say Manila is louder than Tokyo."
Spotted in the center of the fun crowd were Pinoy celebrities Jay-R, Krissa Mae Arrietta, Geneva Cruz, Denise Laurel, Kris Lawrence, John Pratts, Shaina Magdayao, Mickey Perz, and Iya Villania.