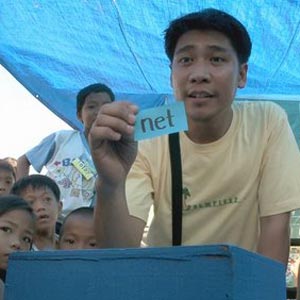 IMAGE 0
---
Efren Peñaflorida is a Filipino educator who teaches mathematics and computer subjects in a private school in Bacoor, Cavite. He loves sappy movies like A Walk to Remember, and groundbreaking ones like The Matrix. He also loves reading, so he is now trying to finish John C. Maxwell's The Difference Maker.
But the 28-year old Pinoy is like no other. In fact, he's all set to fly to Hollywood to receive an award from CNN on Nov. 26, in recognition for "making a difference" to his fellowmen.
PEP (Philippine Entertainment Portal) visited the residence of this Pinoy hero in Cavite City last week, and we were impressed by his natural altruism.
Efren greeted us with a warm smile before the interview started. He looked liked an ordinary young man. Physically, there was no sign that he may just be the country's hope for the future.
GOOD DEEDS. Efren, who grew up in Cavite, said gangsterism among the youth was high when he was in high school. This made him want to join a gang himself.
ADVERTISEMENT - CONTINUE READING BELOW
"Naaalala mo yung pelikulang Iyo ang Tondo, Kanya ang Cavite (1986) ni FPJ?" he said. "Totoo 'yon sa Cavite noon. Pag naglalakad ka babatuhin ka na lang, o kaya hahamunin ka ng away... kaya ako, inisip ko sumali na rin ng gang para may kakampi ako."
Fortunately, a friend asked him to join an after-school program that teaches students remedial subjects. The program, helmed by Club 8586, a non-sectarian, non-governmental outreach group that trains young leaders, helped Efren stay out of trouble.
Seeing the leadership potential in him, Club 8586 singled out Efren and gave him further training to become one of the mentors. The training succeded, and Efren still looks up to the members of Club 8586 for the positive things he's experiencing now.
Efren declined to reveal the names of his personal mentor. "He'd rather do the good deeds anonymously," he said.
KARITON DREAMS. At 17 years old, Efren began plotting out ways to stamp out youth gangsterism in Cavite. In 1997, Efren and three of his friends came up with the Dynamic Teen Company, an outreach group that would give the youth an alternative to joining gangs.
ADVERTISEMENT - CONTINUE READING BELOW
Their activities were initially composed of giving remedial classes to the unschooled children living in impoverished communities, giving hope to imprisoned youth by visiting them, and doing similar outreach programs.
But it was not easy at first. Their teachers were against the idea, and even Efren's parents advised him against it.
"Siyempre, mahirap lang kami. Sabi nila, wala daw pera rito," he said.
But behind them was the influence of Club 8586, which gave them training and funding to continue their activities. Eventually, the group let them take over their existing remedial class program.
The good deeds ensured a steady growth of the group's volunteers, and the number of young kids they taught. This ballooning of students proved to be a problem—they had to carry more and more teaching implements and snacks every time there was a teaching session.
The solution to the weight of their problem was simple. One of the volunteers, a product of the previous teaching sessions, suggested the use of a kariton, or a four-wheeled pushcart.
ADVERTISEMENT - CONTINUE READING BELOW
So every Saturday, they would push the brimming kariton to the places where they were scheduled to teach. The idea sold well, and the "kariton classroom" was born.
Now the Dynamic Teen Company has four karitons, each named Kari, Toni, Trio, and Nic. Kari, the original kariton, now carries a values formation center and a canteen, while Toni carries a playcenter. Trio has a computer and literacy lab, and Nic carries a clinic and hygiene facility.
NOT HIM ALONE. In Cavite, the Dynamic Teen Company is in full swing. Since its founding 12 years ago, the group now has a total of 10,200 members and has already taught 1,500 kids.
Although the project has led Efren to be known all over the world, he said he does not want to get full credit. The CNN award would not be possible without the help of his mentors from Club 8586, the volunteers, the various anonymous donors, his parents, and God Almighty, he said.
ADVERTISEMENT - CONTINUE READING BELOW
"Hindi lang naman ako ang gumawa nito," he explained. "Kung wala sila, hindi ko maaabot ito."
In fact, it was not his name but the name of the group, the Dynamic Teen Company that was initially nominated for the CNN award. The international news agency, however, said only a single individual is eligible for the award, not a group. Because Efren now acts as the group's adviser, it was his name that eventually passed for the CNN nomination.
Efren added that each vote he gets in CNN.com/Heroes means more for their students than for him. Being in the top 10 ensured the Dynamic Teen Company $25,000, which would be used to buy more teaching aids and computers for the students.
Moreover, if Efren becomes hero of the year, the $100,000 cash prize would be used to build a center for poor kids in Cavite who do not have a place to sleep.
ADVERTISEMENT - CONTINUE READING BELOW
"Bawat boto po ay para sa kinabukasan ng mga kabataan na tinuturuan namin. Sana po ay matulungan niyo sila sa pamamagitan ng pagboto ninyo," Efren said as our interview ended.
It cannot be denied that Efren started a revolution, a legacy for the country. Now countless other kariton groups are being started all over the Philippines, emulating the achievements of Efren Peñaflorida and the Dynamic Teen Company in Cavite.
For all the accolades, Efren remains a humble educator. He wants to continue to serving his country beyond whatever prize he receives. That is the real hero.
Voting for CNN Hero of the year is open up to November 19. Voters can vote again and again. Power voting for Efren's cause is now available at http://ironnie.com/supportsefren/