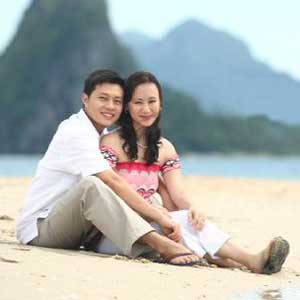 IMAGE 0
---
The list of Pinoys proving what they're made of in the international scene just got bigger. Check out Ultimate Thailand Explorers, for example.
This online-based contest was campaigned by the Tourism Authority of Thailand to boost tourism in the country's tourist destination spots like Bangkok, Phuket, Pattaya, Chiang Mai, and Koh Samui. The contest's aim is to invite foreigners to send in video auditions for the chance to become one of 192 teams to compete. The teams, selected by judges and online voters, will explore the destination spots and engage in activities that they will later share online—through blogs, videos, photos—to the global audience. The team that gets the most number of online votes will win the competition and the $10,000 cash prize.
Michael Paul and Jennifer Cocuaco of Zamboanga are one of the couples chosen to participate in the contest. The husband-and-wife team made it as one of the 25 teams who made it in the semifinals. They are also the only Pinoy team to make it so far. Michael, by the way, is a businessman while Jennifer is a freelance magazine writer and a photographer. Before getting married, the two were longtime friends and chatmates.
ADVERTISEMENT - CONTINUE READING BELOW
Michael and Jen are now exploring Koh Samui along with four other couples. Their victory will rely entirely on online votes they'll get. To vote for Michael and Jen, you need to REGISTER HERE after that, you can VOTE FOR THEM HERE.
Be advised though that voters can vote only once every 24 hours and the voting ends on November 12, 2009.
They're currently in third place and are closely following the leaders who have 243 more votes. With your help, Michael and Jen have the chance to beat the competition. This is a win-win situation since two lucky voters will receive $2,500 plus a Thailand travel package and HTC phones.
Let's exercise the power of the online Pinoy and show the rest of the world how we support our kababayans.
Check out their blog at http://mikejen4ute.blogspot.com
See their video here: http://tinyurl.com/mike-jennifer
You can also add them on your FaceBook fan page searching Michael & Jenny C: Ultimate Explorers (Official Page)
ADVERTISEMENT - CONTINUE READING BELOW