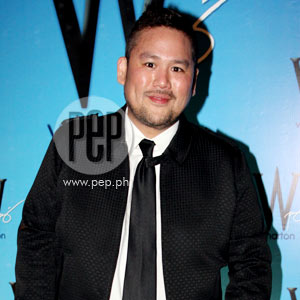 IMAGE 0
---
"It's all about the men's wear clothes!" exclaimed Philippine designer Rajo Laurel about Wharton's latest men's collection, which was unveiled last Friday, November 13. The items that highlighted his designs will be rebranded as "W by Rajo."
This is the first collaboration between Wharton and Rajo, who "both share a vision of elevating Filipino men's fashion sense."
"'W' is all about men's wear with a little bit of personality. When I designed this collection, I thought of me in mind primarily because there is actually very little option for people like me to actually look around in local men's wear," Rajo told his fashionista guests.
And so this brand will upgrade the fashion sense of Pinoys at an affordable price, he said.
THE PARTY. The cocktail party at the Establishment in the Fort, Taguig, matched the elegance and subtlety that Rajo wants to impart with his designs for W.
To celebrate men's modern fashion style, Rajo dressed up some of his closest friends in elite society with samples from his collection.
ADVERTISEMENT - CONTINUE READING BELOW
"I wanted it to be a cocktail party just how guys like it. A lot of Johnny Walker, a lot of booze, a lot of food...." Rajo said..
Among Rajo's male muses were celebrity basketball players Dondon Hontiveros and Jonas Villanueva, along with celebrities Luis Alandy, Boy2 Quizon, Ayana Oliva, and Ketchup Eusebio. Other prominent personalities present: Ernie Lopez, Ed Samson, Rafa Alunan, to name a few.
W by Rajo will be available at SM Malls next year.