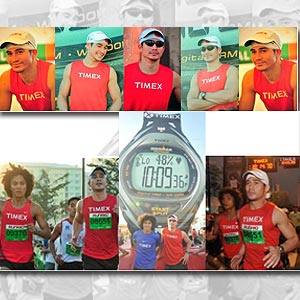 IMAGE 0
---
"The older I get, the more I want to get into sports. It's not just about extending your youth, but just being able to do more.Ang sarap ng feeling that you can carry yourself lightly, that you push yourself. I really want my first run to be memorable."
This is how ultimate heartthrob Piolo Pascual envisioned his very first run to be all about. And true enough—at the recently concluded 2009 Timex Run held last November 15, 2009, at the Bonifacio Grounds in Taguig City—the first-time runner had an exceptional sprinting experience, as he surpassed all expectations, when he outran thousands and ranked 23rd out 1,024 10K runners during the celebrated running event. Piolo dashed to the winning finish with colleagues in the biz including Ricky Davao, Maricar Reyes, Tessa Prieto-Valdes, Eric Fructuoso, Mark Bautista, Maricel Laxa and many others.
Piolo who ran in the 10K category together with new found running buddy and multiple champion runner and coach of some of the country's well-known celebrities and business tycoons, Rio dela Cruz, couldn't be any more glad for being able to get a time off work and join the foot race.
Aside from charming the crowd the way he unfailingly does during the event, the award winning actor finished with a staggering time of 47 minutes 54 seconds, certainly not bad for a newbie. "I was really encouraged. I never thought I could push myself to do better than my usual time," said Piolo after knowing his finishing time.
Unknown to many, Piolo has been getting into different sporting activities despite his jam-packed schedule. Some of these include horseback riding, scuba diving, fencing, golf and badminton. After the remarkable feat in the 2009 Timex Run, the well loved actor, singer and producer has another hard—earned badge to flaunt—certified runner.
Though physically in shape, Piolo shared that the preparation prior to Timex event was tedious. "Well, there are days when sa sobrang puyat, you can't keep it up. You push yourself but your body just can't coordinate, so uwi na lang muna and train another day," said the Lovers in Paris star.
ADVERTISEMENT - CONTINUE READING BELOW
Prior to the big day, Piolo said he tried to rest early but ended up waking up every hour from the time he slept. Nonetheless, all the physical exhaustion could have turned into pumped up race track adrenaline. His commendable performance could attest.
After proving that he can truly outdo himself if he chooses to, Piolo admitted that he learned more about his strengths and earned rewarding benefits he would have never gotten elsewhere.
"Running makes me feel like I'm able to get out of my comfort zone and still feel good afterwards. It has made me more focused, more disciplined. When you know that you are really maxing out your potential, you are facing your limits, and then you still just finish. That's what's important, you have to finish. And then you carry that with you into all the other parts of your life," said Piolo, the superstar runner who's now eyeing to run 21K on next year's edition of the Timex Run. If he will once again superbly cross the finish lines, that we have to wait and see.
THEY, TOO, RAN WITH PIOLO! Some of the country's brightest stars set the Bonifacio grounds ablaze when they, too, ran with Piolo at the 2009 Timex Run. See who dashed faster and who outran the others!
Celebrity - Category - Chip Time
Ricky Davao - Male/40-49/10K - 01:14:22
Maricar Reyes - Female/ 20-29/ 10K - 01:05:19
Tessa Prieto Valdez - Female/ 40-49/ 10K - 01:11:00
Mark Bautista - Male/ 20-29/ 10K - 00:58:53
Maricel Laxa-Pangilinan - Female/ 30-39/ 10K - 01:09:10
Carlos Agassi - male/ 20-29/ 10K - 00:52:39