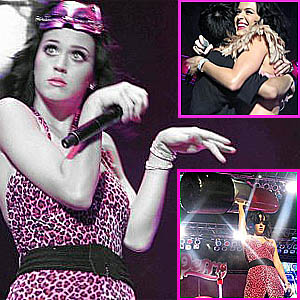 IMAGE 0
---
Curiosity brought me to Katy Perry's concert at the SM Mall of Asia concert grounds last November 14. My thought balloon then: Is her "naughty-girl" tag a mere projection, or is it for real?
The huge crowd, estimated by bloggers at 18,000, was composed of mostly campus students, all eager to watch the American songwriter-singer in the flesh.
After the first three performers—M.A.E., Jed Madela, and Journey's Arnel Pineda and Neal Schon—Katy emerged on stage wearing a baby- pink vintage swimsuit with a feathery neckline to sing "Fingerprints." Was she full of life!
The concert grounds suddenly became more alive with people jumping, screaming, and dancing, even if it was close to 10:00 p.m. already.
Katy was elated over the warm welcome. She came not just for the music, she announced; the proceeds of her concert will be donated to the Ondoy and Pepeng victims through the Philippine National Red Cross.
"You've been through a lot, but we're still standing, damn it!" The audience roared on hearing her gutsy expletive.
Katy performed most tracks from her One of the Boys album. Crowd favorites were "Waking up in Vegas," "Hot N Cold," "One of the Boys," and "Ur So Gay." For the last song, instead of saying the last line, which was "penis," she asked about its Tagalog tanslation. She mumbled it thrice first before yelling, "potatoy!"
In between her songs, one Atenista got lucky with a hug and a kiss from Katy. A few spectators also caught her giant strawberries.
For the encore, she introduced her giant cat Kitty Purry, who said she wanted to extend her stay in the country. She also performed her first hit, "I Kissed A Girl," and you bet, she kissed one. She also showed her torch of cherry Chapstick.
Energy level was high throughout Katy's performance. She made her fans really happy, and earned a new throng of Pinoy believers. The lady is more that just a performer—she's got the talent, candor, passion, and—most of all—a good heart.
ADVERTISEMENT - CONTINUE READING BELOW
"I've been on the road for about two years now...almost. And I just went home for the first time to make a new record, which was really exciting to [make] but I had to stop, because I had to come here..." She paused as the people cheered.
Katy continued, "I just wanna say that next time I come back [and] it's anything like this, I might need a little more time in the Philippines. Because, honestly, when I got here, I didn't know, what did anybody know who I was...I swear!
"So I have to say thank you so much for supporting a little girl from America. This one is for you, and it's called 'Thinking of You.'"
I left the venue with several reasons why Katy should be on my "favorites" list. Yup, she's naughty, and very nice too. She rocked, and did it for relief!