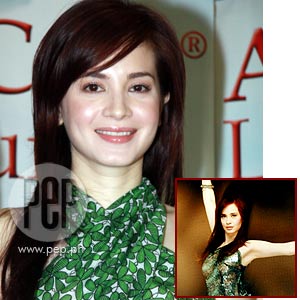 IMAGE 0
---
Richard Gomez's decision to give politics another shot was not really to the liking of his wife Lucy Torres.
Lucy was very vocal in saying that Richard's 2007 senate bid (which he eventually lost) left both of them exhausted after the campaign grind.
This time, Richard aims to represent the 4th District of Leyte under the Liberal Party ticket bannered by Senators Noynoy Aquino and Mar Roxas.
At the launching of Lucy's first album Best Dance 100 Ballroom Hits held today, December 2, at Discovery Suites in Ortigas, Pasig City, Lucy revealed her feelings about her husband's decision to run anew next year.
"If I have my choice I always say na politics was never part of my plan or dream. But on the other side of the coin some of the best things that ever happened in my life I did not plan for, like a career on TV, being married to someone who's a very public figure. Parang sometimes it's not your choice anymore e, it's how life was supposed to play out for you and you just go along na lang, you roll with the punches and life becomes easier, kesa you live your life constantly resisting."
EYE-OPENER. Looking back on her previous experience, Lucy says politics is very much like show business; both fields show two contrasting faces not known to the general public. Lucy herself discovered that some of her preconceived notions about politics turned out to be unfounded in the end.
"It's really not as bad as you think it is. Like in showbiz people have this whole idea that it is so dirty, that people in it are so filthy with no values. It's the same in politics there are those kinds of people but there are also the decent people," Lucy told PEP (Philippine Entertainment Portal).
ADVERTISEMENT - CONTINUE READING BELOW
"Maybe lang like in politics as it is in showbiz everything is magnified on a big scale. But in any industry, as in any organization, there is the good and bad. I've met a lot of decent people in 2007 and it opened my eyes also na I should not be so judgmental about that world because, to begin with, I did not know much about it but I went into it with a mindset, which was good na din siguro because I was pleasantly surprised along the way, kesa 'yong I thought of it as such a rosy world and then I saw all these bad eggs. So I think everything is just a matter of perspective."
NOTHING PERSONAL. Richard's decision to run was also the same reason why GMA-7 opted to terminate the actor's services in hosting the local franchise of the popular game show, Family Feud. The network's decision was based on the Comelec ruling about candidates' exposure during a campaign. Richard's continued presence on television would provide him air time similar to that of a campaign ad.
The Supreme Court in a recent ruling announced, however, that celebrities aiming for public office can still attend to their respective showbiz projects without the previous threat of being disqualified. In spite of the SC announcement, the network stood firm on its decision to replace Richard with young actor Dingdong Dantes.
Lucy candidly confessed that her husband was hoping at the last minute to reclaim the program and was upset when informed of the network's final stand.
"Well, he's very attached to that show so it was just the way things happened. Nothing personal against whoever took his place. Parang nakakasama lang ng loob na 'yong reversal of the decision na puwede naman pala [to continue appearing on TV and movies] sana but he has to let it go. But again, that's life and like what I've said, you just roll with the punches," she smiled.
ADVERTISEMENT - CONTINUE READING BELOW