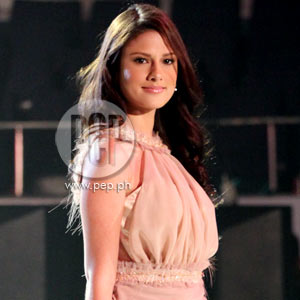 IMAGE 0
---
Actress Bianca King, who stars in the film Wapakman, recently got into an issue involving her and co-star Krista Ranillo's relative, Suzette Ranillo. Suzette supposedly booted Bianca from the tent she and Krista shared while on the set for the movie's shooting last week.
Yesterday on Showbiz Central, Bianca aired her feelings regarding the issue.
According to Bianca, one of the witnesses in the incident was the bodyguard who was supposedly asked by Suzette to get Bianca's things out of the tent. Afterwards, several text messages were sent to Bianca's handler that made everything worse for her.
But before all that, did she not request for her own tent in the first place to avoid sharing one with Krista?
"Of course not," said Bianca. "I'm kind of used to sharing naman my tent or dressing room with other stars. It's actually nice to create camaraderie among your co-stars."
So what happened to the taping last week? Were her things really taken out of the tent while she was shooting a scene?
"Once and for all, I just had to say it kasi [from] the very start para bahala na mga tao mag-judge," said Bianca. "So, I had already been told by someone from the production na bawal ako doon when I put my stuff in, so okay. I called up Arnold [Vegafria], my manager, and he called up Sir Wilson [Tieng], our producer, and Sir Wilson walked me back to the tent and told me, 'Stay here. Arnold and I said you stay here.' So I was sitting in the tent talking to Sir Wilson for five minutes and all my things were settled there. And then Krista arrived with her companions and we had a short conversation."
So was their conversation okay?
"Okay naman," said Bianca. "Nag-uusap kami at kuwentuhan tapos in-offer ko upuan ko, then I placed my makeup kit beside her stuff and I had to leave to shoot a scene. Pagbalik ko, wala pa siguro 30 minutes nakalipas, e, yung gamit ko nasa labas na."
ADVERTISEMENT - CONTINUE READING BELOW
Did she mean to say all her things were outside?
"Yeah, except my clothes," said Bianca.
When asked if anyone explained to her why her things are outside, she answered, "Nawindang ako nang kaunti tapos iyong bantay sa labas, sabi, e, nilagay sa labas kasi kukunin ko. Sabi ko sa kanya na wala naman akong sinasabi na ganoon, so I asked my yaya to put them back inside tapos sinabi sa akin na hindi ako puwede pumasok."
Is the tent off limits to Bianca or anybody for that matter?
"I heard na binibigyan ni Sir Wilson [Tieng, Solar Films head] ng instructions ang bodyguards na bawal media, bawal outsiders," related Bianca. "And noong nagkaharapan na kaming tatlo ni Krista and Arnold, e, Arnold mentioned that it was about the death threats."
At this point, Bianca exclaimed, "Teka, I have no intentions of killing her, so why am I discriminated against? Parang medyo weird 'yon."
Has Bianca felt at one point that Krista may have something against her?
"No," Bianca answered. "Siyempre naman hindi. Maraming beses na kaming magkasama ni Krista and, in fact, noong nag-out of town kami, e, we shared hotel room and everything. It was absolutely no reason for anyone from her camp to feel that I was a threat or would put her in danger."
How about the text messages she received? Did it contain anything that offended her?
"Ang laman ng text message na iyon mas mabuti na hindi ko na i-explain sa tao dahil ayoko na sirain pa sila lalo," said Bianca. "It was speaking in her defense against me and medyo gumamit ng masasakit na salita."
Some people say that Bianca may be exaggerating the issue. How does she feel about this?
"Noong nakita ko, sabi ko is this serious and am I being kicked out of the tent again? Napakamot lang ako," she said. "I called up my manager and doon ko binuhos ang sama ng loob ko. I made the mistake of not confronting the situation noong nangyari siya."
ADVERTISEMENT - CONTINUE READING BELOW
Does she expect any apology from Suzette Ranillo or Krista?
"Krista already apologized," admitted Bianca, "the day that it happened. She apologized for what her tita did. And then she told me she would have her tita apologized to me and I said na there's no need for an apology because hindi naman kami magkikita."
How does she see this in the long run?
"I think it's done," said Bianca. "I have nothing to hide... kaya lang naman siya nagiging big deal, hindi dahil sa akin, I'm not a big star..."