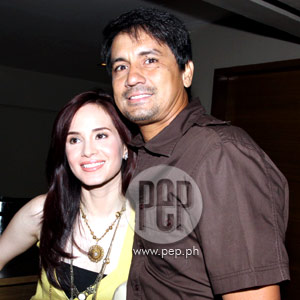 IMAGE 0
---
Although not a native of Ormoc City, Lucy Torres-Gomez strongly believes that her husband, actor-host Richard Gomez, is highly capable of representing her home province and implement great progress not seen under previous leaders.
Richard is running for the congressional seat of the 4th District of Leyte for the upcoming 2010 elections. His candidacy, however, is currently being rocked by a petition filed by a political rival seeking Gomez's disqualification, based on the argument that the actor allegedly lacks the one-year residence qualification set by law for individuals aiming for local positions.
Gomez in a separate interview following the petition called the move "pure harassment" to discourage him from his latest political bid.
At the launching of her debut album titled Lucy Torres Best Dance 100 Ballroom Hits held a few weeks ago, the mild-mannered host mentioned her husband's pro-active nature as one of his strengths. Lucy also feels that Richard's strong public relations skills, which he obviously cultivated while in show business, could certainly work to his advantage not just during the campaign but even in office should he get elected.
Richard, according to Lucy, has this special ability to fit in and adapt to a particular place with great ease and comfort.
Lucy vividly compared her personality to that of Richard's: "Growing up in Ormoc, I never went out of the house much to go to different towns and baranggays. I'd go out with my dad before, we go to the farm and I ate 'yong sugarcane [known in Filipino as tubo]. But not in the way Richard has gone around since we got married. Even before he actually ran for politics, he'd go out fishing, biking... He can't stand it when he's not doing something."
Richard unsuccessfully ran for a senate seat in 2007.
The Shall We Dance and The Sweet Life host shared Richard's view that their contrasting backgrounds while growing up undoubtedly shaped their routine as adults.
ADVERTISEMENT - CONTINUE READING BELOW
"Even when he's watching television, he must be doing something," continued Lucy. "Either he's fixing some of his files in the computer or he's cooking while in front of the screen. Ako naman, must be because of my orientation in the province because there's too much time and mas simple ang buhay."