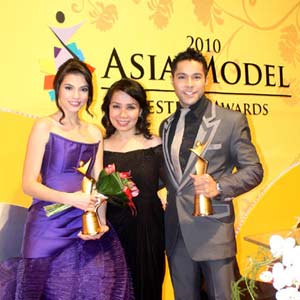 IMAGE 0
---
Two GMA Artist Center talents, Rhian Ramos and Victor Aliwalas, recently became recipients of the 2010 Asia Model Star Award—which held an elaborate ceremony at the Olympic Hall of the Olympic Park in South Korea.
January 14 marked the send off for the Philippine delegation at the Ninoy Aquino International Airport. Rhian, brimming with excitement, said before her departure time that the trip was like "a homecoming of sorts for Jodi," her role in the local adaptation of Korean TV series Stairway to Heaven.
During the awards night itself, the two Kapuso stars rubbed elbows with Korea's most popular actors, singers, and models—some of whom are known in the Philippines as well—plus, the representatives of participating countries like the China, Japan, Singapore, Mongolia, Thailand, Taiwan, Malaysia, Vietnam, Uzbekistan, India, and Indonesia.
Rhian and Victor were awestruck. "We really can't believe that we were part of this event. It is so overwhelming. Imagine, we were seated beside Korean superstars like 2PM and 4 Minute. And at the other table, there were the handsome Boys Over Flowers and other Koreanovela heartthrobs, Yoo Sun and Ji Sung. We were really thrilled," the two chorused when we asked about their experience. Victor added, "I asked Rhian to pinch me kasi baka nanaginip lang kami."
It will be recalled that two years ago, Iza Calzado got the same citation, along with professional Filipino model Robbie Mananquil and singer Freddie Aguilar, whose international hit song "Anak" had also been translated into the Korean language and became very popular. Ms. Henares said, "We are looking forward to the event again next year and we hope that the Philippines and our artists will keep on contributing greatly to their vision of rich cultural exchange via this festival."
ADVERTISEMENT - CONTINUE READING BELOW
Both winners this year were dressed in fabulous outfits by our local designer Francis Libiran. Their manager, Ms. Ida Ramos Henares, also looked very lovely in her black gown (also by Libiran) when she awarded the Korea Kid Model recipient Kim Seong Kyeong. Also part of the Philippine delegation were Lou Gopez, head of GMAAC Talent Development arm, as well as Michael Uycoco, Rhian's handler.
Through the efforts of Ms. Henares, the Philippines was regarded highly in the competition and by the organizing parties behind it. The Philippines was always at the frontline for every activity, and every member of the Philippine delegation received VIP treatment from the gracious hosts.
Rhian, Victor and the other winners have been chosen from several nominations submitted to the body months before the awarding ceremonies. Festival organizers Toh Shin Woo, chairman of the Korea Model Center International, and Eu-Sig Yang, chairman of the Korea Model Association (two of the largest model associations and talent management outfits in Korea), said, "the winners were chosen after a strict but fair judgment from the experts according to the model's activities in [major] advertisements."
This year was Asia Model Festival Awards' third year and it has been growing steadily in terms of membership and reach. Two major television networks in Korea lend its support to this outstanding international endeavor. Ms. Henares said, "we're really proud to be part of this event every year. GMA Network is well-known to the Koreans and they are really happy to enjoy our support."
ADVERTISEMENT - CONTINUE READING BELOW