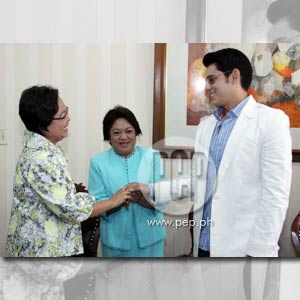 IMAGE 0
---
Movie and television star Richard Gutierrez and editors of the Philippine Entertainment Portal (PEP) website led by editor-in-chief Jo-Ann Maglipon reached an amicable settlement today, February 9, 2010, regarding the libel suit filed by the actor over an article that appeared in the PEP website on March 29, 2009.
The PEP article alleged that Gutierrez was involved "in a heated squabble with Michael Flores" during the birthday party of director Mark Reyes, an incident that turned out not to have happened and which story the website has since admitted to have been a mistake.
PEP Editors Jo-Ann Maglipon and Karen Pagsolingan and reporter Ferdinand Godinez have personally apologized to the complainant for the erroneous publication of the article. Gutierrez has accepted the apology, and the two parties have mutually agreed to amicably settle the libel case.
As part of the settlement, PEP issued this public apology:
"The Philippine Entertainment Portal (PEP) hereby reiterates that Mr. Richard Gutierrez was never involved in any "heated altercation" or "tutukan ng baril" with Michael Flores or with any other individual on 29 March 2009, during the party of Zorro director Mark Reyes, contrary to an article briefly uploaded on its website on the same day.
"PEP editor-in-chief Jo-Ann Maglipon, managing editor Karen Pagsolingan and staffwriter Bong Godinez acknowledge their error; repeat their assurance that they have no malicious agenda against Mr. Gutierrez; and apologize for the publication of the article and their failure to get his side of the story and for the hurt it has caused him and his family."
ADVERTISEMENT - CONTINUE READING BELOW
The settlement was reached during a meeting between Gutierrez, Maglipon, Pagsolingan, and Godinez at the office of Justice Secretary Agnes Devanadera, on which occasion Maglipon, in her behalf and that of the others in her staff, read the above apology.
Also in the presence of the Secretary Devanadera, Gutierrez accepted the apology, and later signed an affidavit of desistance.
The parties then shook hands in the presence of the Justice Secretary and media representatives to effectively end the libel suit.
It will be recalled that the Department of Justice recommended the filing of a case for Libel against Maglipon, Pagsolingan and Godinez for the subject article. With the affidavit of desistance signed, Secretary Devanadera declared the case closed.