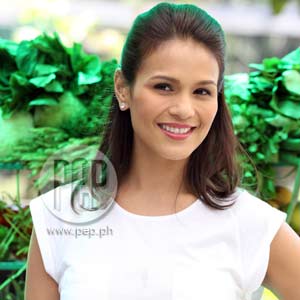 IMAGE 0
---
Gone are the days when actress Iza Calzado would just eat anything served on the table without considering its nutritional value and long term effects on her health.
Nowadays and for the past six years, Iza proudly announced that she's been "red meat free" although she recently reinstated chicken in her diet.
"I'm trying to go organic but it's tough. It could be my next step. It's a natural progression, I think, leading towards that. But right now, I just eat more vegetables and fruits, trying to snack on nuts," revealed Iza to PEP (Philippine Entertainment Portal) over lunch consisting of vegetarian food made from organic recipes.
PEP along with few members of the entertainment press visited Iza at the Manila Orchidarium in Manila last Saturday, March 13, at the taping of Q Channel 11's new show, Healthy Cravings, aired every Sunday from 11 to 11:30 a.m.
Chef Sau del Rosario, who serves as the program's guest chef simply defined organic food as "free from pesticide, chemicals and even fertilizers."
Iza, however, admitted that she has her "cheat days," where she occasionally munches on chocolates and cakes just to satisfy that sweet tooth of hers.
"But I don't go all out," she clarified. "I'll have pancakes, pero not the full order, ganyan."
Being a celebrity who constantly has to attend parties and functions, Iza admitted that it was hard at first to follow a self-imposed strict vegetarian diet. What made it more difficult was the fact that vegetables are hardly being served during gatherings.
ADVERTISEMENT - CONTINUE READING BELOW
Iza's discipline, fortunately, was steadfast thus allowing her to gradually stick to her diet plan.
Through Healthy Cravings, Iza and the show's staff are hoping to encourage people to be health conscious by seriously checking their food intake.
"A lot of people are starting to get conscious because of these rampant diseases and every generation umiiksi na 'yong lifestyle ng tao and if you check, a lot of it has to do with what we put inside our mouth," said Iza.
She added, "There are people who have been able to eradicate junk and I salute them. There are people who have been trying like me and there are people who are not even trying. So at least we'd like to push people to at least start to question the nutritional value of what they eat."