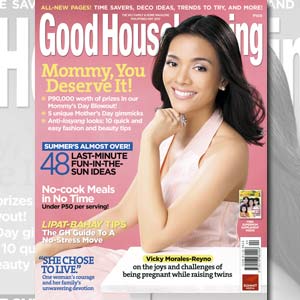 IMAGE 0
---
Mother's Day holds a special place in the heart of Vicky Morales as she basks in the glow of motherhood.
Four months pregnant, she tells Good Housekeeping this May what a pleasant surprise it was to find out that she was expecting. "This was totally not planned! We were shocked, but at the same time, we welcomed it," she says, "We went to the church to say thanks, then we told our families. We made the boys break the news to them. We taught them, 'What will mommy give you for Christmas?' 'A baby!'"
The boys are Pipo and Leon, her two-year-old twins who are growing up quite quickly. "They love looking at cars, choppers, and airplanes—boys' stuff. They love to swim too. And read. They're both very smart," the proud mom shares.
Between the two, it is Pipo who takes after her, as she says, "He's the shy type, and it's surprising because I'm really the shy one in the family. It's just funny that I ended up in this profession."
ADVERTISEMENT - CONTINUE READING BELOW
As for Leon, he takes after his father King, who is Vicky's opposite. "He sings well kasi. Hindi maghe-hesitate yan mag-perform, and Leon takes after him in that sense," she explains, "When he's with me, he won't perform—it's a waste of his time. But when he's in front of a crowd, gusto niya may stage pa!"
Vicky will surely celebrate Mother's Day with her boys as she relishes what little time she can spend with them. "My weekends are very sacred. Much of my time is spent at work already, so I just want to spend time with my own family," she says, "I really tend to be more choosy now about the events I go to, because every free time I have is time I can spend with my kids. My time is more expensive now."
Read more about Vicky and her growing family by grabbing your copy of the May issue of Good Housekeeping, available in newsstands, bookstores, and supermarkets nationwide.
ADVERTISEMENT - CONTINUE READING BELOW