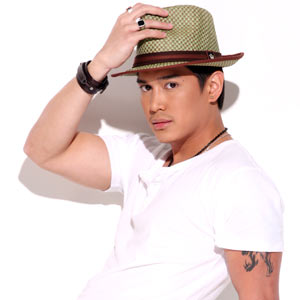 IMAGE 0
---
As the taping for Ina, Kasusuklaman Ba Kita? nears its homestretch, Luis Alandy, one of showbiz's drama princes, can't help but feel restless. After all, just like a good workout, the past three working months have become a cathartic experience—a sacred ritual of sorts where he gets to purge his acting demons.
With his experience in the soap biz, it's way too easy for Luis to succumb to the pitfalls of the profession—clichéd mannerisms and dialogues, stereotyped character pegs and, worst of all, the unforgiving tirades of a gullible viewing public that erroneously believe that you are who you portray.
It's a challenge for every actor to add depth, spice, and twist to his character.
Luis says, "For the past three years, I've done like six soaps with the network, mostly character roles. And it's always been a constant challenge to veer away from the norm. Like for instance, when they say kontrabida, it's not every time that they want you to be a galit na kontrabida. There's always room to give it an extra dimension.
"You can never be too complacent with your acting. I'm still learning, honestly. There are times when I feel that I want to do double takes. We're on a much faster shooting mode these days. It's hard to plan your frame of mind from scene to scene."
Thankfully, Luis is given ample leeway to go out on an improvisational streak. "But most of the time, what the director says, goes. You have to give respect to what the writer conceptualized."
So, what's it like doing his current drama series with the mother and daughter tandem of Jean and Jennica Garcia?
Are take-one scenes a common occurrence?
"When you're doing 40 -50 sequences in a day, it's hard to breeze through everything without glitches," Luis confesses. "You have to remember that we're dealing with different personalities for one scene alone. It's only normal that someone fumbles."
ADVERTISEMENT - CONTINUE READING BELOW
And when the going gets really toxic and stressful, count on good-natured fun and humor to ease their tension. "Jean is a very good and serious actress, but when it's her and her daughter doing a scene, trust me, there will be those times when they just burst out giggling," Luis says. "They always make fun of each other, just to keep things lighter on the set. It's a very good stress-buster."
Despite his hectic taping schedule, Luis still finds time to do indie films. His more recent stints include Panahon Na, which is about redemption and second chances, and stars Irma Adlawan, Joseph Bitangcol, Joem Bascon, and Mercedes Cabral. Directed by Sean Lim, the movie premiered at the Massachusetts Institute of Technology last June 2009, under the auspices of Gawad Kalinga and the City of Taguig.
He is also equally proud of his participation in the historical documentary Buenavista (Ang Kasaysayan ng Lucena), which cast him alongside Eddie Garcia, Delia Razon, Ricky Davao, and Precious Lara Quigaman. The period film tackles the revolutionary upheavals in Quezon province during the oppressive Spanish and American regimes.