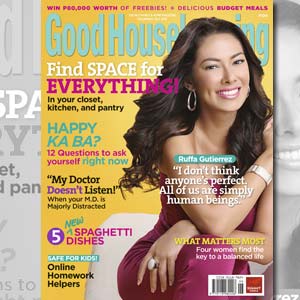 IMAGE 0
---
"Every time I hear survivor stories, I can't help but remember my own painful experience and everything I've gone through."
That's Ruffa Gutierrez speaking as Avon's Philippine spokesperson for its global campaign "Speak Out Against Domestic Violence." It is a role that forces her to relive a part of her past, which she candidly talks about in the July issue of Good Housekeeping.
Ruffa acknowledges that she and ex-husband Yilmaz Bektas shared many happy memories, but she eventually found herself caught in a cycle of violence, one that simply gets worse instead of getting better. "You try to forget about it, you try to accept it, and you hope he doesn't do it again," she tells GH, "But there comes a time when you have to stand up and say, 'Listen, I have to love myself more. This is not the way I was raised.'"
Ruffa hopes that sharing her story will help more women gather the courage to walk away from abusive relationships. "I think what's really important is to reach out to other women and for them to think, 'Ruffa is my friend. She's gone through this and she's survived. I can too,'" she shares, "If I can touch one person's life with my story, then it's worth all the effort for me to share my experiences and everything I know."
Now, Ruffa chooses to focus on the future and what it holds. "Close the past before proceeding with the future," she advises, as she tells GH what lies ahead for her and her daughters Lorin and Venice.
ADVERTISEMENT - CONTINUE READING BELOW
And what of her ex-husband Yilmaz? "I hope that whatever happens, we maintain the peace because we have two beautiful children and both of us have to be mature enough to accept that fact and work for their future."