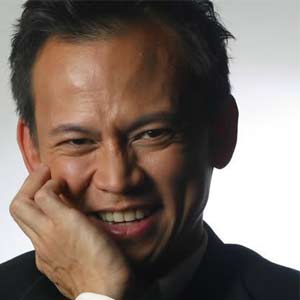 IMAGE 0
---
Noynoy promises change? Well, Jon Santos promises more changes— costume changes, that is!
Yes, the star of 2010's sleeper hit Kuring, Gluring, Erap and Dioning Election Is Nearing: For Voter or For Worse is back with his satires, post-election edition.
This time, Jon gets to the bottom of the Pinoy's hunger for power, fame, and fortune in the age of oil spills, sinkholes, Facebook and Noy.
Aptly titled 101 Jonjemons: Da Pinoy Fower List, Jon enumerates the 101 Pinoy icons, celebrities, and politicians that made us laugh, rant, rave, and retch in the current social milieu.
Under Jon's spoof scalpel, no one is spared from comic dissection. All are exposed for our laughter and learning.
So who will make it to Jon's Fower List? For sure , Krissie Anino will be there, the first sister, along with Nyoy Nyoy the second Pinoy yellow president.
But are we going to see veteran icons Gloring Macatagal Arroyo, Manny Sapakyaw and Ate Vi of all seasons? Or are new celebrities invading the list? Like Jajejijomar BInay, the country's first black vice president, Charize Papakwa, the first Pinay godchild of godmother Afro Winfree and godfather Ellen Degenerous? How about brazilian models led by Priscilla Mayriles? The entire gang of OPM Jukebox Glee?
ADVERTISEMENT - CONTINUE READING BELOW
The surprises are endless , and Jon threatens that he will cram 101 celebutards in one night. Expect the sequel to triple the laughter of the first spoof installment, as audiences discover that beneath the classiest Pinoy front is a closet jejemon—in this case, a Jonjemon.
Catch Jon Santos do what he does best on July 30 and 31; August 20 and 21 at Teatrino in Greenhills, Promenade in San Juan.
Tickets, priced at P1,500 for Orchestra and P1,200 for Balcony, are available at all Ticketworld outlets. For inquiries, please call 891-9999.