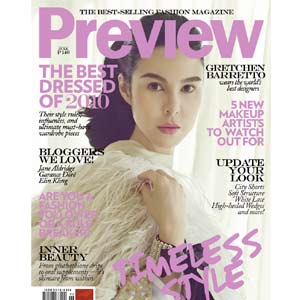 IMAGE 0
---
"Don't take it so seriously. It's just clothes."
This, surprisingly, is fashion advice from Gretchen Barretto, who has landed a spot in Preview magazine's annual Best-Dressed List. Despite the fact that her closet houses prized pieces from the world's top designers, and that she has Goyard and Louis Vuitton trunks filled with shoes and accessories (all of which she brought with her to the Preview cover shoot), Gretchen refuses to get stressed out by fashion.
"The only time I get pressured by fashion is when people ask me about it," she tells Preview. "I'm a mom. I think about things like picking up my daughter. I don't take fashion seriously and I don't let anyone influence me."
Gretchen describes her style as clean and classic. "When I was younger, I would kind of play with trends; it was a bit hit or miss. Now my style is more classic," she says, "I dress according to how I feel and it really varies."
Much to the envy of every fashionista, Gretchen seems to already own the must-have pieces of both local and international designers.
In fact, while she collects Lanvin and Chanel accessories, she is beginning to tire of Chanel "because everyone has it." She tells Preview, "I've been into fashion for many years now. I think I've purchased all that I need for the next few decades or so and can just keep on wearing what I have."
Take a peek into Gretchen's fashion diary and find out who else made it to this year's Best Dressed List by grabbing a copy of the July issue of Preview, available in newsstands and bookstores nationwide.
ADVERTISEMENT - CONTINUE READING BELOW