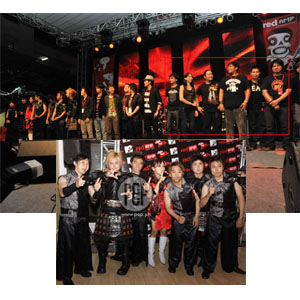 IMAGE 0
---
Indonesia's Golden Dragon brought the fireworks on stage!
And this added oomph, not to mention the band members' Chinese warrior costumes, made them win the Top ASEAN Band title of redAMP last July 16 at the Plaza Mont Kiara in Kuala Lumpur, Malaysia.
Chief judge Roslan Aziz said choosing the best among the best was not an easy task. During the post-event press conference, he said, "Golden Dragon has originality, and their performance was entertaining. Pancake 80 was really good. Sixty-Nine is a young band with talent, and Stonebay is simply the best band in Malaysia."
But in the end, only one had to emerge as the victor. "It was an incredibly difficult decision, as musically, all four bands are equally talented. But Golden Dragon's dramatic performance on stage blew us away and they really deserved to win," the prominent Malaysian producer added.
The winning band, which described their music as "loud but the lyrics are beautiful," could not believe their good fortune that night. (CLICK HERE to view the video clip.)
Steven Zhang, one of the vocals, told PEP (Philippine Entertainment Portal), "We are very glad. We are very exciting, and we just...We never expected to get number one and, of course, we are actually...Thank you to all of our friends, all of our family, our...people that support us."
Living up to the "Best ASEAN Band" title is now their bigger challenge. The band's leader Icun Lin said, "We will do our very best to make good music."
ADVERTISEMENT - CONTINUE READING BELOW
He continued, his dimples showing, "It must be really good for us to be popular. We are popular in the city! But no, not yet, not yet...Low profile, low profile because we are a poor people."
The winner's closest rival Thailand's Sixty-Nine, which did a seven-minute funky jazz piece that highlighted the vocal prowess of its vocalist Kaeng, was upfront in admitting, "at first, [we were] a little disappointed," said bassist Muk, the only girl in the band. (CLICK HERE to view the video clip.)
She added, "But Gold Dragon won. They are our friend. We like them and their costumes, everything..."
Meanwhile, Malaysia's rock-and-roll group Stonebay did not expect becoming the wildcard entry in the competition. "We're very happy we got to perform in the concert. We're very happy to win 2nd runner-up," exclaimed Afiq, the friendly drummer of the band. (CLICK HERE to view the video clip.)
PANCAKE80. The Pinoy bet did a great job in belting out their song "Time" during the live performance. (CLICK HERE to view the video clip.)
The editor in chief of Rolling Stones Indonesia, Adib Hidayat, commented, "Very professional! We have here the Bon Jovi of Asia!"
A compliment that vocalist Christ Maliwat did not expect. "Ngayon lang lumabas yun. Hindi namin ini-expect yun," he said with a laugh.
But despite placing fourth, guitarist Franz Madriaga said Pancake80 is happy about the results.
In an exclusive interview, he said, "We're happy because we made it to the top three and we're here. It's a very big, very big competition, and it's very hard for a Filipino band to go outside the country and represent Pinoys. It's an honor...."
ADVERTISEMENT - CONTINUE READING BELOW
The alternative rock and new wave group did not win the title that evening, but a contract with a record label is already in the offing. Ruth, the vocals and harmonica player of Pancake 80, crossed her fingers, saying, "Sana matuloy...."
OTHER HIGHLIGHTS. The redAMP concert also featured Malaysia's hip-hop and R&B singer Mizz Nina, who performed her latest single "What You Waiting For" with American pop and R&B singer-songwriter Colby O'Donis.
Straight from Bangkok, the group Thaitanium had the Malaysian crowd grooving to their hip-hop music. Manning the turntable was DJ Fuzz, three-time winner of the Pioneer Digital DJ Championships.
In addition, Malaysian band Hujan gave an explosive set for the concert mounted by AirAsiaTix.com, Air Asia's online ticketing subsidiary, in cooperation with MTV Asia.
The event was hosted by 8TV Quickie host Belinda Chee and VJ Utt.