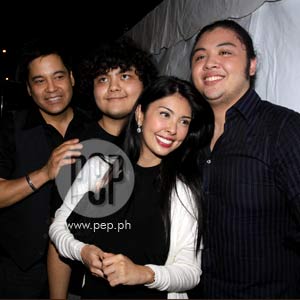 IMAGE 0
---
Robin Nievera, son of music icons Martin Nievera and Pops Fernandez, was declared one of the three new VJs in the MYX VJ Search 2010 Finals held last night, July 21, at the Music Hall of SM Mall of Asia in Pasay City.
The 21-year-old musician, along with Ton de Dios, 21, and Julz Savard, 18, were chosen among the 12 finalists who aspired to be the new face of the local music channel. All three winners will be given a six-month contract with MYX. Each also received "Beats by Dr. Dre" headphones, shopping spree at SM, SCubed accessories, gift certificates from Folded & Hung, and Jellybean.
Prior the event, Robin never showed any sign of nervousness. Instead, he just remained the funny guy that he was during the pre-finals night.
"It really feels like on a high," he said when PEP (Philippine Entertainment Portal) interviewed him backstage. "It's just more like hanging out with friends, doing weird things, being funny together, getting to know each other. Win or lose, I met a lot of friends and it's not gonna set me back in any way. I met a lot of new friends and new things."
The Wagyu band member also promised that whatever the outcome, he would never leave his career as a musician. "If I do make it or I don't make it, I'm still gonna try to make more music," he said.
Robin's parents, who attended the event with his younger brother Ram, were elated when his name was announced as one of the winners by MYX channel director Andre Allan Alvarez.
ADVERTISEMENT - CONTINUE READING BELOW
Pops was so proud of Robin that she gave him her full support when she learned that he had auditioned for the MYX VJ search. And just before the finals night began, she gave her son a few words to boost his confidence.
The Concert Queen related, "Kanina tinawagan ko siya, sabi ko, 'Hey, Kuya, kahit anong mangyari, don't lose hope. You just have to try. Whatever happens, it will happen for a reason. It doesn't mean it's over.'"
Martin, on the other hand, thinks that winning the contest means higher achievement. He said the exposure that Robin and his fellow contestants got during the competition was already a big thing. He admired Robin for going through this whole MYX VJ Search without asking for his or Pops' help.
The Concert King said, "Gusto niya, ang gagawin niya sa MYX ay galing sa kanya. Whatever he's learned from Pops, whatever he's learned from me, gusto niya iyon ipakita as a VJ on MYX."
Although the 2010 MYX VJ Search has ended, Robin said that the relationship he built with his fellow finalists would remain.
"After this, the 12 of us are still gonna be talking to each other like a one big group na," Robin said.
Aside from Robin, Ton de Dios, and Julz Savard, two of their fellow finalists also received a special award from the event sponsors. Mana Manalaysay was named as the Garnier Fresh Face of the Night while Kirsten Rice was the Charmee Girl of the Night. Ton's rocker outfit also made him a winner during the SM S3's Stylista Challenge.
ADVERTISEMENT - CONTINUE READING BELOW
The three new MYX VJs were welcomed by the music channel's current VJs: celebrities Iya Villania, Nikki Gil, and Robi Domingo, who was proclaimed as the winner during the MYX VJ Search 2008. Former MYX VJ search finalists Bianca Roqua, Chino Lui Pio, Janine Ramirez, and Nel Gomez were also helped in hosting the event.
Entertaining the audience while waiting for the announcement of winners were local bands Tanya Markova and Spongecola. They performed their recent hits, like "Picture Picture" and "Puso," respectively. Pinoys Got Talent finalist Markki Stroem also serenaded the ladies with his rendition of the songs "Ordinary People" and "Tell Me." These songs are both included in Star Record's compilation album Pinoy You Got It.
Catch the special telecast of the MYX VJ Search 2010 this Saturday, July 24, at 4 p.m. on MYX Channel.