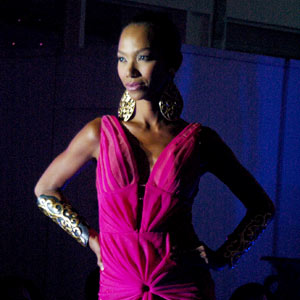 IMAGE 0
---
An unexpected combination of an upscale fashion show featuring top designers, a bazaar, and an outreach program took place last October 8, Friday, at the East Wing area of the World Trade Center in Pasay City.
Believing that "fashion trends are timely, but when utilized as a tool for world change then it becomes timeless," the event's organizer TradeNet International gathered the local Filipino designers and came up with "The Elite Fashion Show."
The runway event was part of the five-day FAB (Fashion, Accessories and Beauty Bazaar) affair.
Designers who lent their creativity and artistry to the show were Paul Herrera, Rajo Laurel, Arnel Papa, Ruel Rivera, Jun Escario, as well as the line of House of Vanita and students of the Fashion Institute of the Philippines.
SHOPPING FOR A CAUSE. Jon Richmond Ang, creative director of Tradenet International, explained the novel concept of integrating an upscale fashion show in a bazaar affair. "We actually found the niche market that opens to this idea, because we usually see bazaars and tiangges around there, but nothing comes close to an upscale or elite bazaar that would cater to an A or AB market."
Proceeds will go to the Adopt-Your-Hometown School Campaign, a project under ABS-CBN Foundation Inc. E-Media program.
"We also get shows that gives to the market. It's actually giving back to other foundations and markets that would benefit also," Ang said.