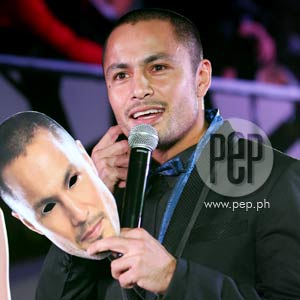 IMAGE 0
---
Derek Ramsay was covering his face as Belo Essentials managing director Cristalle Belo Henares introduced him as the endorser of their newest product line Belo Men last October 12 at The Establishment, Fort Bonifacio, Taguig City.
In the event called "A Night of 100 Derek Ramsays," the leading actor of Magkaribal walked the ramp with other male models, who each wore a mask of Derek's face.
"He's a man admired by many men, a good actor and, of course, great in sports. He excels in what he does, swimming, running, whatever. On top of that, he took an electrical engineering and a marketing course in England," said the daughter of beauty surgeon Dr. Vicki Belo.
Derek modestly accepted Cristalle's praise. He said, "I'm speechles. Like I said, I don't know what I did to deserve something like this. It's weird seeing my face, models wearing my face!"
Unlike ladies, men give less care to their skin. Not only because it takes time; some don't like being called metrosexual, a guy who's body-and-image conscious.
However, the Kapamilya hunk doesn't think of skin care that way. He said, "Actually, I don't call it being vain. There's nothing wrong with taking care of yourself. You know, we go to the gym, we work out. And you know, our skin is probably the largest organ in our body. So, I think we should take care of our skin as well, appearance does matter.
To change the negative connotation of "metrosexual," Cristalle told the invited guests, "There's a new term, actually, out there—it's not called metrosexual anymore, it's now called machosexual. Men now are actually into skin care!"
Based on the number of people who frequent Belo Medical Clinic, 30 percent of its clientele is made up of guys who want to take better care of their skin, control the effects of ageing, and achieve their dream body.
ADVERTISEMENT - CONTINUE READING BELOW
The boyfriend of Angelica Panganiban admitted that using the products of Belo Men—soap, facial wash, and toner—has made him feel more confident.
"I don't like using makeup, whenever I need to freshen myself up, I just use the product. I don't call it vain, but they call it vain. Hindi ako maarte sa katawan pero for my face and all that, I have this routine that I do that before I go to sleep, kailangan ko talagang maghugas ng mukha and freshen up."
Although Derek is comfortable talking about his "beauty routine," he seemed shy to be called "the ultimate man's man."
"When I was standing there, it was kind of embarrassing," he said with laugh. "You know, I have the best feeling that I'm being myself and people are accepting that and looking up to me for being myself. You know, I cannot please everybody. I guess I'm doing something right. And I'll never get used to the feeling."
Aside from the three TV commercials shown during the event, watch for the three viral videos of Derek for Belo Men. These videos, which were created by Cristalle's brother, director Quark Henares, show more of Derek's "machosexual look" and will be uploaded on the Internet soon.