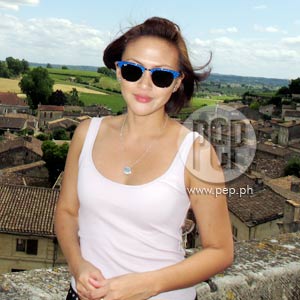 IMAGE 0
---
She is regularly seen exchanging spiels with the other hosts in SNN and E-Live. But TV host Cesca Litton has a world much wider than the boob tube.
A self-confessed outdoor lover, Cesca said in an exclusive casual chat with PEP (Philippine Entertainment Portal) that various outdoor activities make her happy, "I love camping. I was a girl scout. I was a gymnast. I was a cheerleader."
Early this year, Cesca and Director Jillmer Dy of ABS-CBN bested teams from other networks and represented the Philippines to cover the Cannes Film Festival (CLICK here to read related article).
What primarily was work became one of the most memorable experiences for Cesca.
Aside from interviewing famous and respected Hollywood stars like Benicio del Toro and Terence Howard, Cesca and Jillmer had the chance to feast on the beauty and grandeur of France.
Cesca excitedly talked about the giant sand dune in Arcachon, which they saw on their first free day after their reporting duties for Cannes, "It's all sand all over. Parang hinati lang nung sand 'yung earth and water. I was so excited, you know, in a fun vacation already. I'm gonna roll down the sand. Hay, naku, things like that, Wala, mababaw ako."
Cesca added that being there gave her an overwhelming feeling, "Like I've never seen so much sand in my life. It was literally like a mountain of sand.
"Over here we have like Boracay, we have sand, shore and water. Dun hindi, you really feel like flying!" Cesca exclaimed.
"On one side, there's like a long long stairway up like the steps in Baguio. Parang mas mahaba pa ata dun. And then when you get to the top, there is sand and water around you. Wow!"
Cesca toured the rest of France. She and Jillmer went to Paris and stayed there for two days.
ADVERTISEMENT - CONTINUE READING BELOW
On her last night in the City of Love, Cesca beheld the lights on the famous Eiffel Tower. "It's like every night from nine to like eleven [o'clock], there's like a 5-minute light show all over the tower. Beautiful!," Cesca sighed nostalgically.
Rounding up their trip, Cesca and Jillmer took the train from Cannes to Bordeaux, which is famous for its wine industry.
What a heady vacation indeed!